What's New in Extension
Dr. Eric Sparks (left), director of the MSU Coastal and Marine Extension Program, along with Sara Martin, Megan Chevis, and Ashleigh Dunaway are working on a Gulf Coast restoration project funded by an almost $6.6 million grant.
MSU Extension Receives $6.6M Grant for Coastal Restoration Work
Compiled by Leah Barbour • Photo by Kevin Hudson
Mississippi State University and partners have been awarded a grant of nearly $6.6 million from the National Fish and Wildlife Federation for shoreline restoration work on the Gulf Coast.
The grant was awarded to Dr. Eric Sparks, director of the MSU Coastal and Marine Extension Program, and a team from the MSU Extension Service, the Mississippi Agricultural and Forestry Experiment Station, The Nature Conservancy, Harte Research Institute, Mississippi-Alabama Sea Grant, and the PEW Charitable Trusts.
Their project involves the construction of a 2.5-mile living shoreline using marsh sill, a low-profile structure filled with sand, along with native plants and segmented breakwaters in the Back Bay of Biloxi. This area includes the shorelines of Keesler Air Force Base, the Veterans Administration facility, and Hiller Park.
The primary goal of the project is to restore habitat and reduce wave energy and erosion.
Living shorelines protect coastlines by incorporating natural materials, such as wetland plants, to reduce erosion and enhance or restore shoreline habitat. These adaptable areas better withstand sea level rise and storms, while improving water quality.
---
4-H Pilots Life Skills Class to Teach Young People
By Leah Barbour • Photo by Kevin Hudson
Many young people experience a bit of a shock when they leave their parents' homes for the first time because, often, they don't know how to cook, balance a bank account, or even perform basic car maintenance. Recognizing that these are skills that young people need, personnel with the Mississippi State University Extension Service developed a new Mississippi 4-H initiative that focuses specifically on teaching youth life skills.
4-H'ers in Winston County and Pontotoc County recently participated in 4-H Life Skills pilot programs. Topics included electrical safety and function, counting money and making change, financial literacy, cooking skills, how to tie and use ropes and straps, how to use hand tools for applied projects, and how to perform basic vehicle maintenance, including how to change a tire and check the oil. Because many participating teens reported they were better equipped for independence, Mississippi 4-H is now considering developing a formal curriculum for 4-H Life Skills clubs.
---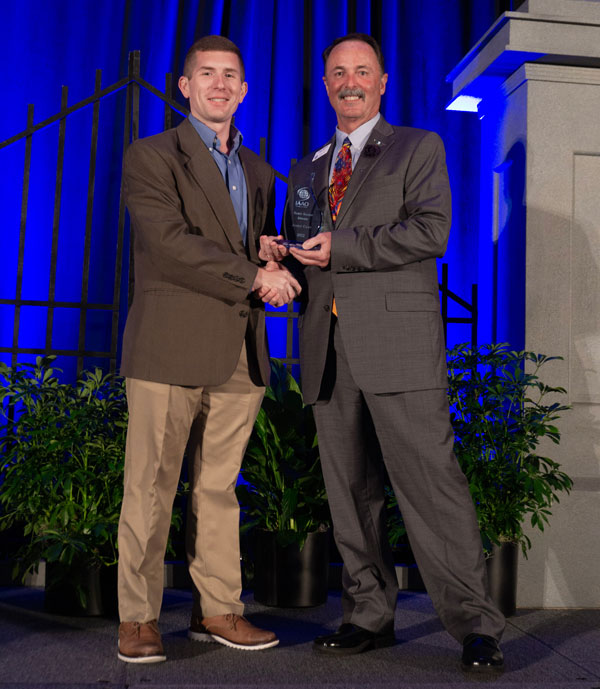 Extension Specialist Receives International Award
By Leah Barbour • Photo by Shawn Lee House
Dr. Jason Camp, a specialist with the Mississippi State University Extension Service, was recently named the 2022 recipient of the Harry Galkin Award for the International Association of Assessing Officers.
IAAO serves about 8,000 professionals who work in property valuation and tax policy; the organization offers educational courses and professional certifications to develop property tax assessors' skills. Named after longtime association member Harry Galkin, the award Camp received is presented to the IAAO associate member whose contributions during the past year demanded recognition.
Camp, a member for almost 10 years, serves on IAAO's education committee, which oversees course development, approves instructors, and revises curricula as tools change. He was recently appointed committee chair and remains committed to educating and serving tax assessors for the organization both in Mississippi and beyond.
---
Mississippi Farm Bureau Recognizes Extension Personnel
By Leah Barbour • Photo by Kevin Hudson
For generations, Mississippi Farm Bureau Federation representatives have partnered with Mississippi State University Extension Service personnel to support farmers, even as the best ways to farm continue changing. At its annual convention in December, Farm Bureau celebrated some of the most impactful Extension partners in 2022.
Former Extension Director Dr. Gary B. Jackson was named the 2022 Mississippi Farm Bureau Federation Ag Ambassador winner. He continues his work as an ambassador for agriculture as the MSU associate vice president for outreach and engagement.
Also, Alex Deason, Extension agent in Sunflower County, earned the 2022 Mississippi Farm Bureau Federation Young Farmers and Ranchers Excellence in Agriculture Award.
Reid Nevins, former Lowndes County Extension agent, received the 2022 Mississippi Farm Bureau Federation Extension Education Award. Nevins was recently named an Extension specialist with the Center for 4-H Youth Development.