CERT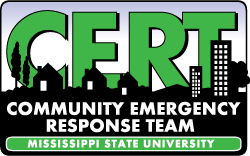 The Mississippi State University Campus-Community Emergency Response Team (MSU C-CERT) is an organized team comprised of 24 faculty, staff, and graduate students from across the university who are committed to providing service to the MSU community, the city of Starkville, and Oktibbeha County in times of emergency and disaster. Each member of the team has successfully completed the requisite training, formal curriculum and applied skills exercises that were developed and approved by the Federal Emergency Management Agency (FEMA) and the United States Department of Homeland Security (DHS). Training topics included, but were not limited to, CERT Team Organization, Disaster Psychology, Fire Safety, Light Search and Rescue, and Basic Disaster Medical Services, etc.
CERT teams and C-CERT teams provide invaluable resources in times of community need. Team members are trained in a variety of response and recovery functions that can prevent and treat certain injuries and could possibly prevent fatalities. These teams are already engaged in the communities that they represent, so they have the ability to assess and respond to situations before local response officials can arrive. This timeframe can prove critical to preventing further injuries and perhaps saving lives. MSU C-CERT members have a distinct daily relationship with this campus in that they spend the majority of their day here and are intricately involved its livelihood and prosperity.
Functions/Goals
The functions of MSU C-CERT are threefold:
Serve as a dedicated support team with specific emergency response skillsets for local and state responding agencies in times of emergency and disaster within the MSU campus and the surrounding areas;
Provide basic emergency and disaster management duties until local/state agencies are able to respond; and
Promote community safety and education regarding emergency and disaster management with the goal of improving our population's ability to mitigate against, prepare for, respond to, continue operations during, and recover from natural disasters or other human-caused crises or disasters.
Simply put, we consider ourselves as having both a reactive and proactive function. MSU C-CERT has been proactive in forming partnerships with MSU and local/state responding agencies, in advancing its training, and in preparing for all emergencies, not just from inclement weather, though considerable focus is placed on these, as they are currently the most probable, consistent threat faced within these communities. A continued emphasis is placed on valuable training in all functional aspects of emergency management, including prevention, preparation, response, and recovery, so that MSU C-CERT can best help the MSU community and beyond, which is the ultimate goal. In working to achieve that goal, we also develop educational programs and offer them to the university and surrounding communities. One such program is our day-long, comprehensive workshop, P.R.E.P. (Personal Readiness and Emergency Preparation). MSU C-CERT meets monthly for different speakers and trainers that will help accomplish our training and education goals in the most efficient manner. By definition and policy of DHS and MEMA, MSU C-CERT does not self-deploy. However, MSU C-CERT stands prepared to assist in our communities and is ready to answer the call to assist when requested. We are NOT the MSU Crisis Action Team and do NOT have official university notification responsibilities in times of emergency. We also do not engage as an official behavioral intervention team. Our function enables us to assist the Crisis Action Team if ever called upon, but we focus mainly on the reactive nature of response and recovery in the immediate aftermath of an event as well as the proactive nature of prevention of and preparation for an event, primarily through educational programs.
Team Composition
Team members bring a wealth of experience, subject matter expertise, and valuable skillsets to the team. Members were selected based on previous skills and expertise and were also targeted for selection due to their employment in "high traffic" areas of campus, including the Colvard Student Union, the Mitchell Memorial Library, the Sanderson Center, and Housing and Residence Life. The team has received a variety of ICS/NIMS training (100-800) and includes an Assistant Extension Professor in Crisis Preparation and Disaster Management, two Governmental Training Specialists who deal directly with ICS training and emergency planning, a Biosafety Officer, two members of MSU Facilities Management who have extensive knowledge of campus grounds, a Lab Safety Manager, a Lab and Environmental Safety Coordinator, a Safety Officer, several First Aid, CPR and AED instructors, a Hazardous Waste Coordinator, and two members with university accounting and finance backgrounds. Incidentally, the team also includes two Emergency Medical Technicians with another about to begin that training, two volunteer fire fighters, a member of the State EOC, a 911 Emergency Telecommunications Instructor, several University Crisis Action Team members (who understand that their primary duties supersede any role with MSU C-CERT), and American Red Cross volunteers. A majority of the team has hurricane and tornado recovery experience. We have several team members with Occupational Safety and Health Administration (OSHA) Hazardous Waste Operations and Emergency Response Standard Certification, and the majority of the team has current First Aid/CPR certifications and several have AED certifications.
More Information/Join C-CERT
The MSU C-CERT Coordinator is Dr. C. Ryan Akers, an Assistant Extension Professor of Crisis Preparation and Disaster Management with the MSU Extension Service. His contact information is included below:
Office: 206 Lloyd Ricks Watson
Work Phone: 662.325.5914
Email Dr. C. Ryan Akers
A roster of all current MSU C-CERT members, their respective contact information, and list of qualifications is kept on file with the Coordinator.

News
-
CERT, Disaster Response
STARKVILLE, Miss. -- A Mississippi State University Extension program coordinator will serve as chair of the Extension Disaster Education Network, EDEN, for a two-year term.
Select Your County Office
Your Extension Experts