Working Together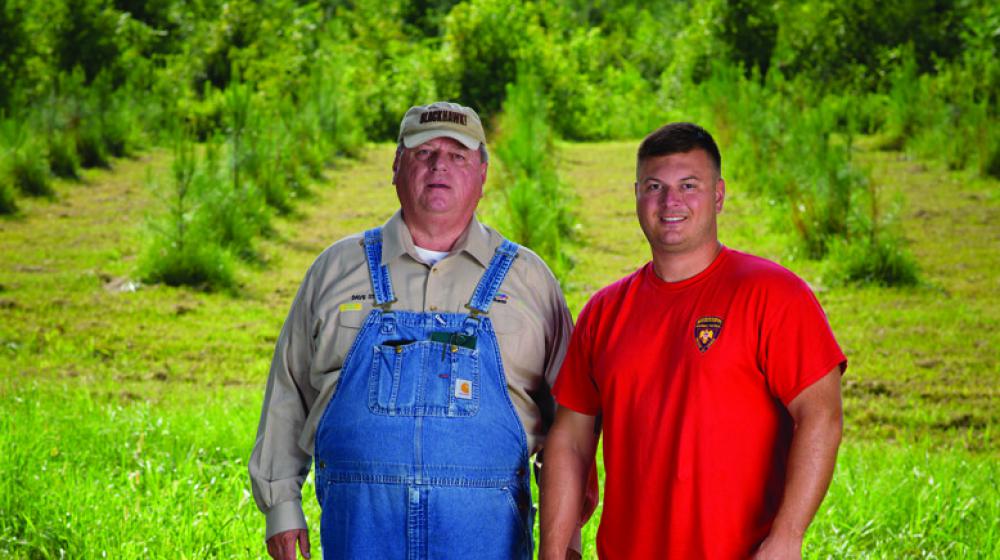 Father and Son Grow Quality Trees
By Keri Collins Lewis
Dave Stewart may not have followed professionally in the footsteps of his grandfathers, both of whom operated sawmills, but he is building a legacy property that combines timber and wildlife habitat as a tribute to the men who taught him to love the land.
From the beginning, Stewart approached his property strategically. After retiring from a distinguished U.S. Army career that took him around the world, including some of the most dangerous areas of the Middle East, he turned his planning skills to the parcels he and his son, Matthew, had steadily acquired.
What began as a small, 40-acre purchase near Louisville in 1975 after Dave graduated from Mississippi State University has become a 455-acre contiguous collection of Loblolly pine trees and hardwoods of varying ages, food plots, ponds, and trails.
"I grew up just down the road and had a good relationship with our neighbor, Mr. Black, who let me roam all over," Matthew explains. "I know this place like the back of my hand, and I've watched it change over the years. I never dreamed we would own this."
Dave and Matthew, a state trooper, Army veteran, and current member of the Army National Guard, turned to the MSU Extension Service for advice. They attended several workshops and short courses about timber management, wildlife management, and soil health.
"Extension takes a practical and academic approach, and I like that," Dave says. "They don't give you advice based on any monetary benefit to them. They offer resources and references, take you to tour other farms to look at what others are doing, and then you decide what is best for your property."
Through Extension, the Stewarts learned about proper site preparation for planting, controlled burns, and how to leverage the financial investment required to grow timber.
"Extension helps me make educated decisions and feel good about the decisions I make," Dave says. "I didn't want to decide in a vacuum."
At one workshop, Extension forestry professor Dr. Randy Rousseau announced he was looking for individuals to participate in a pine genetics research and demonstration project, and the Stewarts volunteered. They worked with a registered forester and tree-planting crew to prepare 3 acres for planting, and now they watch different genetic seedling types deal with various environmental conditions.
"One of the benefits of working with the Extension Service is forming relationships with different people over time," Dave says. "I know I can call any of the people who have taught workshops and ask them for help."
Rousseau appreciates Dave's enthusiasm and the give-and-take of their relationship.
"We're helping each other. I get research help, and he figures out what the next crop of trees he wants to plant will be," Rousseau observes. "Unlike some landowners who turn it over every 30 to 35 years, he'll have some acres constantly in a state of harvesting, thinning, and planting. He always wants to know something. He's always ready to learn."
With an overabundance of material in today's market, quality is going to be the factor that makes a difference in the timber market. Rousseau's study will demonstrate the importance of cutting-edge, genetically superior seedlings, and other landowners will be able to come to Dave and Matthew's place and see for themselves.
"I can make all the talks, write all the publications, but it really comes down to landowners seeing and experiencing it," Rousseau explains. "Most people would rather have someone else experience it first. I'm just glad we have landowners like the Stewarts who are willing to share their successes with others."