A Stepping-Stone to the Future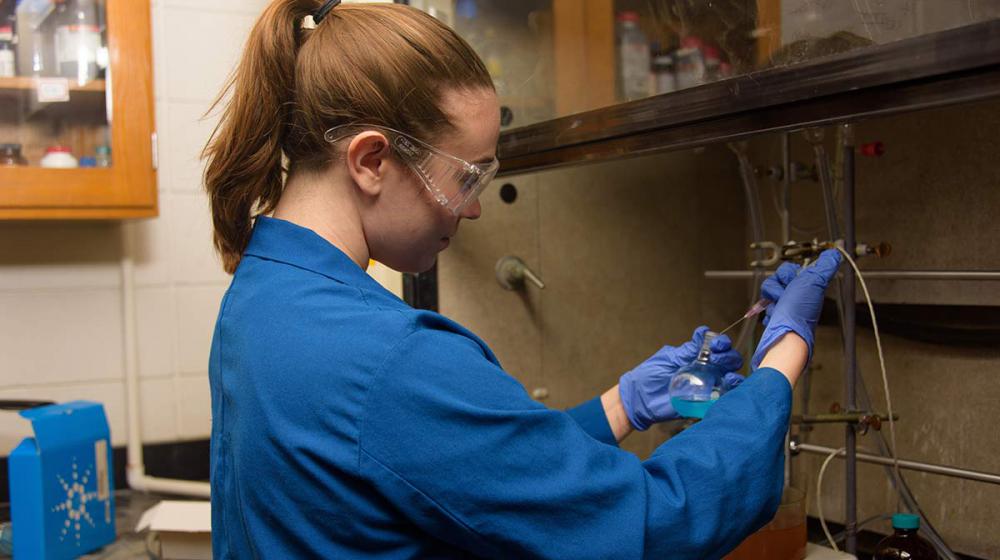 Zoe Fokakis, Rural Medical and Science Scholars program alumna, 2015.
Rural Medical & Science Scholars program provides insight, courage for careers
Story by Susan Collins-Smith • Photos by Kevin Hudson
Zoe Fokakis is on her way to realizing her dream of becoming a physician scientist. That dream was partly fueled by her participation in the Rural Medical & Science Scholars program.
A program of the Mississippi State University Extension Service, RMSS allows rising high school seniors an opportunity to explore healthcare and science-related fields. They earn college credit and get a glimpse of college life. Fokakis, who has wanted to be a physician since she was a child, learned about the program from a teacher at her high school in Hattiesburg and decided to apply.
"I looked into the program online and thought it was so amazing that I could take college courses while getting shadowing hours. So, I thought, why not?" recalls Fokakis, a 2015 RMSS graduate.
RMSS through the years
444 students have participated in the RMSS program.
Scholars have come from 69 of the state's 82 counties.
26% of participants represent minorities.
62% of participants are FEMALE, and 38% are MALE.
58 scholars have attended medical school.
30 practice in primary care.
70% have engaged in STEM-related careers.
She remembers it as an eye-opening experience that allowed her to take biology and sociology courses from a pre-med perspective. She also learned about the college experience and how to balance studying and socializing.
"At the time, it felt like something I just needed to do for my résumé, but now I look back and realize how blessed I was to have that opportunity," Fokakis says. "I had late-night, crazy study sessions with other incredible students I got to know and be great friends with.
"We were also blessed to have incredible resident assistants, who have been through RMSS themselves. We'd talk to them forever, asking question after question to learn more about the pre-med process and MSU in general."
Traditionally, participants came to the MSU campus for the 4-week program. However, in 2020 because of the pandemic, the course moved to an online-only delivery. Classes, workshops, and shadowing opportunities occurred virtually. In 2021, delivery in June used a hybrid model, with students attending on-line the first 3 weeks and on campus for the last week.
After she completed the campus-based program, Fokakis earned a bachelor's degree in chemistry and psychology from MSU in December 2020 and participated in both chemistry and psychology research laboratories. But she wasn't even considering MSU for her undergraduate education until she attended the RMSS program.
"I wasn't looking at any in-state universities," she says. "I thought Ole Miss was pre-law and pre-med, MSU was engineering and agriculture, Belhaven was arts, USM was business and nursing, and Mississippi College was pre-med. As I spent more time at RMSS, I learned how amazing MSU is. "Our honors college is strong and has a wonderful support system. Everyone here wants to see you succeed. There are just as many opportunities for students as at larger schools, but it has the Southern hospitality that I was missing at other schools I visited. I was 3 weeks into the program, and I realized I had already begun to think of MSU as home."
Fokakis was accepted to medical school in early 2021 and plans to be a physician scientist, practicing geriatrics and researching the behavioral symptoms of Alzheimer's disease.
That's a testament to the 20-year-old program's success, explains Ann Sansing, RMSS program director.
"We are grateful to have many stakeholders in the program that touch scholars' lives during RMSS—from MSU staff, faculty, and administrators to healthcare professionals and sponsors," Sansing says. "We hear from alumni all the time who say the program was the stepping-stone for providing insight, exposure, and the courage needed to pursue their career choices—whether in health, STEM, or another field.
"The program also helps to ensure a strong and passionate workforce to improve Mississippi's economy and access to healthcare," Sansing emphasizes.