Extension assists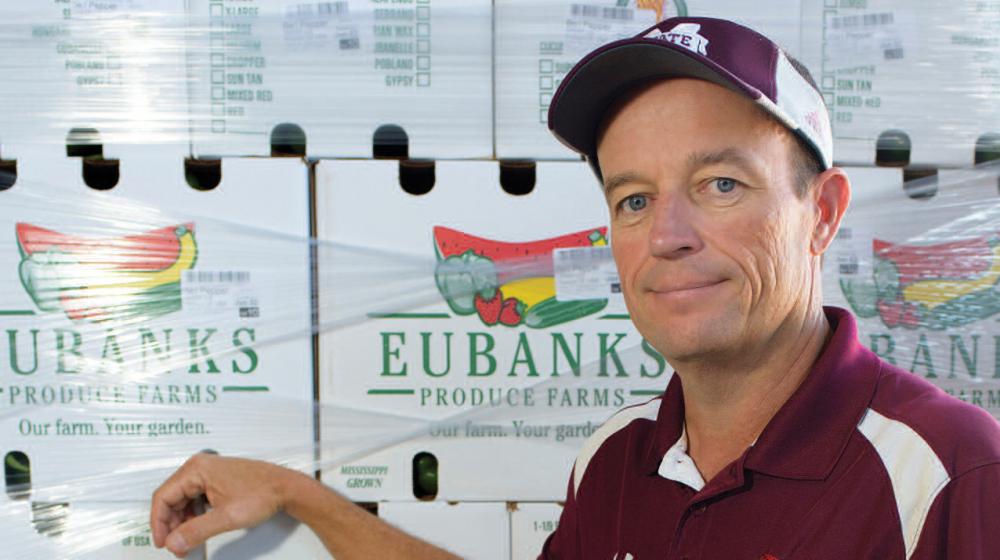 Allen Eubanks, 2015 Mississippi Sunbelt Ag Expo Farmer of the Year
Producer's rise to success
Allen Eubanks grew his family business near Lucedale from a 200- acre row crop farm to a 2,500-acre, high-tech produce operation, and he credits researchers and agents with the Mississippi State University Extension Service with helping him succeed.
Bell peppers, cantaloupe, eggplant, snap beans, and zucchini are just a few of the dozens of fresh fruits and vegetables Eubanks Produce now distributes to major commercial vendors throughout the Gulf Coast, Southeast, and Northeast.
During peak growing season, more than 300 employees grow and hand-harvest crops using GPS technology and drip irrigation to make the most efficient use of water and the fertile Southeast Mississippi soil. Each week, Eubanks conducts soil and plant testing on the crops he grows to make sure they're all healthy and disease free.
The elaborate nature of the operation has significantly evolved from its roots. The first seeds of Eubanks Produce were planted two generations ago by Allen Eubanks' grandfather, Pat, who grew peas, butterbeans, watermelons, and pecans. Eubanks' father, Charlie, later grew row crops, watermelons, and tomatoes. He soon opened 10 acres of tomatoes to the public for picking. That farm has since grown into a 100-acre farm known as Charlie's U-Pik. It offers a wide range of fruits and vegetables in June and July for people wanting to buy produce directly from the farm.
Helping his father and mother grew Eubanks' interest in becoming a farmer himself.
"I grew up helping out where needed and just developed a love for it," Eubanks says. "I started growing a few more watermelons and different vegetables in my high school years. While I went to MSU and worked on my degree in agricultural economics, I would grow more vegetables on weekends and summers."
Eubanks established his first ties with Extension while he was a student studying under David Nagel, an Extension professor in plant and soil sciences.
"He was my mentor in college and later did extensive trials for several years on our farm," Eubanks says.
When he graduated in 1992, Eubanks spent "every dime" he had trying to build a viable vegetable business. The first years were challenging, and he paid his dues with long hours and modest returns.
"I learned mostly by trial and error," Eubanks says. "It developed and steadily grew in size to where it is today. It was probably 2003 before we had a decent income and consistent business."
He emphasizes that Extension was especially helpful during the first years of developing his business, and he continues MISSISSIPPI'S SUNBELT AG EXPO Farmer of the Year Shares Secrets to Success Extension MATTERS 9 to maintain relationships with Extension agents and researchers today. With their expertise, Eubanks says he began concentrating on growing the crops that thrived on his land and avoiding the ones that did not consistently meet his expectations.
"The first Extension agent I remember was George McNeil. I got to know him early on as a 4-H leader," Eubanks says. "He helped us diagnose disease problems in watermelons. He was a great, very encouraging man. The next agent, Kerry Johnson, also helped identify problems I had and show me other potential crops I could plant. He showed me how to get information and help when I needed it."
More recently, Eubanks says he has regularly consulted with former George County Extension agent Mike Steede and current agent Heath Steede.
Extension nominated Eubanks as Mississippi's selection for the 2015 Sunbelt Ag Expo Farmer of the Year. Held in Moultrie, Georgia, the Ag Expo is an annual trade show featuring more than 1,000 ag-based vendors. It is known as one of the premier farm shows in the U.S. Nine participating states select nominees for the award, and an overall winner is chosen at the conference.
Patricia Knight, Extension research professor and head of the Coastal Research and Extension Center in Biloxi, says Eubanks was a popular recommendation among MSU Extension agents and agricultural faculty.
"His name came up several times," Knight says. "He got such a strong endorsement from our folks that he was the obvious choice."
During multiple visits to Eubanks's facilities, Knight was impressed with his attention to detail and ability to adapt to evolving agricultural technology.
"He has a tremendous variety of truck crops, and, in listening to him talk about his operation, he's very meticulous about quality control and goes beyond what is required to bring the best possible product to his customers," Knight says. "He has an excellent reputation and represents himself and his business very well."
A fourth generation of Eubanks is already getting involved in the family business. Eubanks and his wife, Janice, have engaged their four children in the operation. Their 17-year-old son, Andrew, managed Charlie's U-Pik this summer, while daughter Allison, 16, is the farm's social media and marketing manager. Younger sons Joshua, 12, and Jacob, 9, also assist customers who come by to pick produce.
"People come from a 150-mile radius to pick their own vegetables each summer," Eubanks says. "We really like this because it is our connection to the local community. We also participate in our local farmers market when we can, and our children have helped out a lot with that."
Eubanks says he was humbled and appreciative to be chosen as the Ag Expo Farmer of the Year for his native state.
"There's nothing more satisfying to me than seeing a crop from start to finish," he says. "It's definitely challenging at times mostly due to weather and markets, but there's nothing else I would rather do. I feel like I am overly blessed to do what I love with my family alongside me."