Program Overview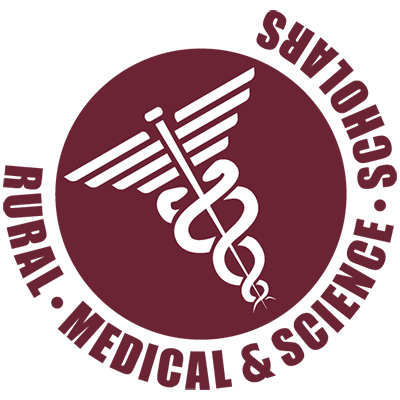 The Rural Medical & Science Scholars program can help you answer that all-important question: Do I want to a career in medicine or is another career path my calling?
Here are a few benefits:
Take real college courses and gain college credits you can use later. Make life-long friends with the same interests and goals.
Participate in practical learning workshops relevant to the life of a health or science-based career.
Experience virtual shadowing and engage in simulations emanating real life-situations.
Become certified as a Jr Master Wellness Volunteer.
Experience college in a virtual environment with counselors that will mentor and help you navigate the online learning experience and build relationships with your fellow scholars.
As a Rural Medical & Science Scholar, you will be part of a 4-week summer online/virtual program at Mississippi State University. You will take two college-level courses (Introduction to Health Professions and Applied Public Health Sciences), spend several afternoons a week participating in virtual "shadowing" and participate in practical learning workshops geared to the interests of young, aspiring healthcare professionals, scientists, and engineers. Practical online lab-based learning activities will be integrated throughout the program to enhance knowledge and skill. Workshops pertaining to communication, teambuilding/critical thinking and study skills will help launch your college career.

"Sounds good, but you might be thinking…" I was planning to work this summer." Consider this: You can work or participate in other extracurricular events the second half of the summer, so why not attend the RMS Scholars program and get a jumpstart on college credits for a reduced price including experiential learning activities. Your cost includes a reduction in tuition, textbooks, application fee, and virtual learning toolkit including Ipad to use for the duration of the program for only $2400. So, what have you got to lose? You gain 6 college credits and meet life-long friends in a virtual learning environment that you help pioneer. This program is valued at $7200 and the dates are May 31 through June 26, 2020.
Rural Medical Scholars Program: Filling the Gap for Healthcare and Public Health Leaders in Mississippi (PDF)
American Public Health Conference, Atlanta GA.
November 6-8, 2017
Check out the Frequently Asked Q&A for more detailed information.

Publications
Publication Number:
M0980
Publication Number:
M1343
Publication Number:
M1917
News
Watch
Listen
Contact Your County Office
Contacts
Your Extension Experts
Rural Medical Scholars Program Director/Community Health Coordinator