Information Possibly Outdated
The information presented on this page was originally released on April 30, 2018. It may not be outdated, but please search our site for more current information. If you plan to quote or reference this information in a publication, please check with the Extension specialist or author before proceeding.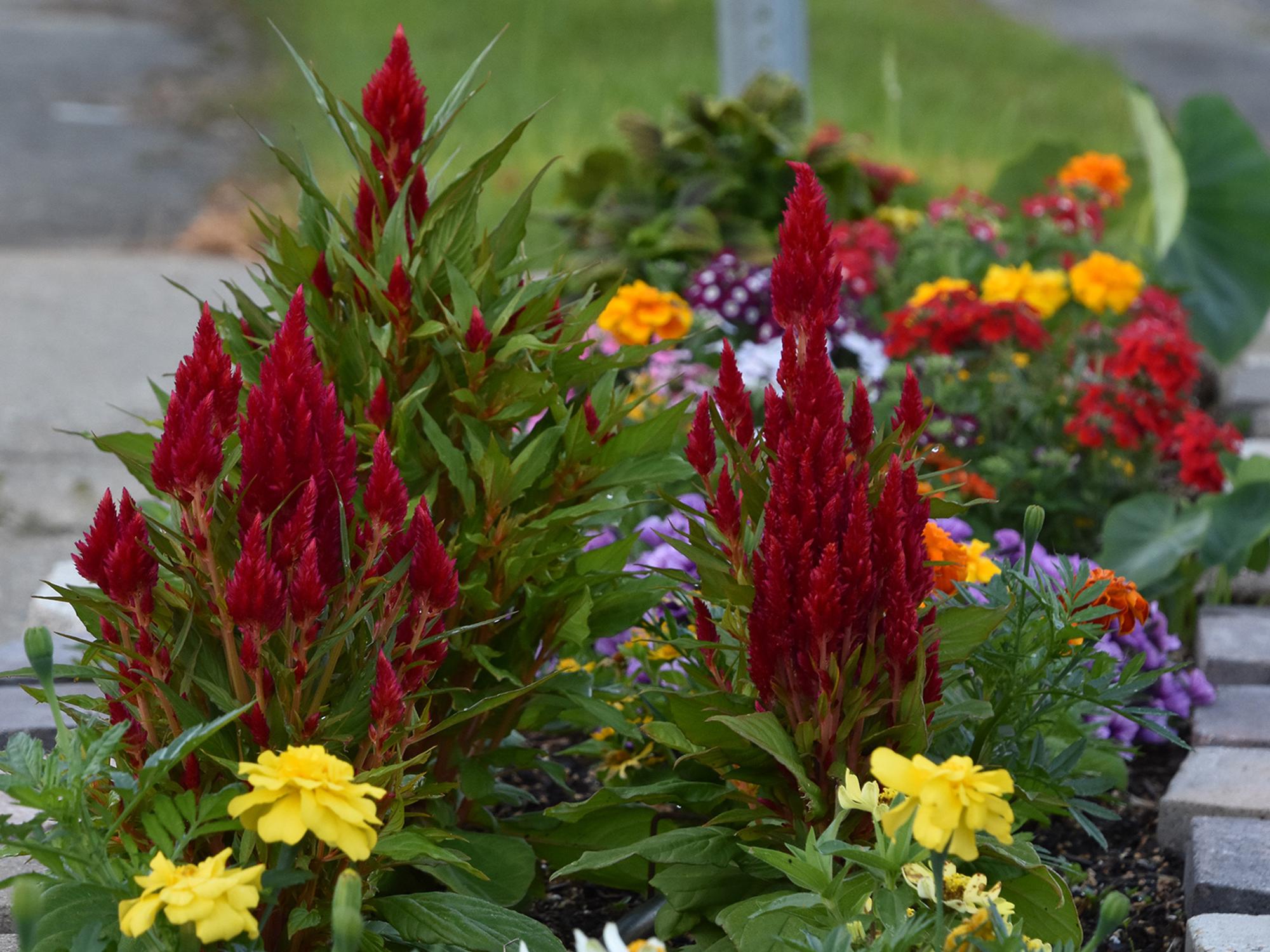 Celosia almost guarantee summer garden success
When I was beginning my horticulture journey after making a career transition, I thought I had some idea about color and planting combinations. I would alternate colors and sizes because all my neighbors were planting that way. But this approach changed for good one afternoon.
A group of horticulture club students was helping our advisor, Dr. David Bradshaw, add color annuals to the entrance beds of the horticulture building.
I was new to the program and started with the only style I knew. Doc quickly stopped me. He wanted to use this service activity to do a little teaching. This was my first exposure to taking advantage of a teaching moment.
Doctor B picked up a tray with a variety of plants and started walking, tossing plants over his shoulder. He had us plant wherever they randomly landed. I was horrified! Where was the order and planned sequences?
But once the beds were finished, they had that completely composed look. I was hooked! This is a style I have used for color ever since in most of my in-ground or raised beds
While most of my garden and landscape is in containers, I recently installed a raised planting bed in the strip between my sidewalk and street -- you know, the "Hell Strip."
The color I've chosen for the summer is a completely random mix of transplants that looked good on the days I've been to the garden center. I got marigold, verbena, sweet potato and zinnia. But one color annual was a must-have on my shopping list: celosia.
These plants are almost guaranteed to be a success. They are high in style and low in maintenance. What more could any home gardener ask for?
Celosia will attract a lot of interest, and their flowers come in a virtual kaleidoscope of vibrant colors. This year, I've stayed with plumosa-types. These plants tolerate Mississippi's summer heat and drought while producing masses of side plumes nonstop all summer.
Dragon's Breath is one of the best celosias I've seen in recent years. It grows equally well in the landscape bed or patio container (which I also have, of course).
This medium-tall celosia selection, which reaches about 20 inches by the end of the season, has unique, red-green foliage topped with blazing red, feathery flowers that resemble flames licking upwards. I think their best flowering happens in the fall when many other warm-season annuals are worn out after the harsh summer heat and humidity.
One of my favorite celosias to plant is the Fresh Look group. These have a broad branching habit, a variety of colorful plumes and bright-green foliage. Red, gold and yellow varieties have all three have been recognized as All-America Selections: Fresh Look Red (2004), Fresh Look Gold (2007) and Fresh Look Yellow (2004).
This year, I'm growing Fresh Look Red. It blooms nonstop all summer, which is especially important because of the intense heat and humidity we have in our Mississippi gardens.
Pinching the plants will promote lateral growth and more flowers. Pruning or deadheading are not required, although I'm sure the home gardener wouldn't mind collecting a few flowering stems for summer arrangements.
With their attractively colored flowers and easy care, celosia are a welcome addition to your summer landscape.