Focused on the Future
Ashantis Wigley shows off some of the ribbons she won in state 4-H competitions.
Teen learns and grows through 4-H projects
Story by Leah Barbour • Photos by Kevin Hudson
Ashantis Wigley is forging her future college and career path at Humphreys County High School by sharpening her discipline, drive, and patience through the Mississippi State University 4-H Youth Development program.
"I believe my doing photography projects with 4-H is bringing joy to people. My photos are about the positivity of life."
Ashantis Wigley
At 14, Ashantis recently began her freshman year in high school, but, with 6 years of 4-H under her belt, including numerous projects in clothing, photography, and public speaking, she's adaptable and confident.
"4-H is opening many doors for me," she reflects. "It's well known throughout the whole world, and it gives you the chance to use your best qualities."
Ashantis's mother, Latonya Wigley, agrees. A junior-high teacher, Latonya says 4-H has helped her daughter develop her own natural talents.
Ashantis isn't shy, her mother laughs. By participating in 4-H public speaking projects,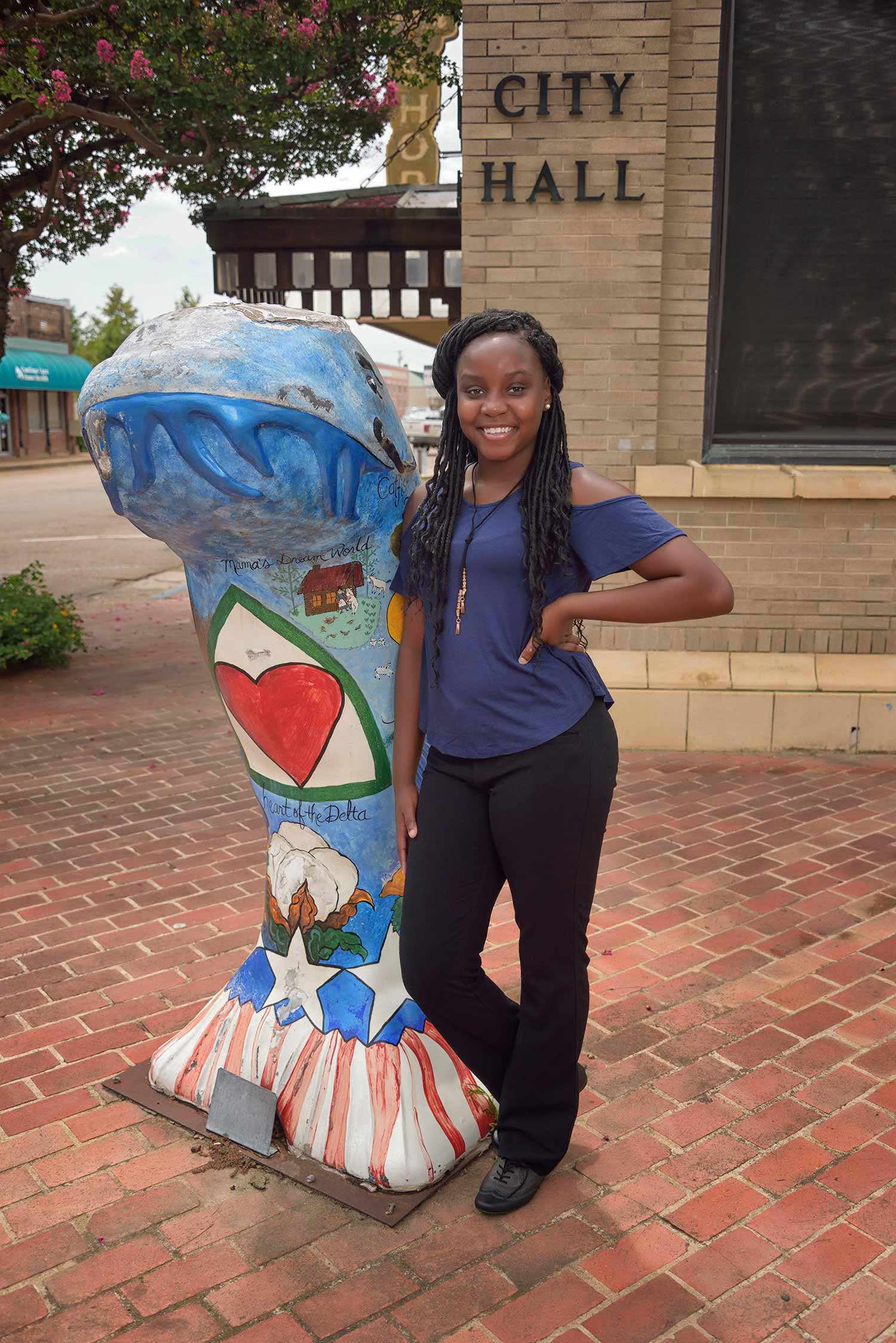 Ashantis is enhancing her craft and learning how to make people listen.
"For my age," Ashantis explains, "I speak on topics that some might call controversial. For example, at Club Congress, I talked about depression. I do the research; it's a time-consuming process, but it's well worth it.
"I speak on topics, and I speak strong. It's coming from a child who wants to be heard, who wants to make a difference," she says.
Ashantis's mom is proud of her daughter's willingness to dig in, do the work, and share her research with others; this preparation will lead to academic and professional success, she affirms.
Likewise, Ashantis's Extension agent, Regina Boykins, is excited about the young 4-H'er's future.
"Ashantis is self-motivated, and she already has the drive to be successful," Boykins reflects. "She's bold but mindful of the information she's giving to her peers. She's learning the right way from the wrong way, and she grows into a stronger person every day."
4-H is opening the doors to her success, Ashantis says. Not only will she have the chance to earn college scholarship money through 4-H, but Ashantis is already getting to visit college campuses, including MSU and Delta State University.
"I've gotten to see things I wouldn't have gotten to see. I feel that you don't judge a book by its cover; appearance doesn't define who a person is on the inside," Ashantis says. "4-H is like a big family, and we're always there for each other, no matter what."
Latonya is happy that her daughter is finding a way to speak on the topics that matter to her.
"She likes the things she can research, and we don't want to kill her momentum," Latonya says. "I welcome the opportunity for her to express herself, as long as it's respectful. 4-H is letting her be herself."
Ashantis agrees that she's learning important life skills from 4-H, and she's happy that the organization has so many different project areas to keep her engaged.
"I believe my doing photography projects with 4-H is bringing joy to people," she reflects. "My photos are about the positivity of life.
"4-H is letting me be me. I don't have to hide who I am because I can be the person I know I am."