Easy Groundcovers for Mississippi Lawns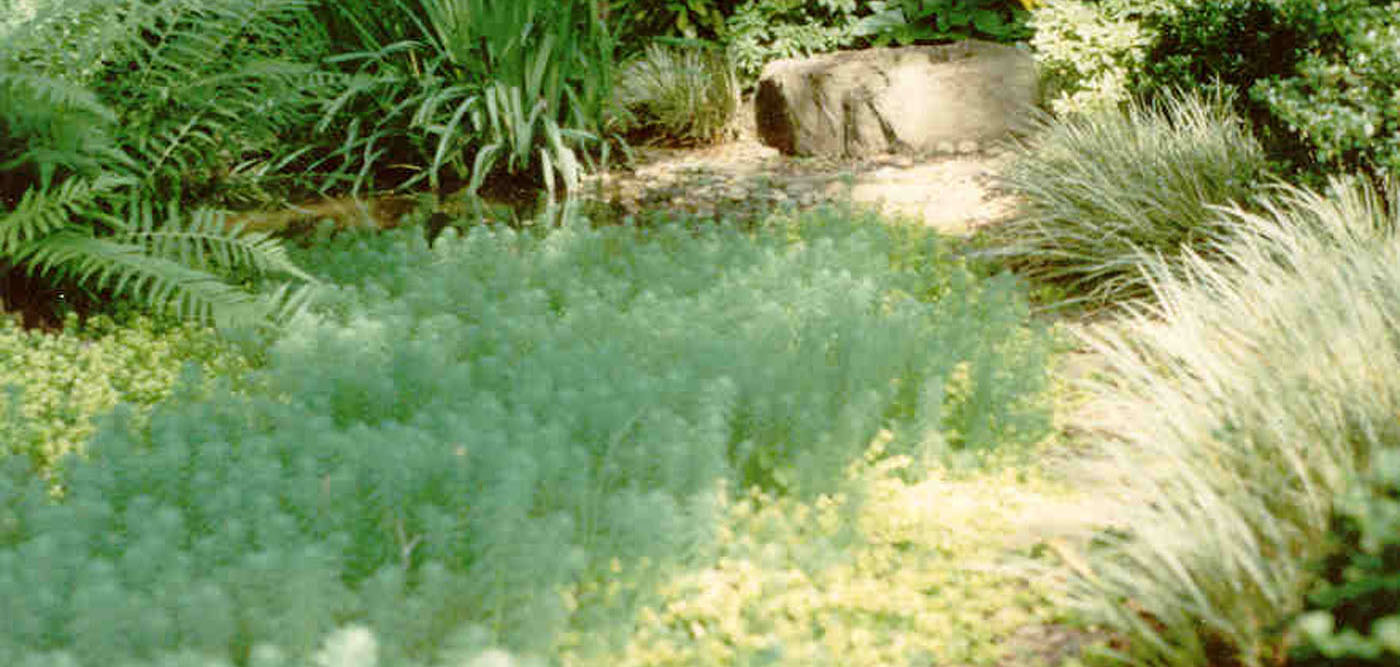 Groundcovers serve many important functions in the home landscape. These low growing plants control soil erosion, reduce glare and heat, slow and absorb rainwater run-off, compete against weeds, muffle sounds, and help to direct pedestrian traffic.
In the design of the home landscape, groundcovers define the ground plane and provide interesting combinations to traditional turf and paving. A use of a solid groundcover unifies individual plantings of shrub and tree groupings and defines planting beds and boundaries. A variety of groundcovers also provides visual contrasts of color, texture, and pattern with other nearby materials.
Groundcovers are typically low growing plants less than three feet in height. They may be evergreen or deciduous, and can be creeping, clump-forming, trailing, or prostrate in form. There is a wealth of plants suited for groundcover use in Mississippi, and varieties should be selected according to the amount of sun or shade available in the desired area. In areas that are too shady for lawn grass to properly grow, such as under the dense shade of oak or magnolia trees, shade-loving groundcovers are the perfect choice.
Designing with Groundcovers
The first step in establishing groundcovers is to determine the bed shape and size. The size of the groundcover area should be in proportion (i.e. 'looks right') to the surrounding vegetation types and available garden space. Plants that vine, such as asian jasmine or vinca, will need bed edging to contain their sprawling stems. Choose bed edging materials and forms that best complement the design and character of the home and surrounding paving types.
Establishing a Groundcover Bed
If lawn grass or weeds are growing in the groundcover area, use an herbicide to control existing vegetation (read the product label for application and use). Add any soil amendments needed and till the ground several inches (avoid injuring nearby tree roots) to loosen the soil. For sunny or problem weed areas, it is best to use a permeable weed fabric to reduce unwanted vegetation. Add a thick layer of mulch (at least 2" of pine straw, bark, gravel, stone, or wood chips) on top of the weed fabric to reduce soil temperatures and to moderate moisture. To plant, simply move the mulch and slice the fabric in an 'x' fashion about 6 inches long. Fold in the fabric edges to dig the planting hole.
The quantity of groundcover plants needed depends upon the types of plants to be selected and the amount of bed space to cover. Plants that vine will cover larger areas over time. Clump-forming plants such as liriope or monkeygrass will need to be planted closer together to fully vegetate the zone. Calculate the total bed area to be planted by determining the bed's square footage, then divide this amount by the square footage of each plant at maturity.
Maintenance
During the first year, new plantings will need some weeding and watering to establish. For quicker coverage, fertilize in early spring with a complete fertilizer such as 13-13-13 or 10-10-10. Recommended rates are two pounds per 100 square feet of bed, and apply when the foliage is dry.
The following table lists a variety of recommended durable groundcovers and their growth characteristics.
Groundcover

Foliage

Exposure

Size

Remarks

Bugleweed,
Ajuga reptans

Deciduous

Shade

3"-6"

Requires well-drained soil,
Blue spring flowers,
Creeping perennial

Cast iron plant,
Aspidistra elatior

Evergreen

Shade

30"-36"

Coarse leaf texture,
Clump forming perennial,
Drought tolerant

Holly fern,
Cyrtomium falcatum

Evergreen

Shade

24"-30"

Clump forming perennial,
Coarse leaf texture.
Yellow green leaf color

English ivy,
Hedera helix

Evergreen

Shade

30'-40'

Climbing vine,
Dark green medium foliage,
Drought tolerant

Liriope,
Liriope muscari

Evergreen

Sun/shade

12"-18"

Grass-like clump perennial,
Violet summer flowers,
Drought tolerant,
Variegated cultivars

Moneywort,
Lysimachia nummularia

Deciduous

Sun/part sun

3" x18"

Yellow-green foliage,
Fast growth,
Requires well-drained soil,
Creeping groundcover

Monkey grass,
Ophiopogon japonicus

Evergreen

Sun/shade

8"-8"

Grass-like clump perennial,
Fine leaf texture,
Drought tolerant

Stonecrop,
Sedum acre

Evergreen

Sun

4"x12"

Creeping groundcover,
Fine leaf texture,
Summer flowers,
Yellow-green foliage

Asian jasmine,
Trachelospermum asiaticum

Evergreen

Sun/shade

12"x10'

Vining perennial,
Fine leaf texture,
Often requires trimming,
Drought tolerant

Periwinkle,
Vinca major

Evergreen

Part shade

12"x3'

Vining perennial
Medium leaf texture,
Variegated cultivars,
Blue spring flowers

Littleleaf periwinkle,
Vinca minor

Evergreen

Part shade

10"x3'

Vining perennial,
Fine leaf texture,
Blue spring flowers

Daylily,
Hemerocallis spp.

Evergreen/Deciduous

Sun

36"x36"

Clump perennial
Summer flowers
Grass-like leaves
Many cultivars

Wild ginger,
Asarum canadense

Evergreen

Shade

4"x6"

Heart shape leaf,
Clump perennial

Confederate jasmine,
Trachelospermum jasminoides

Evergreen

Sun

12"x10'

White spring flowers
Vine
Fragrant

Ardisia,
Ardisia crenata

Evergreen

Shade

24"x24"

Red winter fruit
Clump perennial
Dark green foliage

Japanese ardisia,
Ardisia japonica

Evergreen

Shade

10"x10"

Red winter fruit
Clump perennial
Variegated cultivars

Butterfly iris,
Dietes vegeta

Herbaceous

Sun

24"x24"

Clump perennial
Iris leaves
White spring flower

Louisiana iris,
Iris spp.

Evergreen

Sun

36"x36"

Clump perennial
Spring flowers
Many cultivars

Indigo,
Indigofera kirilowii

Deciduous

Part shade

24"x24"

Spreading shrub
Pink summer flowers
Delicate lacy foliage
Fine texture
Publications may download photo at 200 d.p.i.
---
These factsheets were written by Robert F. Brzuszek, Assistant Extension Professor, The Department of Landscape Architecture, Mississippi State University.

Publications
News
Listen
Tuesday, February 5, 2019 - 7:00am
Monday, May 9, 2016 - 7:00pm
Select Your County Office
Contacts