Seafood Processing
Mississippi Seafood Processing
Seafood processing primarily corresponds to "seafood canning" and "fresh and frozen seafood processing." It involves plants engaged in the primary wholesale and processing of seafood products.
An online list of Mississippi seafood dealers can be viewed on the Mississippi Department of Marine Resources website: species and level of trade group them.
An online directory of registered seafood businesses is available on the Mississippi MarketMaker website.
Sales and Employment Contributions
The major seafood species processed in Mississippi include catfish, shrimp, oysters, blue crabs, and other food fish species. In addition, menhaden are processed into fish meal and oil.
The economic contributions of Mississippi seafood processing since 2014 are shown below. Output or sales are businesses' gross sales within the economic region affected by an activity. The total economic contribution consists of direct, indirect, and induced effects. The seafood processing industry generated more than $123 million in sales contribution in 2019.
Employment or job contributions are measured as a mix of full-time and part-time jobs. The total economic contribution is the sum of direct, indirect, and induced effects. The seafood processing industry created almost 1,400 jobs in 2019.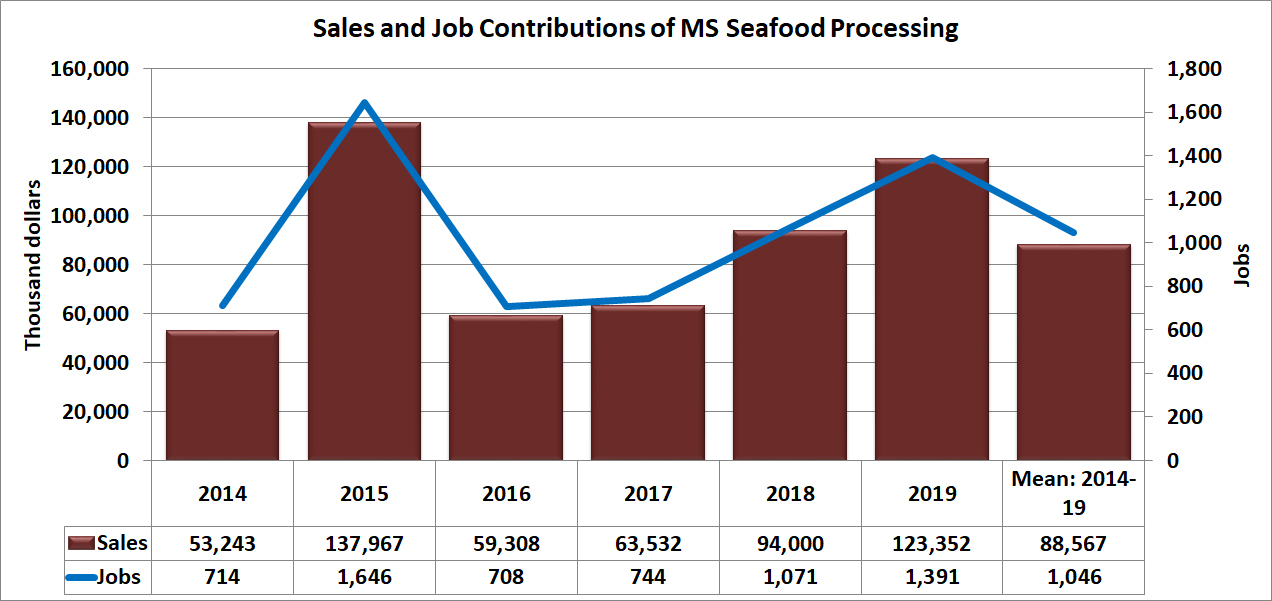 The average productivity of workers in the seafood processing industry in Mississippi can be measured by dividing total sales contributions by total job contributions. During the past six years, seafood processing generated average productivity of more than $84,000 per worker per year.
Mississippi MarketMaker
Number, Wages, Salaries, Earnings, and Socioeconomic Characteristics of Seafood Processing Workers and Owners
Economic Contribution of Seafood Processing in Mississippi and Alabama Gulf Coasts

News
Select Your County Office
Your Extension Experts