Smart Landscapes Presentations
Create an Edible Legacy: Make Your Own Food Forest Garden (PDF)
Food Forest Presentation.pdf (PDF)
Mississippi Smart Landscapes Butterflies and Hots Plants.pdf (PDF)
Planting Design for New Landscapes or Renovation Projects (PDF)
---
Previous Presentations
Creative Biodiverse Landscape for Mississippi Wildlife (PDF)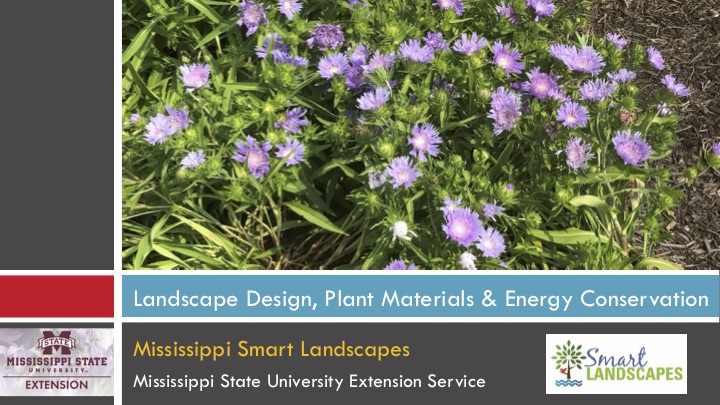 Landscape Design, Plant Materials and Energy Conservation (PDF)
Managing Landscapes for Healthy Soils and Water PDF

Publications
Publication Number:
P2330
Publication Number:
P3660
News
Success Stories
Agriculture, Crops, Irrigation, Remote Sensing Technology, Soils, Soil Health, Soil Testing, Healthy Soils and Water, Healthy Water Practices, Water
Brian Andrus irrigated exactly zero times on his Sunflower County farm in 2021. He didn't even turn on his well.
Wildlife Youth Education, About Extension, Master Gardener, Insects, Lawn and Garden, Flower Gardens, Herb Gardens, Places for Wildlife, The Story of Plants and People, Vegetable Gardens, Urban and Community Forestry, Urban and Backyard Wildlife, Wildlife Economics and Enterprises
See what's new in Extension: a new monarch garden, a storytelling series will begin, the Garden Expo highlights Extension education, and Keep America Beautiful recognizes MSU Extension.
Select Your County Office
Related Materials
Your Extension Experts
Assc Extension Prof & Director