Contact ECEEFL
Housed within the MSU Department of Agricultural Economics, the Extension Center for Economic Education and Financial Literacy is a component of the Community and Economic Development unit of the Mississippi State University Extension Service.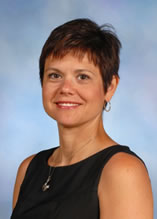 Rebecca "Becky" Smith, Ph.D.
Director, Extension Center for Economic Education and Financial Literacy
Becky.smith@msstate.edu
662-325-1793
367 Lloyd Ricks Watson
Department of Agricultural Economics
Mississippi State University
Mississippi State, MS 39762
Dr. Becky Smith is an economist for Mississippi State University Extension Community and Economic Development. She works in agritourism and economic education, directing the Extension Center for Economic Education and Financial Literacy housed in the Department of Agricultural Economics at Mississippi State University. Dr. Smith serves all K-12 teachers, agritourism operators, local elected officials, economic and community development professionals, Extension agents, and citizens through relevant applied research, grant writing support, and enthusiastic, collaborative leadership that links academic and non‐academic units across Mississippi.
Dr. Smith has been teaching college students for almost twenty years and working with Mississippi teachers for over ten years. She delivers engaging workshops incorporating the latest research in economics and education including how we think, how we learn, and how we make decisions; consumer behavior; Common Core State Standards; informational text, data interpretation and data‐driven decision‐making; energy and environmental economics; international economics; personal finance and student debt; service‐learning; and civic dialogue.
Dr. Smith loves to exercise with her family. She and her husband Cade enjoy running long distances and eating locally grown fruits and vegetables. She has three great kids (Carter 12, John Geoffrey 10, and Winnie 8) and two great step-kids (Hunter 20 and Alex 16) and three formerly stray dogs, Festus, Jenga, and Sophie.

Publications
Select Your County Office
Related Material
Your Extension Experts