Squash
Summer and Winter Squash
Summer Squash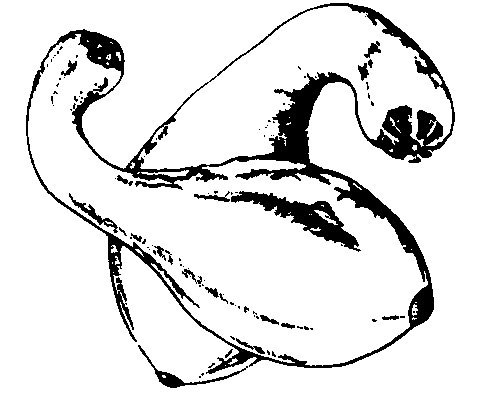 All summer squash (straight neck, crookneck, bush scallop, and zucchini) are actually true pumpkins. They crosspollinate with each other as well as Halloween type pumpkins, spaghetti squash, and small ornamental gourds. All this crossing does not affect the quality of the current season's production.
Summer squash have a tender skin and are harvested at an immature stage, generally within 4 to 6 days after bloom. The plants are bush type rather than vining and are suited for small gardens. Most new varieties are hybrids.
Summer squash have separate male (attached to the plant by a thin stem) and female flowers (small squash behind the yellow blossom) on the same plant and depend on bees for pollination. Hybrids may produce a few female flowers before male flowers appear, and without pollination, these fail to develop into squash.
Plant summer squash seeds in hills about 3 feet apart, with 3 to 4 seeds per hill or in a row with single seeds spaced about 1 foot apart. Space single plants about 3 feet apart. Crowding leads to low production and disease.
Squash do well on black plastic mulch in spring, especially when planted early. They benefit from warm soil and lack of weed competition. Fall squash can be grown by planting seeds in August, but mosaic virus has been a serious problem in recent years.
Side-dress plants with a nitrogen fertilizer when they have several leaves but before they start to bloom.
Proper harvesting is important for continuous production. Remove all large and overmature squash. This problem is more serious with zucchini than with other types of summer squash.
Several serious insect pests attack squash plants: spotted and striped cucumber beetles, squash bugs, stem borers, and pickleworms. A regular spray program with carbaryl (Sevin) helps reduce damage from these insects.
Disease problems are mainly fruit rot on crowded, shaded plants and mosaic virus.
Varieties
Aristocrat—hybrid zucchini; cylindrical fruit; smooth; uniform; dark green; 53 days; AAS 1973.
Bush Scallop—scalloped white to pale green fruit; 55 days.
Butterbar—hybrid yellow straightneck; long, cylindrical; butter yellow; small seed cavity; 49 days.
Medallion—hybrid; crookneck; lemon yellow.
Early Prolific Straightneck—popular old variety; creamy yellow; straight; slightly tapered; 52 days; AAS 1938.
Early Summer Crookneck—popular old variety; yellow; small, curved neck with bulbous blossom end; 55 days.
Senator—hybrid zucchini; 6 to 7 inches long; medium green.
Sunburst—hybrid scallop; bright yellow with green at blossom and stem ends; AAS 1985.
Winter Squash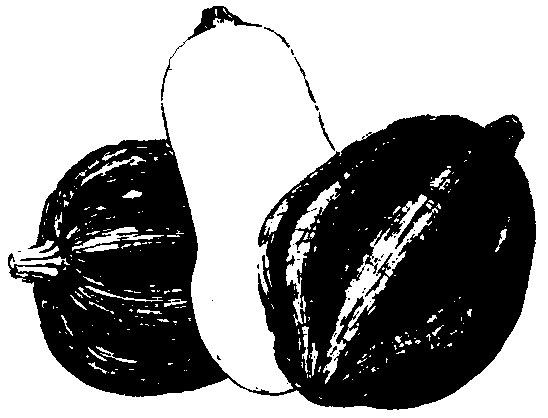 These hard-shelled squash are grown for harvest in fall and storage through early winter months. Acorn and Butternut are the two most popular types, but the group includes many others, such as buttercup, spaghetti, hubbard, banana, marrow, and turban. Some of the pumpkins, such as cushaw and Kentucky Field, are treated as winter or storage squash. An odd assortment of local squash called "aboveground sweet potatoes" fall into this group.
Most of these squash have strong vining plants. The fruit range in size from the small acorn and hybrid Early Butternut to the large banana and hubbards. Winter squash planted in spring along with summer squash mature in midsummer. These fruit lack the eating quality of those produced on plants from seeds planted in late June or early July along with Halloween pumpkins.
Delay harvest until the fruit rind is very hard and vines begin to die. Immature fruit of most varieties are tasteless. Yellow acorn varieties are edible at all stages of maturity. All winter squash are pollinated by bees and require 60 to 70 days from pollination to maturity.
Varieties
Early Butternut Hybrid—mature fruit are tan; excellent flavor and texture; stores well; viney but not overly vigorous; AAS 1979.
Sweet Mama—hybrid; dark green; 2 to 3 pounds; flattened; round; Buttercup type fruit; orange flesh; stores well; vigorous vines; AAS 1979.
Table Queen—acorn type; small fruit; dark green; deeply ridged; smooth and hard; yellow flesh; bush type plant.
Vegetable Spaghetti—fruit 8 to 10 inches long, 3 pounds; yellow when mature; cooked flesh is greenish-white, spaghetti-like strands; flavor is bland; prolific vine; 90 days; orange-fleshed type also available.
Waltham Butternut—large, tan fruit; 3 pounds; uniform shape; orange flesh; stores well; vigorous vine; AAS 1970.

Publications
News
Watch
Listen
Contact Your County Office