Test Soil to Find Its pH Value
The soil reaction, or measure of acidity or alkalinity, is based on a scale of 1 to 14 and is referred to as pH. A pH of 7.0 is neutral. Any values below 7.0 are acid, and any values above 7.0 are alkaline.
The ideal pH values for vegetable garden soils are 6.0 to 6.5. Vegetable plants do not grow well in acid soils with a pH of 4.5 to 5.5 or in alkaline soils with a pH above 7.5. Soil testing is the only way to know the pH of your garden soil. Contact your county Extension office for a container and instructions for taking a soil sample. There is a $8 fee for a complete analysis (pH plus nutrient analysis with lime and fertilizer recommendations) on each sample. The lime recommendation is the single most important piece of information on a soil test report.
In areas with high rainfall like Mississippi, soils are generally acid. However, there are exceptions (particularly in the Delta and Blackland Prairie) that prove the need for soil testing. Of the garden soils analyzed at Mississippi State University's Soil Testing Laboratory from 1999 to 2004, 49 percent had a pH of 5.9 or below and needed lime. Twenty-six percent were in the range of 6.0 to 7.0.
The pH of the soil tells you if the soil needs lime. Where it is needed, limestone is the most effective and inexpensive aid available for soil improvement. The soil's calcium and magnesium levels tell you what form of limestone—dolomitic (magnesium and calcium) or calcitic (calcium)—to apply. An acid soil that tested medium low to very low in magnesium should be limed with dolomitic (high magnesium) lime. An acid soil high in magnesium can be limed with either calcitic limestone or dolomitic limestone.
Acid soil results in poor plant growth, partly because of poor root growth. This means greater susceptibility to drought stress and less efficient use of soil nutrients. Plants growing in acid soil may show deficiency symptoms of several plant nutrients.
Apply lime well ahead of planting (2 to 3 months) to provide time for it to dissolve and change the soil pH. However, limestone begins to react as soon as it is incorporated and can be applied at any time to increase soil pH levels. Apply lime evenly over the entire area and work it into the top 4 or 5 inches of soil. Incomplete mixing may make future tests show a need for more lime, which can result in overliming and poor plant growth. Limestone not only raises the soil pH but improves fertility. Lime also improves the structure of clay soils and makes them easier to work.
Liming is not a once-in-a-lifetime event. Since soils limed to the proper pH return to their acid state with time, soil test every three years to determine if additional lime is needed. Sandy soils become acid again faster than clay soils.
Factors causing the soil pH to drop are listed below:
Using acid-forming fertilizers.
Leaching of lime from the soil by rain and irrigation water.
Decomposing of organic matter and release of organic acids.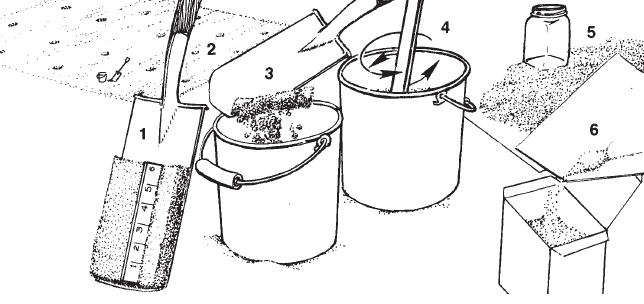 Publications
News
Watch
Listen
Contact Your County Office
Related Material