Granulate Ambrosia Beetle, Vol. 6, No. 3
---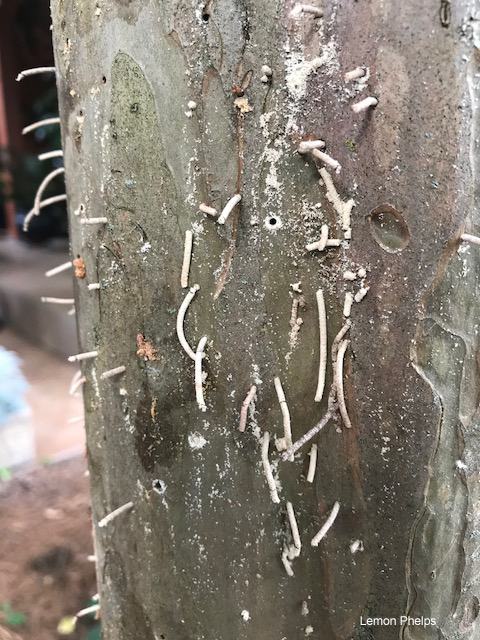 Xylosandrus crassiusculus
Order: Coleoptera
Family: Curculionidae

Why are there toothpicks growing out of the trunk of this tree and what does this mean for the tree? Granulate ambrosia beetle (GAB) is one of the most damaging insect pests of young trees in Mississippi landscapes, nurseries and orchards. Those "toothpicks" are columns of compacted frass that are forced out by the beetles as they borer into the tree. These frass columns are a notable sign that the tree is under attack by GAB but they are easily broken by wind or rain, and once this happens the remaining birdshot-sized gallery entrances are difficult to spot, especially on trees with rough bark. Other ambrosia beetles also produce such frass columns, but less commonly.

Trees that are heavily attacked by GAB do not usually survive. It is not the holes the beetles bore into the tree that cause the problem; it is the fungi they introduce into the tree as they colonize it. One study reported that attacks by as few as five to ten GAB are usually fatal to trees less than 3 inches DBH. By the time columns of extruded frass are obvious on the trunk of an affected tree (see photo) it is usually too late to save the tree—because it has already been inoculated with fungi. Larger trees are sometimes able to survive attacks, especially if attacks are limited.

Ambrosia beetles, such as GAB, inoculate their galleries with special fungi to provide food for their larvae. Adult ambrosia beetles have special pockets, called mycangia, in which to carry the fungal spores and these spores are released as the beetles tunnel in the sapwood.

Although GAB has several generations per year, lethal attacks are most likely to occur in the spring, just before or as trees are beginning to break bud. In home landscapes, trees that were planted within the past two or three years are more prone to attack, as are trees that are stressed, suffering from mechanical injury, or growing in poorly drained locations. Trees that are stressed produce and release ethanol and ethanol is especially attractive to GAB and other bark beetles.

Potted trees growing in nurseries are especially susceptible and uncontrolled GAB sporadically causes heavy inventory losses in commercial tree nurseries. GAB attacks many species of hardwood trees, but smooth-barked trees seem to be especially favored. This includes crape myrtle, Bradford Pear, fig, maple, sweet gum, magnolia, pecan, peach, ornamental cherries and many others.

Control: Protecting trees from physical damage and from stress factors such as poor drainage and compacted soils helps reduce risk of GAB attack. Properly timed trunk sprays of pyrethroid insecticides such as bifenthrin (Onyx Pro) are effective in preventing GAB attacks on susceptible trees, but timing is critical and difficult to accurately predict, especially for landscape trees. See the archived issue of Bugwise Newsletter No. 1 of 2012 for more detailed information on biology and control of GAB in various situations: http://extension.msstate.edu/newsletters/bug-wise-newsletter/2012/no-1-granulate-ambrosia-beetle

Thanks to Mr. Lemon Phelps, Marshal County Extension Agent, for providing this photo.


Blake Layton, Extension Entomology Specialist, Mississippi State University Extension Service.
The information given here is for educational purposes only. Always read and follow current label directions. Specific commercial products are mentioned as examples only and reference to specific products or trade names is made with the understanding that no discrimination is intended to other products that may also be suitable and appropriately labeled.
Mississippi State University is an equal opportunity institution.
Department:
Biochemistry, Molecular Biology, Entomology and Plant Pathology

Authors
Entomology; extension insect identification; fire ants; termites; insect pests in the home, lawn and
Your Extension Experts