Information Possibly Outdated
The information presented on this page was originally released on April 24, 2020. It may not be outdated, but please search our site for more current information. If you plan to quote or reference this information in a publication, please check with the Extension specialist or author before proceeding.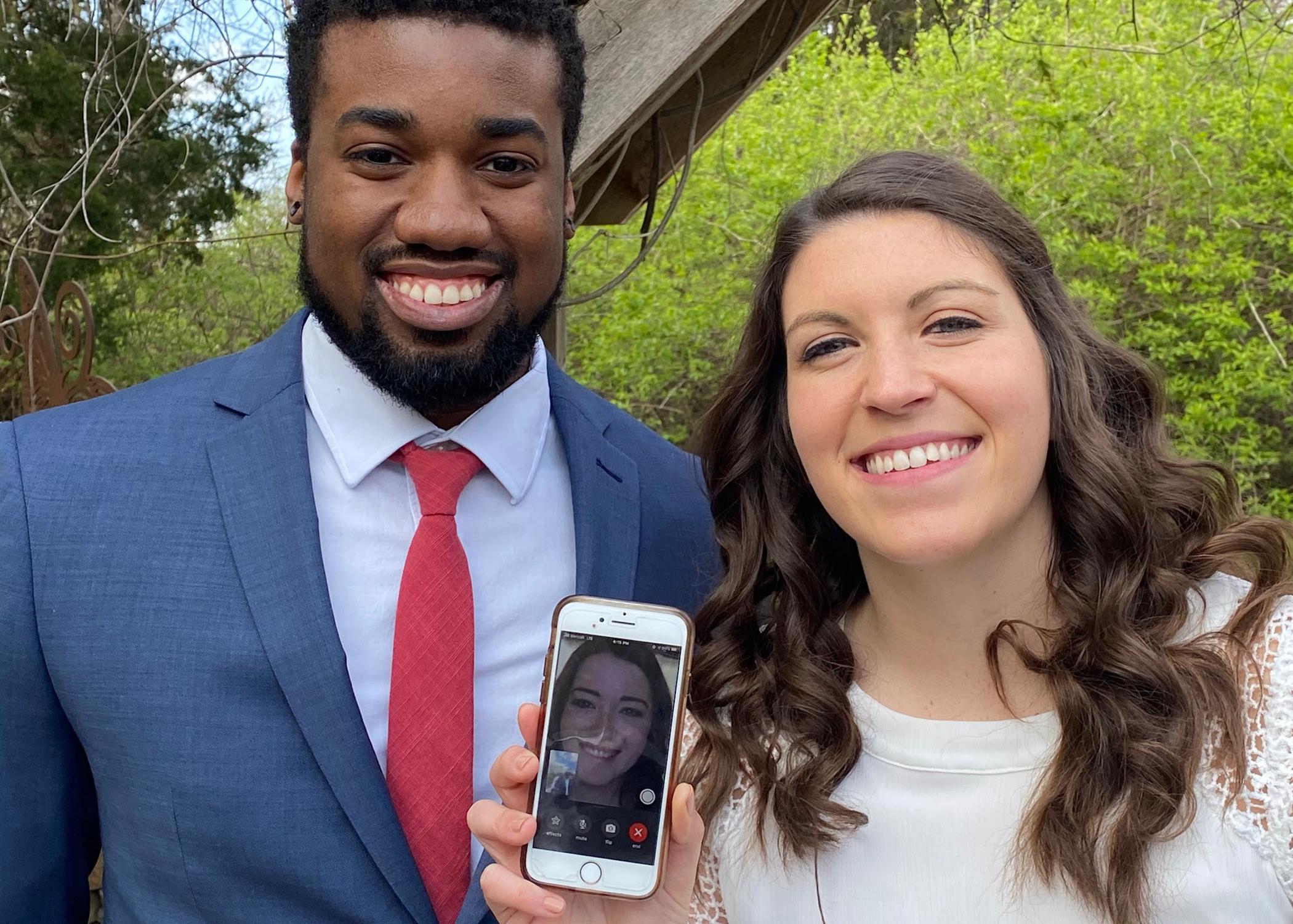 Pandemic creates challenges in marking major milestones
STARKVILLE, Miss. -- Starkville High School senior Christian Leach has photographic proof of the day he sat in his front yard and signed to run track for Mississippi College this fall.
With the shelter-in-place order going in effect the next day, his mom, Lisa Stricklin, and neighbors quickly put together a backdrop and props, and gathered friends and family to line the road in their cars while he made his commitment.
"Christian placed third in state for Division 6A and made the Clarion-Ledger All State Cross Country team, but track season was over before it started due to COVID-19," Stricklin said. "I do wish his teammates, coach and other friends could have been there for his signing day like normal, but I think we were able to make it special even though it wasn't traditional."
This mindset of embracing the present has prompted Mississippians to find ways like Stricklin did to mark major milestones in nontraditional ways.
From weddings, birthday parties and baby showers to baptisms, proms and funerals, people are either postponing these events or celebrating them in ways never before considered.
Alisha Hardman, a Mississippi State University Extension Service family life specialist, said social distancing and shelter-in-place orders make these milestones hard to commemorate in traditional ways.
"It is distressing that these major milestones are disrupted," Hardman said. "It is unwise to pretend there is not an emotional toll on us when we cannot celebrate a life or an achievement in the way we had imagined we would. But it is important to keep in mind that we can still find creative and meaningful ways to honor loved ones, even in our current circumstances."
Mariah Morgan, a professor in the MSU Extension Center for Technology Outreach, said technology has provided a huge advantage in bringing people together who are geographically apart. Anyone with a smart phone has the tools for videoconferencing, photos, video and social media for sharing the big moments.
"Many of the technological tools available today allow people to make meaningful connections as well as content for such things as photo books or video projects," Morgan said. "A decade ago, some of the same technology was in place, but we did not have the ability to work on a single project together like we do now utilizing high-speed internet connections."
Vicki Leach of Starkville lost her mother in Atlanta March 18 to a very brief and very unexpected illness.
"She was taken to a large metro Atlanta hospital in the midst of the pandemic, so when I left to go to Atlanta, I wasn't sure what would happen; they weren't allowing visitors of any kind into the hospital," Leach said. "Blessedly, the chief surgeon demanded that we get to be with her as she passed away."
The hospital took numerous precautions before allowing Leach in, and she and her daughter quarantined themselves upon their return as a precaution.
The death happened just before the shelter-in-place order was issued in Smyrna, Georgia, and funeral home directors asked that a service have no more than 10 people present. The idea of burying an 80-year-old without friends and family present was unthinkable.
"We pondered having a graveside service for just my brother and myself so we could say our goodbyes, but I just couldn't do it," Leach said.
The extended family had celebrated her 80th birthday in the Georgia mountains last year, so they decided to enjoy a celebration of her life at the same place on what would have been her 81st birthday this July.
"Our family had never cremated one of our own, we had never not had a funeral with a visitation and a viewing, we had never not gathered in a church setting to memorialize one of our loved ones," Leach said. "So we will have a celebration in the chapel at the funeral home, a reception afterwards in lieu of a visitation, a small graveside service for her where we will place some of her ashes, then take a family trip to the mountains to spread the rest in the place she loved best. And we have peace about it.
"I'm thankful that I will at least get to celebrate her in a place she loved and with the people she loved," she said.
MSU Extension offers some tips at https://www.facebook.com/msuescto/ on creative ways to use technology to aid a celebration or commemorate a significant event.