Information Possibly Outdated
The information presented on this page was originally released on April 1, 2015. It may not be outdated, but please search our site for more current information. If you plan to quote or reference this information in a publication, please check with the Extension specialist or author before proceeding.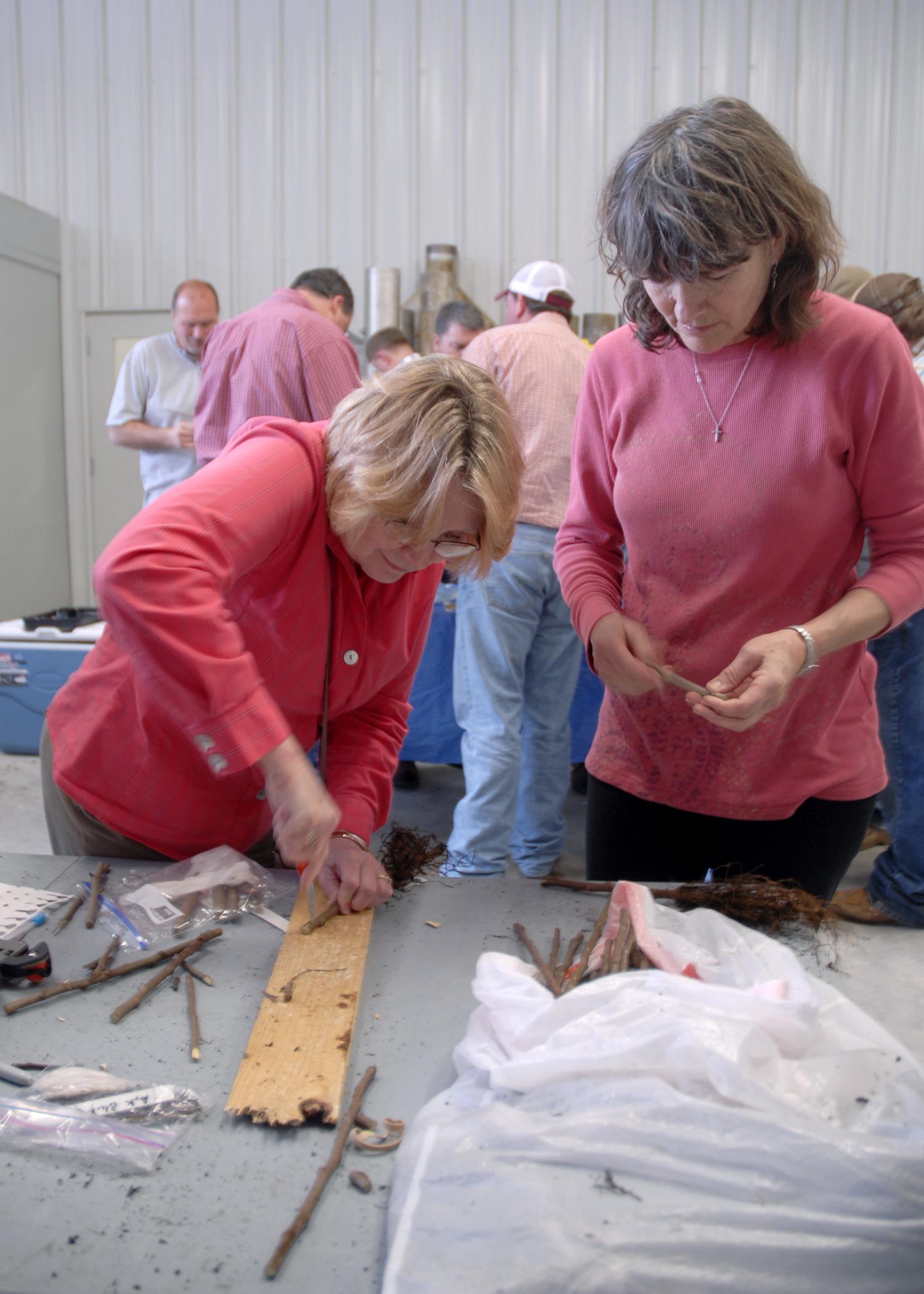 High turnouts capitalize on grafting workshops
VERONA, Miss. -- Six recent fruit tree grafting workshops across the state were in such high demand that the Mississippi State University Extension Service is already planning another series of training sessions for fruit growers.
Extension horticulture specialists Wayne Porter and Jeff Wilson presented the workshops in Brookhaven, Poplarville, Goodman, Senatobia and Verona with funding from the Mississippi Department of Agriculture and Commerce. They were intended to be a one-time series to train Extension agents, but once the workshops were opened up to the public, the interest was unexpectedly high.
Wilson said once the workshops were announced, all of them filled to capacity almost immediately.
"We've trained about 200 people throughout these workshops and turned down another 200 to 300 people because we didn't have enough space, so we are planning more for the future to get to those people that are interested," Wilson said. "We're already looking at doing some more next spring, which was not the original plan, but there's been so much interest."
Participants ranged in age from young adults to one person who was 94. Wilson said there is a steady increase in the number of people who want to grow their own fruits and vegetables and see grafting as an effective method.
"It's a way they can take Aunt Betsy's peach tree that's been in their family for 30 years and continue that tree by grafting it to another rootstock," Wilson said.
Donna Miller, a Starkville resident who went to the workshop in Verona, said she signed up for the session because she felt in-person instruction would help her improve on previous attempts.
"I've always tried to grow my own fruit," Miller said. "I sell some fruit, and I'm trying to start a small business. I've always wanted to try to graft. I watched YouTube videos, but I wanted to try it in front of somebody who knew how to do it. It's a lot better to see it in person than watching it on a video so I can interact with people who know the techniques."
Another Starkville resident, Kathy Elmore, had not tried grafting before, but she has grown fruit trees. She said she enjoyed learning as much as she could about horticulture.
"I have an apple tree in my backyard, and I had talked about grafting it at some point," Elmore said. "I thought this would be a great way to learn how to do it right."
Grafting is the practice of transferring a fruiting or flowering stock -- known commonly as a scion -- onto the root system, or rootstock, of another closely related plant.
"The most important thing is the scion wood that you're grafting from," Porter said. "Because a lot of plants cannot be reproduced by seeds, we have to put a desirable branch of a fruiting or flowering tree or shrub onto a rootstock. This is the method to propagate the species and the desirable characteristics."
Wilson said there are many key steps required for grafting fruit trees, but one of the most important is to collect scion wood during the winter when trees are dormant. Also crucial to a successful graft is ensuring a connection between the cambiums -- tissue layers that produce cells for plant growth -- of the scion and rootstock.
For start-up tips on grafting provided by MSU Extension staff, visit http://www.extension.org/pages/32923/grafting-grape-vines.