Information Possibly Outdated
The information presented on this page was originally released on June 3, 2013. It may not be outdated, but please search our site for more current information. If you plan to quote or reference this information in a publication, please check with the Extension specialist or author before proceeding.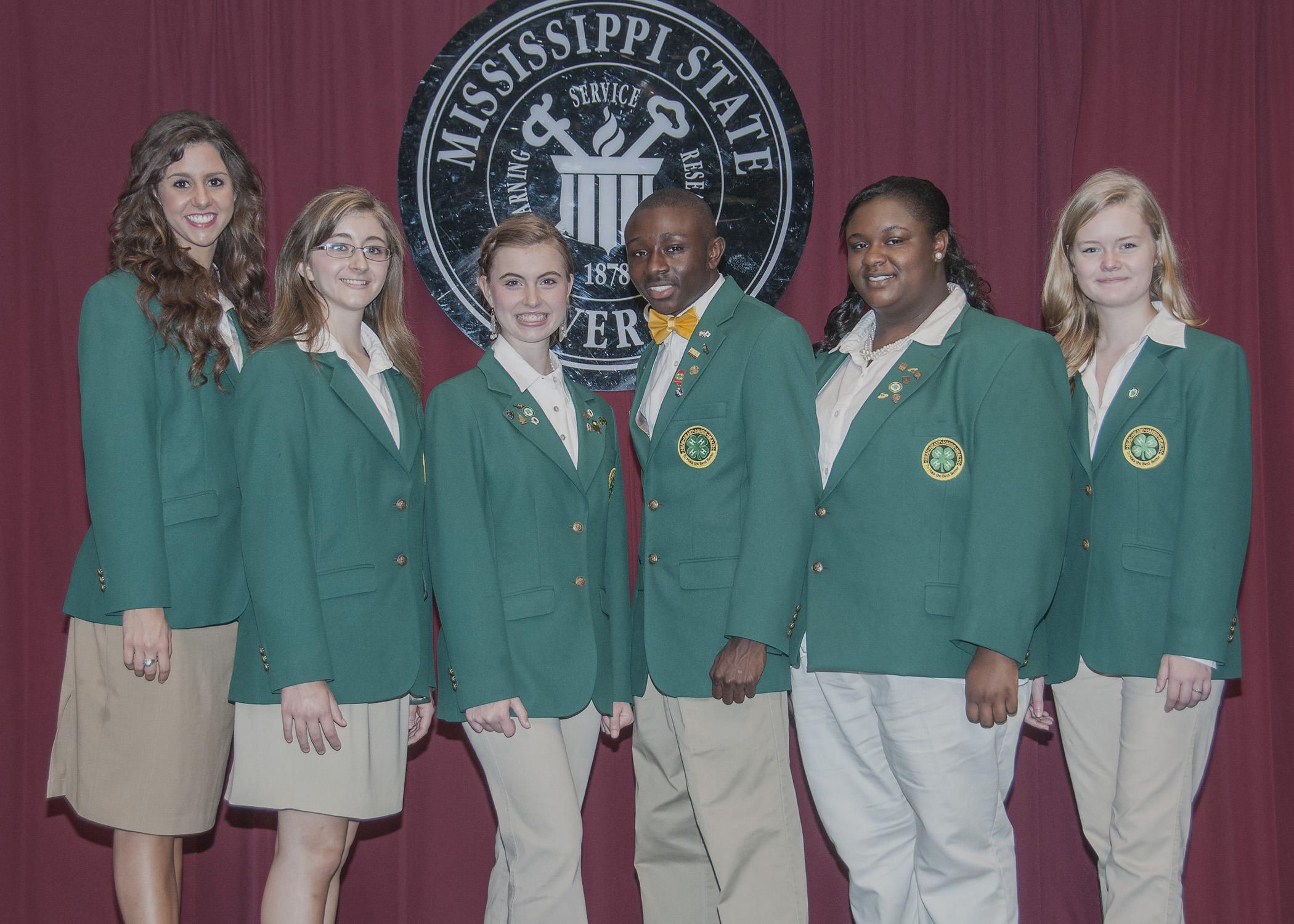 Top 4-H young leaders chosen for national team
MISSISSIPPI STATE – Nine teenaged 4-H leaders addressed current issues and shared their passions in hopes of winning a spot on a team representing Mississippi at the national 4-H conference in Washington, D.C.
Selected delegates will spend April 5-10, 2014, working with their peers in round-table discussions to prepare presentations for federal agencies on a variety of topics, such as texting while driving and obesity.
They will present their research to representatives from several federal agencies, such as the U.S. Department of Transportation, the U.S. Department of Health and Human Services and the U.S. Department of Defense.
This year, the 4-H national conference delegates are Belle Failla of Hancock County, Mary Kate Gaines of Tate County, Marisa Laudadio of Alcorn County, Timera Rodgers of DeSoto County, Elsa Schmitz of Pearl River County, and Mitchell Young of Oktibbeha County.
"It's not easy to interview for this honor," said Martha Jackson-Banks, 4-H youth development specialist with the Mississippi State University Extension Service. "This conference is the premiere event for 4-H. The young people selected will join about 700 of their peers from all 50 states, Puerto Rico and Canada."
With so much at stake, tensions were high. But the candidates -- who must already serve on the state leadership team to be eligible to apply -- delivered their required speeches with enthusiasm and shared the importance of 4-H in their lives.
Timera Rodgers, a senior from Byhalia, presented information on bullying and how participating in 4-H has given her the self-confidence to pursue a career in communications.
"I was a victim of bullying and have been through so much, but 4-H changed my life," Rodgers said. "4-H taught me how to be a leader, how to be a better listener and role model, and how I can become a better person through learning by doing."
Whether discussing bullying, nutrition and health, or the importance of agriculture, a common theme emerged from all nine interviews: dedication to serving others. All of the candidates volunteer in their clubs, communities, schools and churches.
As part of the state 4-H leadership team, they serve as ambassadors for the 4-H program and share what they have learned during their years in 4-H.
LeAnn Alexander, one of the three judges evaluating the candidates' speeches and interview responses, served as a 4-H national conference delegate in 2006, before pursuing degrees at the Mississippi University for Women and MSU.
She was excited about the opportunities facing the students chosen as delegates.
"The national conference is an intense experience," Alexander said. "These young people will attend a full schedule of workshops and meet with our state's legislators. My experiences at the national conference had a big impact on me and allowed me to broaden my horizons."
Jackson-Banks announced the national 4-H conference delegates at the end of the final General Assembly of the 2013 4-H State Congress held each year at MSU.
To help with the team's travel expenses, 4-H supporters can make tax-deductible donations to MSU 4-H Youth Development. For more information on the leadership conference and opportunities to sponsor the team, contact Jackson-Banks at (601) 857-2284.