Information Possibly Outdated
The information presented on this page was originally released on November 28, 2016. It may not be outdated, but please search our site for more current information. If you plan to quote or reference this information in a publication, please check with the Extension specialist or author before proceeding.
Prepare to protect plants from cold temperatures
We hit December this week, and it seems like we haven't really had a fall season yet. Hot summer weather really overstayed its welcome, infringing on the mild temperatures I know gardeners were expecting.
I've been writing about cool-season color replacing the summer color in my garden, and I recommend that my readers plant them, too. Now, however, I'm being stubborn with my heirloom tomatoes.
In past years, fall planting was pretty much finished by the time we got to December. But this year, the long, hot season really delayed tomato fruit set, and I now have 33 self-watering planting boxes absolutely full of green tomatoes.
I've harvested a few yellow Taxi tomatoes, but the others need more time. In my Ocean Springs garden, we had three nights of 37 degree temperatures, and I had all the tomatoes wrapped in their frost blankets. There may be a bright side to my tomato season, as I'm keeping my fingers crossed for a Christmas harvest.
As much fun as I'm having growing tomatoes in December, Old Man Winter is surely going to come blowing in and ruin the moderate temperatures we are currently enjoying. As colder conditions arrive in the coming weeks, we'll need to provide protection to some landscape plants to help ward off the cold.
So here are some tips to help your landscape and winter vegetables bundle up.
If you're only going to do one thing ahead of the cold weather, make sure your plants are well watered before the temperature drops. In fact, your hose should be the last item you put away ahead of a freeze. As water freezes, it releases heat that is transferred into helping insulate root systems during cold snaps.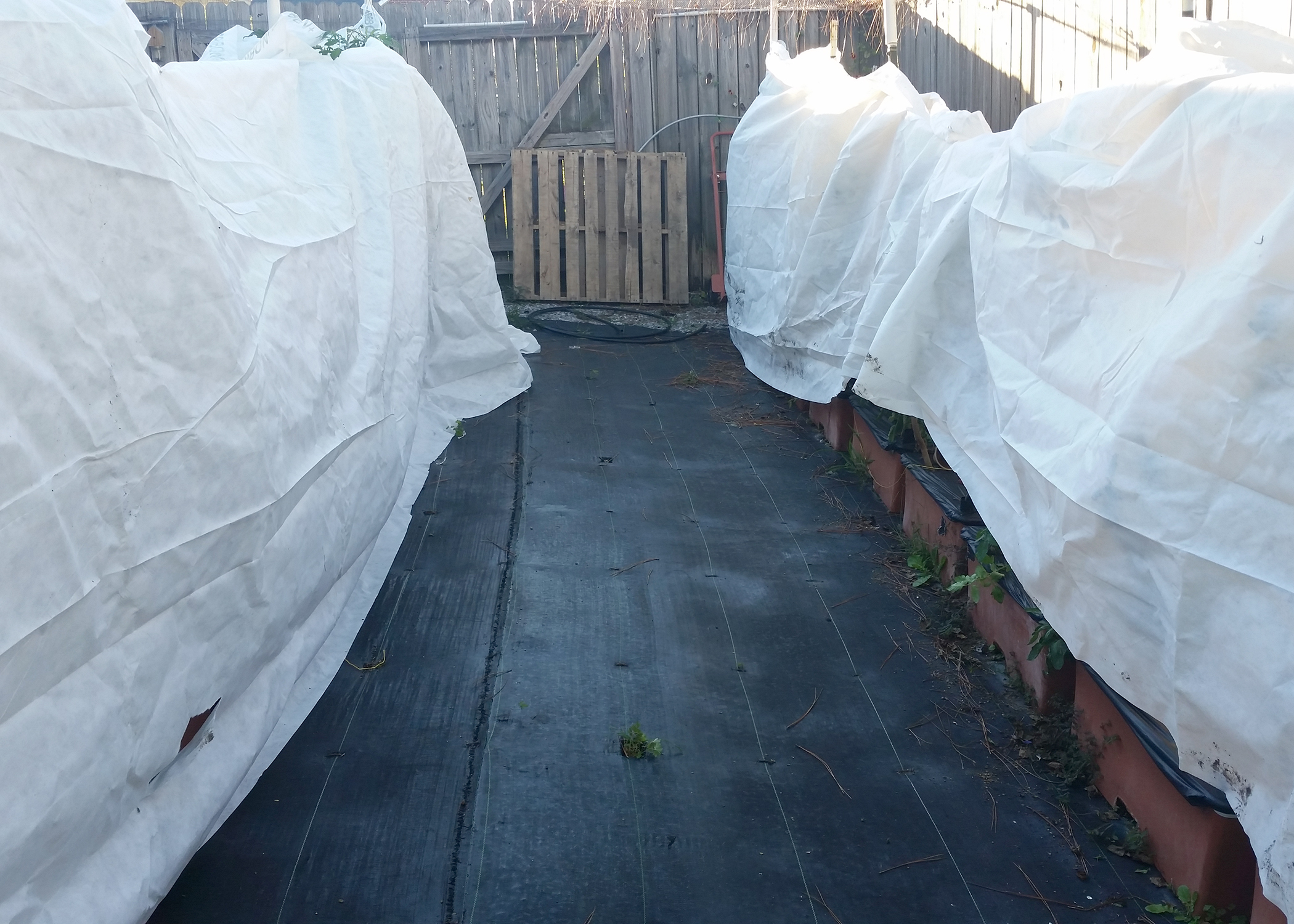 Cover in-ground plants with plastic sheets, cloth, boxes or similar material. Ideally, the foliage should not touch the covering. (Photo by MSU Extension/Gary Bachman)
Maintaining good moisture is especially essential for plants grown in containers. The moisture in the potting mix acts as a buffer to falling temperatures, providing insulation and releasing heat as it cools.
Plants grown in containers also have the advantage of being portable. When the temperatures dip towards freezing and below, an easy solution to the cold weather problem is to move the plants into the garage for a couple of days.
If moving to the garage is not an option, simply placing the plants up against the house will provide some protection. West- and south-facing walls are best, as they absorb and release more heat energy from the sun.
Cover in-ground plants with plastic sheets, cloth, boxes or similar material. Ideally, foliage should not touch the covering. Using quick hoops is a good way to cover and protect vegetable crops from potential cold weather damage. This approach has worked very well in my garden every winter.
So, watch the weather, and be prepared to take care of your plants. There's nothing worse -- and I speak from experience -- than having to rush home from work and race around the yard trying to cover plants in the dark.
Released:
November 28, 2016