Information Possibly Outdated
The information presented on this page was originally released on September 23, 2004. It may not be outdated, but please search our site for more current information. If you plan to quote or reference this information in a publication, please check with the Extension specialist or author before proceeding.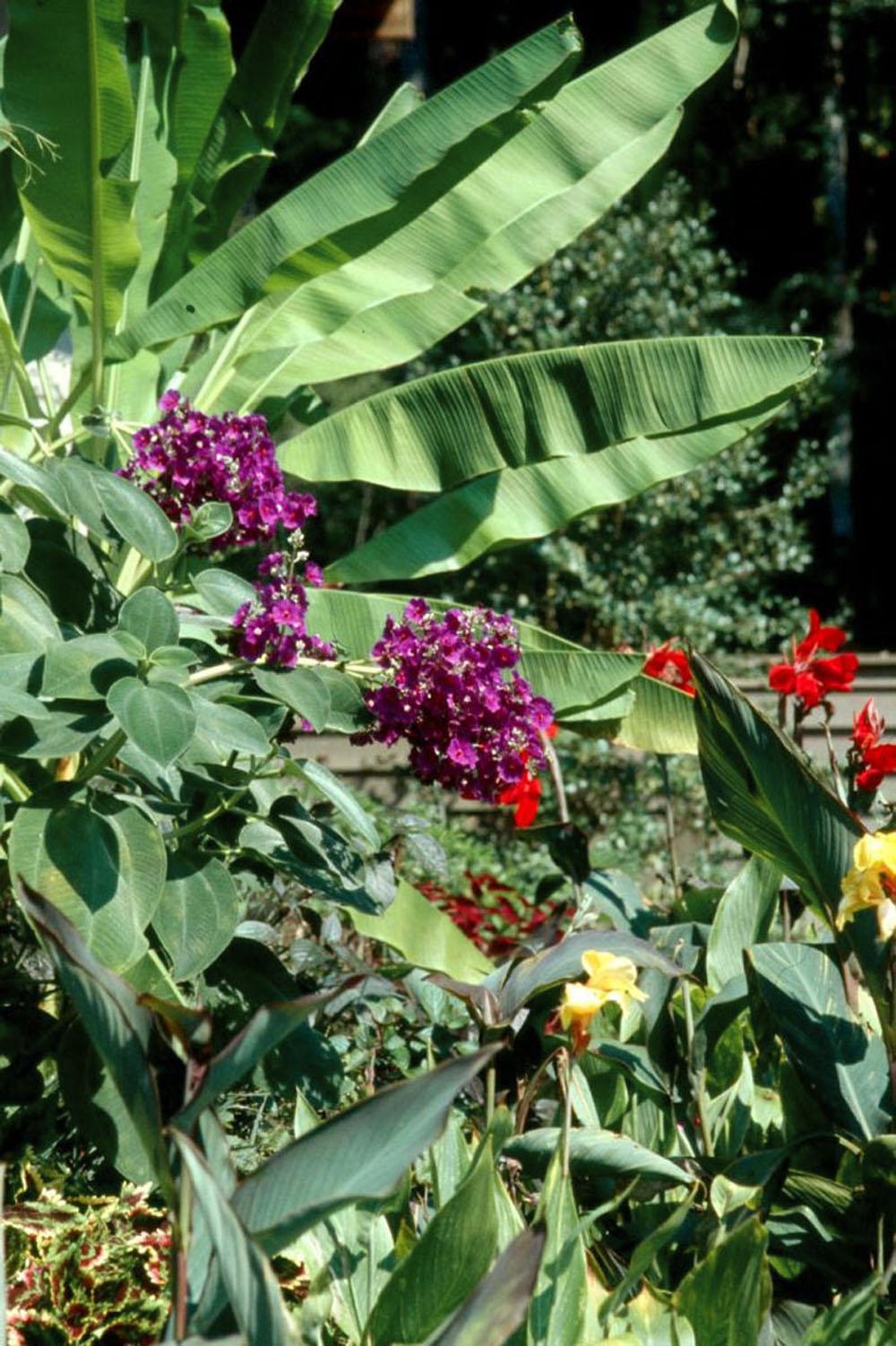 Late summer landscapes sizzle with Princess flower
By Norman Winter
MSU Horticulturist
Central Mississippi Research & Extension Center
The prettiest plant at my house right now is called Princess Flower. With a name like Princess Flower, or Glorybush, you can probably guess this plant has some outstanding attributes. You're right: mine has hundreds of royal-purple flowers opened, and it looks beautiful towering above my Indian Summer rudbeckias.
I started growing Princess Flower 10 years ago when I lived in the Dallas-Fort Worth area and saw the royal-purple flowers that lured me to open my wallet. None of the available plants had a tag to tell me what it was, but I felt it was something I needed for my patio.
I since have been pleasantly surprised to find them for sale just about everywhere in Mississippi. Although gardeners here have much more experience with them than the gardeners in Texas, I rarely see them at homes.
The Princess Flower is known botanically as Tibouchina urvilleana, but there are some other species starting to show up that also are worth growing. I find it funny that this plant in the Melastomatacae family has no family members that I recognize.
The Princess Flower is native to Brazil and produces flowers of exceptional beauty. This tropical can be grown in the landscape as an annual or as a container plant on the porch, patio or deck. Those for sale in the Jackson area this year were in the 4-foot range. In their native area, they can reach 12 to 18 feet in height, and it is common to find them in a variety of sizes.
The purple flowers have several buds on the branch tips. The velvety, deep green leaves lined in orange are among the most striking of any plant. The leaves change to an orange or bronze as they age. They are almost as eye-catching as the purple flowers.
Princess Flower blooms best if grown in full sun. The bloom cycles off and on throughout the season, with the heaviest bloom in mid- to late-summer through fall. Prune leggy branches to stimulate more growth and blooms. They prefer well-drained, slightly acidic, organic-rich beds.
The Tibouchina grandiflora, or large-leafed Princess Flower, is starting to find its way to garden centers in the Southeast and is among the most exotic and tropical. These leaves are huge and fuzzy, but the flowers are produced on large panicles with dozens opened at once.
It is not very hard to grow one in a container, or dig and over-winter the plant. The most serious requirement is to avoid over-watering. Keep it dry during the winter. Those of you who like to propagate plants will find it easy to root from greenwood-type cuttings placed in moist sand in a shady location. They can also be grown from seed.
Tropical plants are at the top of the popularity list, and those with blooms like the Princess Flower make it hard to say no to them for your garden!
Released:
September 23, 2004