Information Possibly Outdated
The information presented on this page was originally released on April 10, 2018. It may not be outdated, but please search our site for more current information. If you plan to quote or reference this information in a publication, please check with the Extension specialist or author before proceeding.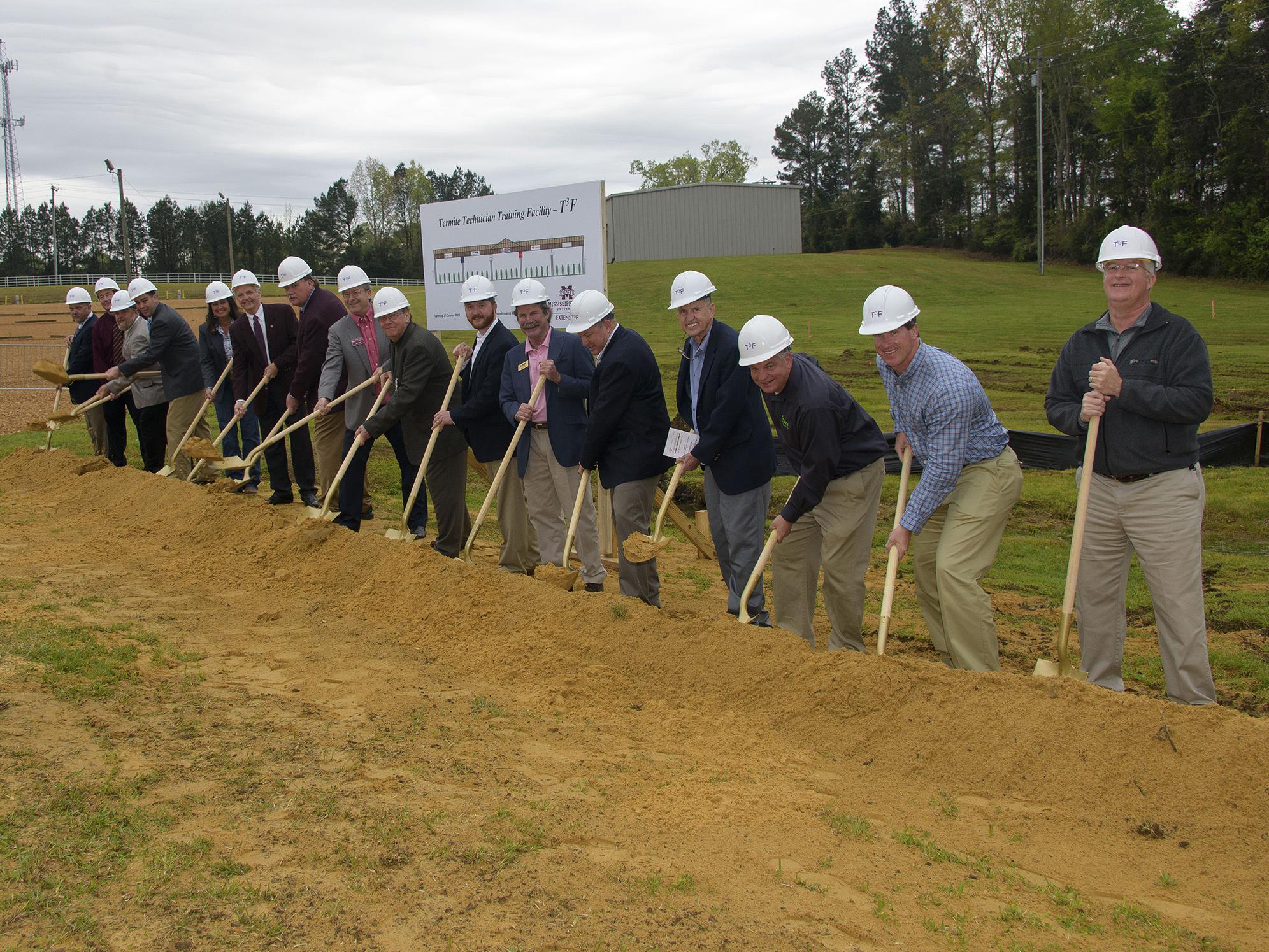 Termite technician training facility construction begins
STARKVILLE, Miss. -- Officials with the Mississippi State University Extension Service broke ground on a termite application training facility alongside pest control industry sponsors during a ceremony April 6.
The Termite Technician Training Facility, or T3F, will be located near the Mississippi Horse Park in Starkville and is scheduled to be completed in early 2019.
Gene Merkl, program manager for the MSU Extension Pesticide Safety Education Program, said the 5,000-square-foot facility will enhance private and commercial pesticide applicators' knowledge of various construction scenarios. This information will allow technicians to treat different types of structures with termite infestations.
"A lot of times when technicians go up to a building they're not familiar with, they don't know what the construction is behind the façade walls," Merkl said. "What our goal is here is to be able to give them some insight into that so they know how to more effectively apply the termiticide."
Construction of the two-phase project will cost $154,000, all of which is being provided by corporate donations. The first phase is the building itself, while the second will be 11 training stations. Each station will show different types of construction -- such as conventional foundations, floating slab foundations and retaining walls -- in a nearly finished state.
"The donations will construct the entire facility and provide technology and educational resources that will be used for pesticide safety application certification," said MSU Extension Director Gary Jackson. "The building would not be possible without the private donations by the Mississippi Pest Control Association as well as other companies, corporations and industry leaders."
Merkl said the project began as a result of requests from association members and industry partners. Extension then worked with the MSU Foundation to engage these partners in contributing toward construction of the facility.
"When I was asked to get involved in this project, I knew I could count on the support of the Extension Service," Merkl said. "We began to visit various termite applicator training facilities. In process of talking to the companies, their interest became apparent, and they came through with funds. This whole operation is about a working relationship between private sector dollars and public sector intelligence and ingenuity to make this happen."
State and federal regulations require pesticide applicator certification and licensure for anyone using restricted-use pesticides, as well as for those individuals who apply general-use products in a commercial situation.
The Extension Pesticide Safety Education Program oversees these certification courses, providing 14 categories of certification. In 2017, Extension educators conducted 246 private application trainings and certified more than 2,500 private applicators. They also held 28 workshops that provided recertification to more than 300 commercial applicators.
"Although we have regulations in the state that require certain levels of training certification and licensure for pest control operators, it's fair to say there needs to be a greater focus on that, especially with some new products that are coming into the market," Merkl said. "If we can get everybody trained the same way so they're not making errors in the way they measure and apply, we generally are going to put fewer chemicals in the environment. That is going to enhance the public safety, health and welfare for citizens of Mississippi."