Information Possibly Outdated
The information presented on this page was originally released on May 17, 2016. It may not be outdated, but please search our site for more current information. If you plan to quote or reference this information in a publication, please check with the Extension specialist or author before proceeding.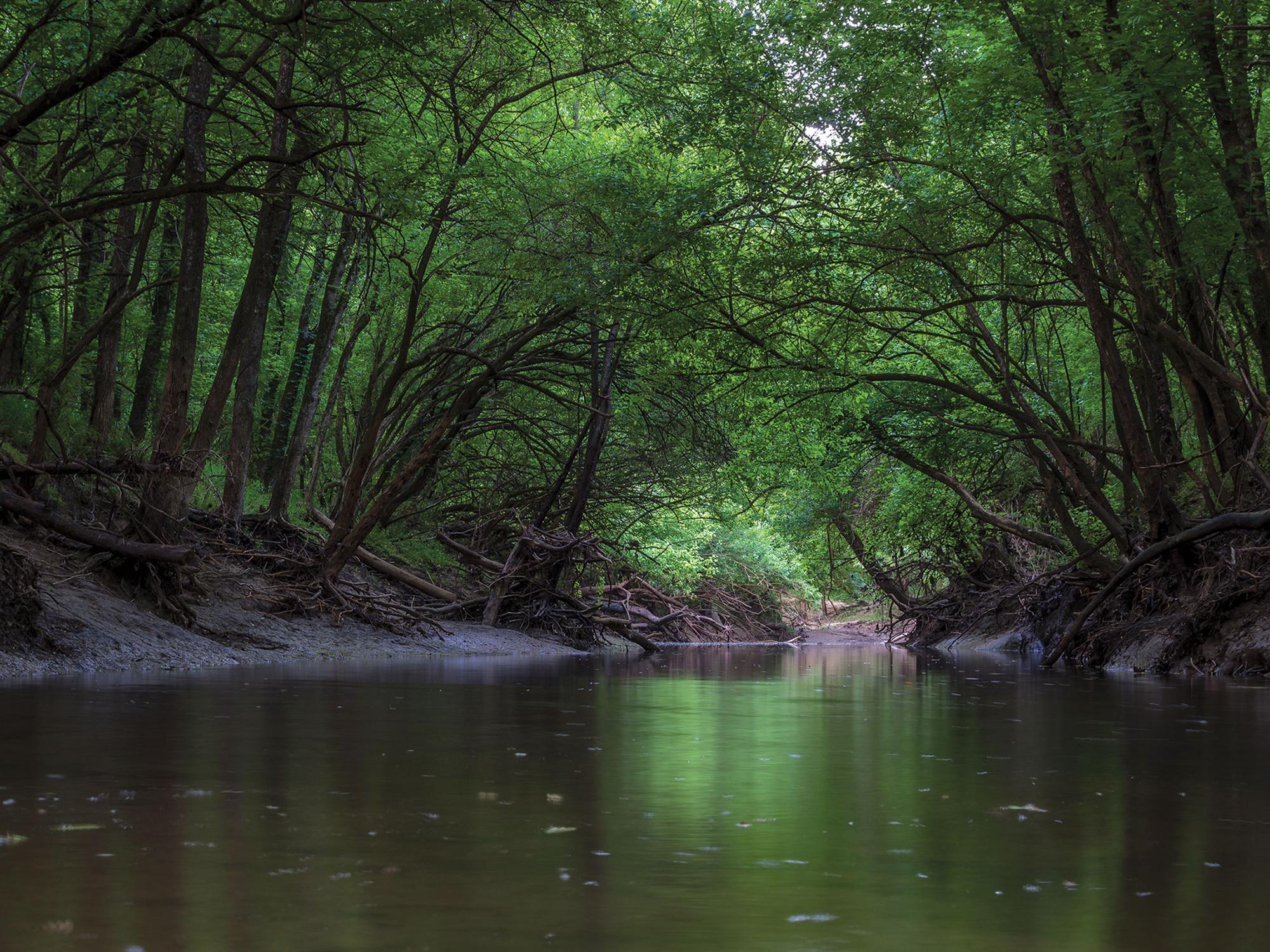 MSU spearheads effort to protect local watershed
STARKVILLE, Miss. -- More than 20 campus units and 30 faculty and staff members at Mississippi State University are teaming up with state and federal agencies and local stakeholders to restore the water quality of a creek that flows through campus and is the focal point of the Catalpa Creek watershed.
MSU's Mississippi Water Resources Research Institute (MWRRI), Mississippi Agricultural and Forestry Experiment Station, and Extension Service are spearheading the comprehensive effort to conduct preliminary research, develop implementation measures, foster education and experiential learning activities, and seek funding that faculty and students would use to address erosion and nutrient impairment within Catalpa Creek.
MWRRI was established by the state legislature in 1984 and designated a Center of Excellence for Watershed Management by the U.S. Environmental Protection Agency and the Mississippi Department of Environmental Quality in 2013. MWRRI Associate Director Richard Ingram said the institute recently submitted a water resources management plan to the Mississippi Department of Environmental Quality for review and consideration for funding.
"As soon as the creek emerges on campus, we begin to see degradation in the channel through excessive erosion. Sediments that are harmful to the habitat and ecosystem accumulate in the creek system," Ingram said. "Land-use changes in Starkville, on campus, and in the headwaters of the watershed have increased the volume and intensity of storm water flowing into Catalpa Creek and have resulted in this situation."
Creek conditions improve as the creek continues away from campus, he added.
"The stream velocity slows, the creek widens, and you find ripples and pools and a more natural ecosystem with good fish assemblages," Ingram said, "but if we don't do something soon to restore the headwaters, the environmental damage will extend farther downstream into these areas."
A portion of the headwaters of the 28,943-acre watershed includes a small corner of Starkville north of Mississippi Highway 12. The creek initially travels underground through campus in culverts until it surfaces at the edge of the intramural fields and flows through the H. H. Leveck Animal Research Center (commonly called South Farm). The creek then passes through the Oktoc and Sessums communities in Oktibbeha County before flowing northeastward into Lowndes County, where it drains into Tibbee Creek.
Growth on campus and at the South Farm is contributing to sedimentation, erosion, and nutrient run-off within the watershed. The South Farm consists of about 1,600 acres that are used for research in livestock agriculture, aquaculture, wildlife management, and forages. Researchers associated with the watershed recovery project will collect data to determine the present condition of the stream and how its water quality, ecosystem, and stream function can be improved.
The Catalpa Creek Watershed Project has six major goals:
restore and maintain the watershed's ecosystem health and biological integrity;
reduce nutrient and sediment loadings and attain water quality standards;
maintain quality of life for watershed stakeholders in the event of future land-use changes;
create experiential learning opportunities for students and faculty;
foster collaboration among university departments and state and federal agencies; and
advance sustainable watershed management applications for agricultural and urban environments.
Bill Herndon, associate vice president in the Division of Agriculture, Forestry, and Veterinary Medicine, said a similar project is in progress at the University of Kentucky, which MSU administrators and faculty visited as part of developing the Catalpa Creek watershed plan.
"MSU wants to protect natural resources while accommodating growth," Herndon said. "We have people working really hard on this. Everyone volunteered in this planning effort, and that says a lot about them. Our scientists are energized and feel this is a wonderful opportunity to make some headway."
MSU alumna and MDEQ Tombigbee River Basin coordinator Janet Chapman has been a big supporter of this project.
"I've been excited about this work from the very beginning. We are submitting the project to the U.S. Environmental Protection Agency for funding in 2016 as part of a grant MDEQ receives from EPA each year," she said. "MSU researchers are seeking other possible funding sources as well, but, in the meantime, everyone has worked together to finalize the plan that is the first of several pieces that have to come together in order to begin work."
Chapman added that Catalpa Creek has excessive sediment in the water.
"By strategically managing the land that drains to the creek, we can reduce the amount of sediment that washes off during a rain storm," she said. "This will help enable the creek to meet its designated use by meeting water quality standards and providing the habitat aquatic animals need."
Three functional teams and a work group have been established to support the process: a Planning and Implementation Team co-led by Tim Schauwecker, associate professor and Experiment Station scientist in the Department of Landscape Architecture, and Ingram; a Modeling and Hydrology Work Group co-led by Beth Baker, assistant Extension professor in the Department of Wildlife, Fisheries, and Aquaculture, and John Ramirez-Avila, assistant research professor in the Department of Civil and Environmental Engineering; an Education, Experiential Learning, and Outreach Team led by Leslie Burger, assistant Extension professor in the Department of Wildlife, Fisheries, and Aquaculture; and a Funding and Incentives Team co-led by Joby Czarnecki, assistant research professor with the MSU Geosystems Research Institute, and Ingram.
Schauwecker said forest habitat and the quality of fishing in the creek go hand in hand.
"Hearing people talk about fishing in that stream is a huge motivation for me. I would like to see it be healthy again," he said. "That, to me, is the most beneficial use of that stream. I hope that, when we look back 20 years from now, we will see that we have made an impact."
Another long-term effort includes the creation of the Catalpa Creek Watershed DREAMS Center. The acronym DREAMS emphasizes the tenets the center seeks to promote: demonstration, research, education, application, management, and sustainability.
"This is going to be a challenging project, but these kinds of projects are happening all over the country," Ingram said. "We are hopeful this is going to build into something beyond just MSU, but we have to start in our own backyard correcting those things we can that will bring healing to Catalpa Creek. By so doing, we not only are doing our part, but we will also be setting an example for others in the watershed to follow."
Contact: Richard Ingram, 601-927-5657