Information Possibly Outdated
The information presented on this page was originally released on May 26, 2016. It may not be outdated, but please search our site for more current information. If you plan to quote or reference this information in a publication, please check with the Extension specialist or author before proceeding.
MSU Extension program supports military families
OCEAN SPRINGS, Miss. -- For military families, finding child care that accommodates their hectic schedules can feel impossible, which is what makes child care providers like Heather Bond so special.
For nearly six years, Bond has opened her home to military families who do not have traditional schedules, giving parents a safe and inviting alternative to conventional child care options.
As someone whose husband served for 20 years in the U.S. Navy before his retirement, Bond understands what it is like to live in the military world, where traditional workdays are not always observed.
Bond is enrolled in the Family, Friend and Neighbor Care program through the Early Years Network, which is a program of the MSU Extension Service.
The program delivers educational technical assistance and support to providers who care for children in their homes.
When her husband, Donald, was stationed in Hawaii, Bond quickly realized the importance of quality child care, especially while spouses were deployed. This new awareness inspired her to begin her work as a family-home child care provider.
"My husband was on shore duty, but he was also on sea duty," Bond said. "He was nervous about having me at home with our three boys in Hawaii by ourselves."
Now, the Bond family lives in Ocean Springs. Though her husband is retired, Bond believed it was important to continue serving families needing quality child care that does not fit traditional work schedules.
Bond provides child care to five families, four of which are military families. She is available 24/7, 365 days a year for parents.
"I'm blessed to have this niche for this need," Bond said. "When we were in Hawaii, the Navy had a 24-hour Child Development Center, but we don't have one here, so I'm here to fill that need."
Bond said she "didn't feel called" to be the type of provider who is typically open traditional hours, such as 8 a.m. to 5 p.m.
"I try to put myself in the mom's shoes," Bond said. "If I worked outside of the home and had to find child care, where would I go?"
Thinking from a mother's perspective helped Bond realize that she wanted to be available for parents every day. It also helped her decide to offer sick care, or respite care, to parents with sick children.
For U.S. Air Force Maj. Kyla Pyko, the child care Bond provides is something "you can't put a price on."
As an active member of the Air Force, Pyko works as an emergency room doctor at Keesler Air Force Base. Her husband works as a doctor in Mobile, Alabama. This situation made finding traditional child care for their son more challenging.
"I am on shift some days, some nights, some weekends and lots of holidays," Pyko said. "A traditional day care is just not an option when you go to work before the traditional day care opens and get off after the traditional day care closes."
Having someone who understands the life she leads has been a wonderful thing, Pyko said.
"To me, it's not a requirement that the person who takes care of my child come from a military background, but it makes a huge difference," Pyko said. "She understands what the trials and tribulations are of military life."
For Pyko, the commitment to child care that Bond brings is astounding. Pyko said she has put Bond's 24-hour service and respite care to the test, and each time Bond has proven to be there for the Pyko family.
Knowing that her son will continue to see the same friendly face each day is also reassuring to Pyko.
"You don't have any turnover," Pyko said. "You really get to know the person, the family and the household that's taking care of your child."
Creola James, who works for the Early Years Network as a field technical assistant in the Family, Friend and Neighbor Care program, understands how important Bond is to military families.
Her husband served for 27 years in the U.S. Army, which inspired her to become involved in family-home child care.
"We were in Germany, and it's hard when your spouse is deployed," James said. "You're trying to worry about your kids and going to work, and that's how I got introduced to family child care."
"We are proud to be able to provide resources and support for our military families. They do so much for us, and assisting in the quality of care their children receive is the least we can do," said Louise E. Davis, Extension professor and director of the Early Years Network.
Through the program, James visits Bond's home about once a month. She said she is always impressed.
"I've never come to her house and a child is crying," James said. "She is a great provider."
The Early Years Network is a program housed in the MSU Extension Service and funded by the Mississippi Department of Human Services Division of Early Childhood Care and Development to provide early care and education programs and materials for teachers, directors, children and families to improve the well-being of Mississippi's children. For more information, visit the Early Years Network Facebook page or http://earlyyearsnetworkms.org.

News Story Contact
Child and Family Development, Child and Family Well-Being, Child Care-Giver Training, Parenting Educ
Your Extension Experts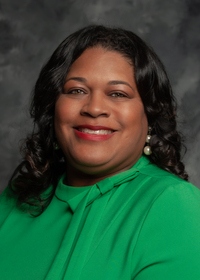 Director, Head Start & EHS Prg