Information Possibly Outdated
The information presented on this page was originally released on October 28, 2016. It may not be outdated, but please search our site for more current information. If you plan to quote or reference this information in a publication, please check with the Extension specialist or author before proceeding.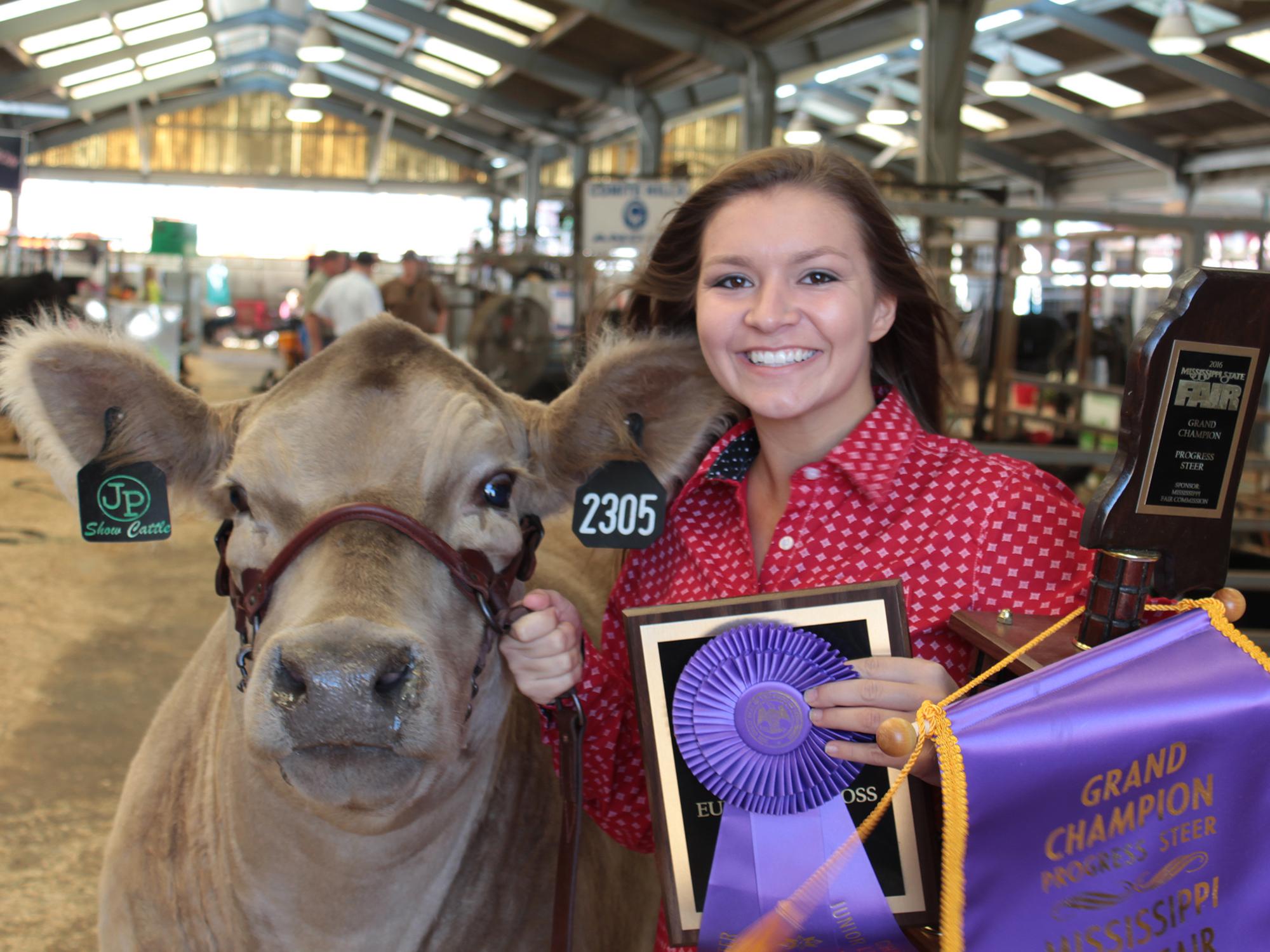 4-H livestock exhibitor completes show career
By Jessica Smith
MSU Extension Service
LOUIN, Miss. -- For one Jasper County 4-H member, a junior livestock show career has come full circle.
Lacie Winn, 18, has competed in 4-H livestock shows across the state since 2006. The youth development program is managed by the Mississippi State University Extension Service and open to youngsters from 5-18 years of age.
Whether exhibiting her equestrian skills in a western pleasure class or presenting beef cattle in the show ring, Winn always found great joy in the show world. However, she understands showing livestock is no easy task.
"One of the biggest challenges is doing all the hard work that may or may not pay off in the end," Winn said. "It's easy to get your hopes up and be disappointed, but that's just life."
Even so, Winn and her family were highly optimistic leading up to the Mississippi State Fair steer show, where she planned to show Drake, her European crossbred steer. Even though shows double as vacations, Winn was at the barn before sunrise to clean the stalls, wash and groom the cattle, and make sure the animals were fed and happy.
"Our cows eat and get baths before we do," she said. "That's always been the rule in the barn. Some people don't realize these animals depend on their owners for care and comfort."
Shortly after the morning routine was underway, Winn and her family started fitting and grooming Drake. Grooming, which normally takes one or two hours, makes the animal look its best and brings out its natural structure and body type.
At ringside, Winn said her nerves remained calm, although many thoughts ran through her head.
"Winning is always in the back of your mind at a show," she said. "But you win some, and you lose some. In the end, it's only one judge's opinion. I know I love my animal and may see another I like better than mine, but I'm just here to do my best."
In the ring, all the hours of practice fell into place, and Winn focused on presenting Drake to his fullest potential.
"I was thinking, 'Where is the judge? Stay calm, Drake. OK, left foot back,'" she said. "When he pulled me for first, my immediate thought was, 'Am I first or last?' But I was always taught to never stop showing, and sure enough, I had won my class."
Not only did she win her class, but she also went on to win Grand Champion in her division and Grand Champion Progress Steer, the highest award bestowed on a steer at the fair.
"Honestly, I was in disbelief," Winn said. "We've never won Grand Champion steer before, and it just made me so proud. After spending months of early mornings, late nights and weekends at the barn preparing for this very moment, it's amazing to reap the reward."
Kelly Edmondson, Winn's mother, said she is proud of her daughter's dedication and work ethic.
"I'm proud of her when she wins, but I'm even more proud of the attitude she has when she loses," Edmondson said. "Lacie is only 18 but is more grown up than most adults I know."
Now that Winn has completed her final state fair and finished her junior show career, she will pass the show stick to her 8-year-old brother, Jackson Edmondson.
"It's bittersweet to age out of 4-H and quit showing livestock," Winn said. "But now I'm able to teach Jackson everything I have learned. Our parents were always there for guidance, but they wanted me to learn on my own. Ultimately, I want the same for Jackson and don't want to rob him of any learning experiences. I just really want him to see what 4-H can do and the opportunities it can give him."
As she attends Meridian Community College, Winn said she understands how showing livestock through 4-H has helped shape her life.
"The one-of-a-kind experiences and lessons learned can't be taken away from me," she said. "Showing livestock has taught me how to be responsible and work hard. Most of all, I learned how to be independent. I used to be shy, but through answering judges' questions, I became more self-confident and can now speak for myself in a college class."
After completing community college, Winn said she is considering attending the MSU Meridian campus to major in agribusiness or agricultural science.
"The agriculture industry is so broad," Winn said. "It's definitely where my heart is. Just like showing livestock, I have to be passionate about my job. Then, I'll be more dedicated to it, and it won't feel like work. Whatever agricultural career I pursue, I'd like to settle anywhere there is space and livestock."
As Winn rounds out her final months as a 4-H'er, she will display her awards around her home.
"The trophies are sitting on our antique piano; my plaques and banners are hanging on the wall," she said. "But what you won't see are the most important rewards I've received: the countless lessons learned, the numerous friendships created and the many memories made along the way."
Contact: Lacie Winn, 601-670-6589; Kelly Edmondson, 601-670-6534
Released:
October 28, 2016

Your Extension Experts