Information Possibly Outdated
The information presented on this page was originally released on August 27, 2015. It may not be outdated, but please search our site for more current information. If you plan to quote or reference this information in a publication, please check with the Extension specialist or author before proceeding.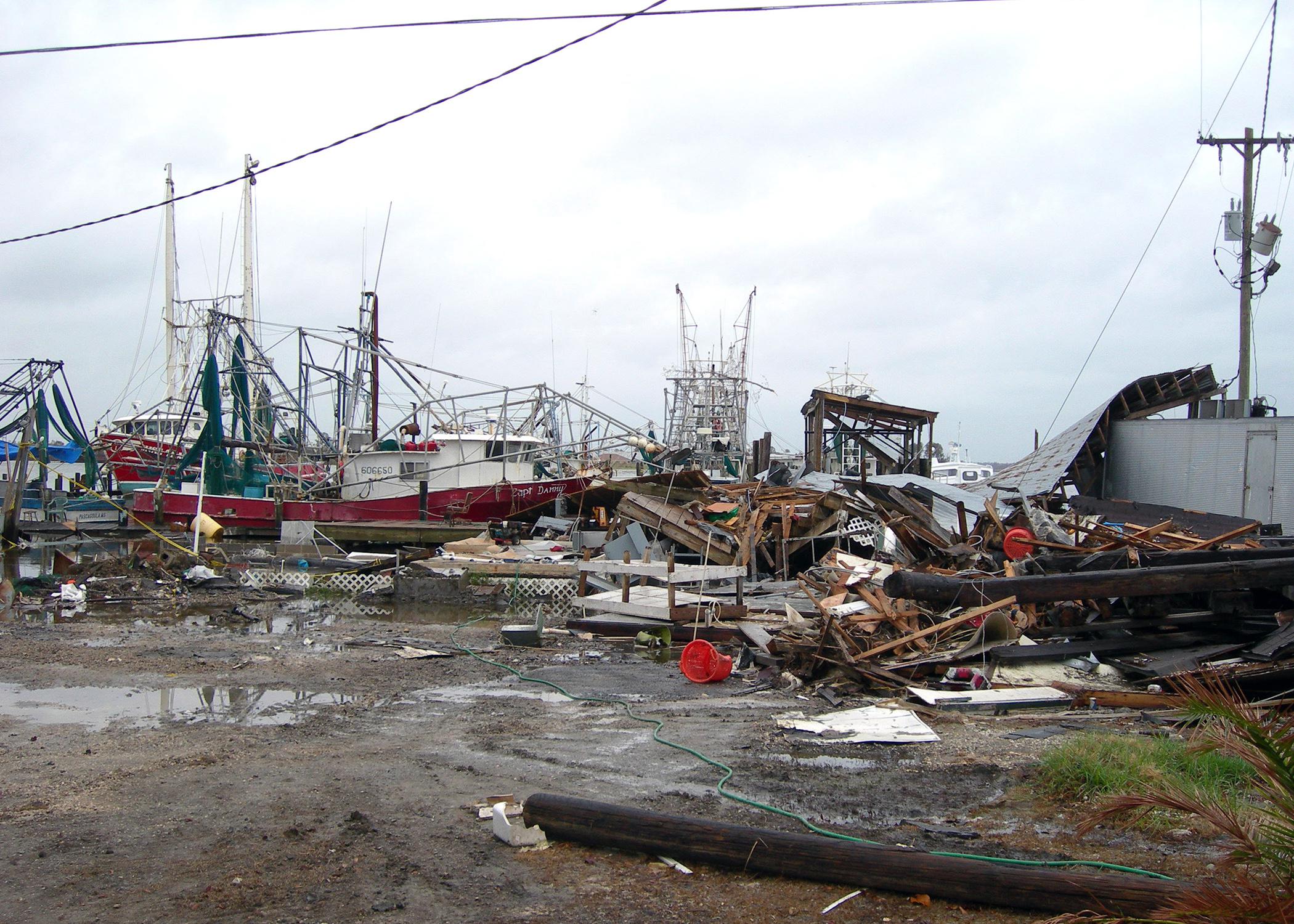 Shrimp business bounces back for some, not others
BILOXI, Miss. -- Ten years after Hurricane Katrina left him with nothing but his three medium-sized refrigerator vessels, shrimper Steve Bosarge has overcome major tribulation to expand his business.
Years before the catastrophe, Bosarge diversified his business because of increased shrimping competition. In the 1990s, he began providing endangered species animal relocation and site clearance services for oil companies. He had no way of knowing that this side work would save his business. He continues that service today, along with his original career.
Many captains of smaller boats were not as fortunate. On opening day of shrimp season in 2006, 306 boats left port -- less than half the number that launched the previous year. In 2013, 250 boats left port on opening day, and 368 launched in 2014.
Although he faces less competition, Bosarge said the need to rebuild damaged infrastructure presented major obstacles after Katrina. Some people who had spent their entire careers in commercial fishing had to cut their losses and assess their options.
"There was a lot of shrimp, but a lot of captains and crews lost their homes," Bosarge said. "They were busy trying to put something together for their families. It was tough to shrimp because all the hardware stores we used got hit, so there was a lack of resources and sometimes you weren't able to get what you needed."
Dave Burrage, Extension professor of marine resources with the Mississippi Coastal Research and Extension Center in Biloxi, said the shrimping industry now is better for those who were not forced out after Katrina. Those who had the equipment needed to work soon after Katrina caught more shrimp, but there was no place to sell their catch due to the storm's wrath.
Burrage and other CREC researchers collected data to estimate damage that hurricanes Katrina and Rita inflicted on Mississippi's commercial fishing industry. The commercial fishing fleet suffered more than $35 million in damages. The state's 69 seafood-processing plants, 141 seafood dealers, and five land-based support facilities saw more than $100 million in damages.
"The guys who were able to get out there and work right after the storm were catching tons of shrimp," Burrage said. "If anything, the storm helped the resource a little bit. It was a record crop, but a smaller amount of people who could go get them. Katrina did nothing to hurt the crop. It hurt the fisherman."
Burrage said three factors allowed the industry to bounce back over time: crop failures in other countries, increased marketing of Gulf shrimp and lower fuel costs.
"If you look at seafood consumption in this country, shrimp is No. 1 out of the top 10 and has been for about five years," Burrage said. "There have been tremendous crop failures in some exporting countries like Thailand, China and India due to disease. Demand never went away, but supply did. All of a sudden, the price of domestic shrimp went up."
While Mississippi still feels the impact of Katrina, the BP oil spill of 2010 had an even worse effect on the shrimp industry, Burrage said. A portion of the $9.2 billion settlement with BP was used in a marketing program to help elevate the status of Gulf seafood. Fuel costs for shrimpers has not been as high in recent years, which also helped the industry recover.
"There has been a real push to market wild-caught Gulf shrimp as a premium product compared to pond-raised foreign shrimp," Burrage said. "Fuel costs have not gone up as much as some predicted, and since the fishermen's biggest operating expense is fuel, they've had lower operating costs, and they're getting all-time record highs for their catch."
While survivors in the industry are reaping rewards, Burrage said he does not see a scenario where the quantity of commercial fishing boats reaches pre-Katrina levels. The Gulf of Mexico Fishery Management Council has capped the number of permits available.
"There are more than 1,200 active vessels in the deepwater fishery," he said. "Twice that many work on smaller boats. There hasn't been any new entry into that fishery lately, and everybody's slice of pie has been relatively the same. Just because things are looking good now doesn't mean the council will open it up and let more boats participate. I think the fishermen that are there are happy with the way things are now."
Bosarge said since losing most of his equipment in the storm, he has stopped wholesaling his catch and begun concentrating more on production, a strategy that helped him adapt to the changing post-Katrina environment in his industry.
"I purchased a repossessed boat from some people who didn't make it," he said. "I'm doing better now than I did pre-Katrina, but Katrina didn't have anything to do with it. I just didn't give up. I managed my business and happen to be doing better than I was."
Released:
August 27, 2015