Information Possibly Outdated
The information presented on this page was originally released on December 18, 2015. It may not be outdated, but please search our site for more current information. If you plan to quote or reference this information in a publication, please check with the Extension specialist or author before proceeding.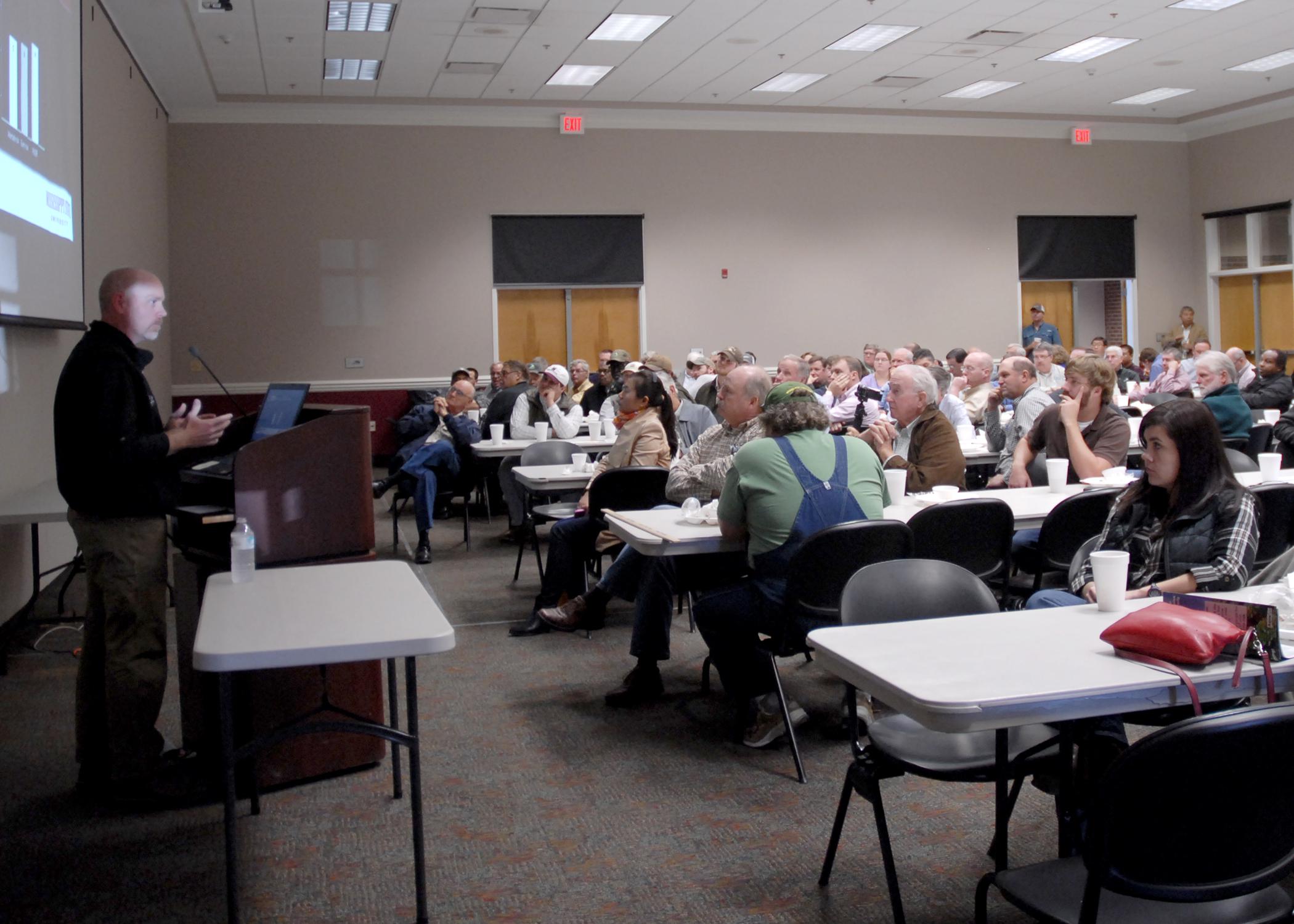 Irrigation summit eyed Delta water use issues
STONEVILLE, Miss. -- About 190 people gathered Tuesday to focus on water use and conservation, a showing that demonstrates just how important this topic is to the Delta and state.
The Delta Sustainable Water Resources Task Force convened the 2015 Mississippi Delta Irrigation Summit in Stoneville. The event drew farmers, consultants, industry suppliers, university researchers, Extension agents and U.S. Department of Agriculture officials from Mississippi, Arkansas and Louisiana.
Jeff Johnson, director of the Mississippi State University Delta Research and Extension Center, said the event was geared towards producers and water users in the entire Delta region.
"Mississippi State is taking a leadership role in a lot of the ongoing irrigation research, and we have collaborative projects with Arkansas, the USDA Agricultural Research Service and others," Johnson said. "Water is an important topic for the entire Delta, and we want to take appropriate steps now so that we don't encounter water shortages in the future."
Among the topics discussed were sustaining groundwater supplies, irrigation management incentives, surface water use, direct aquifer injection, computerized hole selection, soil moisture sensors, rice irrigation and voluntary metering.
MSU also released data from this year's Row-Crop Irrigation Science and Extension Research on-farm evaluations.
Kay Whittington, director of the Office of Land and Water Resources at the Mississippi Department of Environmental Quality, said her agency is charged with effectively and efficiently managing the state's water.
The Mississippi Alluvial Aquifer underlies the Delta, and its health is a major concern.
"There is a problem. The long-term trends in the aquifer used for irrigation in the Delta is showing declining water levels," Whittington said. "More is being pumped out than is being naturally replenished through recharge."
The state requires water users to have a permit for its use. She said the number of groundwater permits issued statewide increased from 2,823 in 1997 to 10,571 in 2000 and 19,410 in 2015. The majority of these permits are in the Delta.
Under the pressure of this demand, a growing part of the aquifer is not completely full.
"In the spring of 1994, 26 percent of the area of the Delta was over an area of the aquifer that was no longer full," she said. "In the spring of 2015, that expanded to 40 percent of the area of the aquifer that is no longer full."
The Delta Sustainable Water Resources Task Force was established on Aug. 26, 2014, to address the concerns of the declining aquifer.
"There is no one single solution," Whittington said. "It will take a combination of many different things, but the key thing is, we all must work together."
The Delta Irrigation Summit aims at identifying opportunities for water conservation while maintaining the profitability of Delta farming.
"World population growth is increasing the demand for food and fiber, and other basins in the country are going dry," Whittington said. "If we manage the water resources wisely in the Delta, the area will be in a position to provide those resources when others may not.
"There is great potential for voluntary conservation programs to save money, as well as water. But there's a sense of urgency," she said. "We can't waste years looking for other options. The problem can only be solved through a Delta-wide commitment and taking a long view."
Jason Krutz, MSU Extension Service irrigation specialist, reported on the success of the Row-Crop Irrigation Science and Extension Research program, also called RISER.
"The RISER program uses computerized hole selection for in-furrow irrigation, surge irrigation and soil sensors so you know when it's time to irrigate," Krutz said. "It has an annual cost of $8.40 per acre, but our on-farm tests show we consistently come out ahead. We reduce the amount of water used and still harvest similar yields, which means it's more profitable."
Krutz announced the 2015 RISER program data to those in attendance. In these on-farm trials, he manages one plot of a farmer's land and the farmer manages an adjoining plot. Data is collected, and the results are compared at harvest.
In on-farm evaluations, soybean producers saw yields of 70.8 bushels per acre with water use of 10.1 acre-inches and profitability of $543 per acre. The RISER fields yielded 71 bushels per acre with 7.2 acre-inches of water at a profit of $553 per acre.
On-farm evaluations of corn saw producers yielding 231 bushels per acre and using 9.2 acre-inches of water for profit of $682 per acre. RISER corn fields yielded 223 bushels per acre, used 5.5 acre-inches of water and made a profit of $709 per acre.
In rice, standard irrigation management techniques use more than the permitted water quantity in three out of four years, Krutz said. The RISER program used innovative management techniques to keep water use within permitted limits while maintaining profitable yields.
"The bottom line is that for every $1 invested in RISER, you get about a $2.10 return over the last three years with all three crops," Krutz said. "Where else can you invest $1 and get $2 out?"
Released:
December 18, 2015