Information Possibly Outdated
The information presented on this page was originally released on October 30, 2014. It may not be outdated, but please search our site for more current information. If you plan to quote or reference this information in a publication, please check with the Extension specialist or author before proceeding.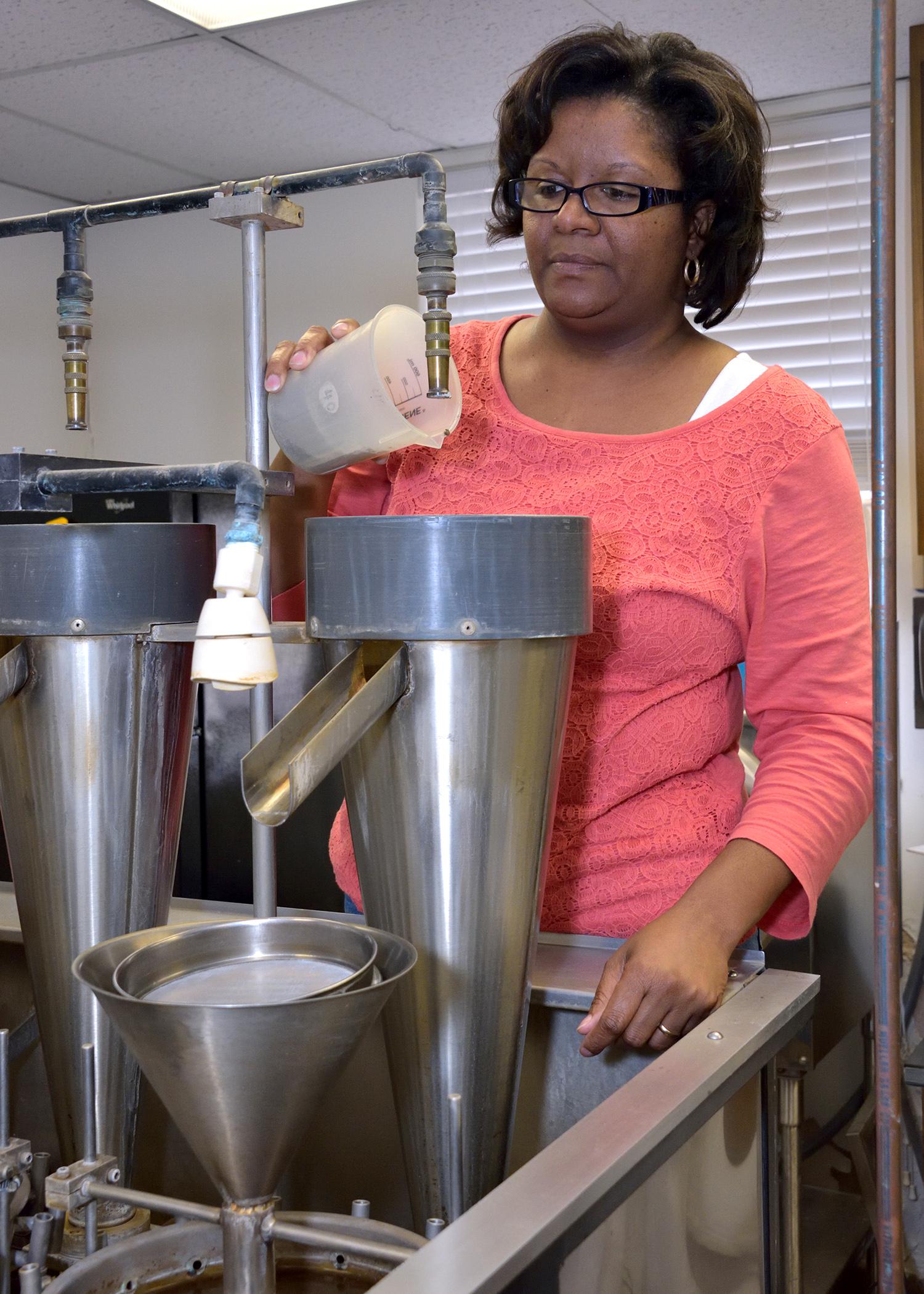 Fall tests for nematodes help keep crops healthy
MISSISSIPPI STATE -- Soil-dwelling nematodes cannot be seen with the naked eye, but the damage they do to crops shows up in dollar signs.
"We have a tremendous problem in Mississippi soybeans since multiple nematode species can impact soybean producers," said Tom Allen, Extension plant pathologist at Mississippi State University's Delta Research and Extension Center in Stoneville. "Nematodes can bring a soybean crop to its knees, and other crops in the state suffer losses from these parasites as well."
Nematodes are nearly microscopic worms that can live in a variety of hosts. The specific plant-parasitic nematode that plagues farmers lives in the soil and has a spear in its head called a stylet. They use this appendage to attack roots and draw out the contents of cells. In large numbers, their attacks can significantly damage plant health and yield.
"The best way for a farmer to determine that nematodes are present is to submit a soil sample to the Plant Disease and Nematode Diagnostic Laboratory at MSU," Allen said.
Allen said cotton soil surveys conducted in the early 2000s suggested that almost every acre in cotton production in the state has some level of nematode infestation.
"Based on the number of nematodes considered to be damaging to a host plant, approximately 40 percent of the acres sampled were determined to have high enough populations to cause an economic impact," he said.
Clarissa Balbalian manages the diagnostic lab which tests soil to determine the number and types of nematodes found in each sample.
"There are economic thresholds of how many of a certain type of nematode a crop can handle before there is a yield loss or decline in vigor," Balbalian said. "Depending on the soil and crop rotation plan, there is some biodiversity among nematodes, and we usually find at least two to five kinds in a sample.
"If it's a field that has been growing only cotton for decades, we often see only one type of nematode, but that is the exception for most fields," she said.
Allen said one of the best ways to manage nematode infestations is through careful use of crop rotation.
"Once the particular nematode species and its population numbers have been determined, a crop rotation can be prescribed that can greatly reduce the nematode species present, since you have removed the preferred host plant," he said.
Seed-applied nematicide products are available and effective, particularly where there are low nematode populations. Nematicides sprayed into the ground as fumigants are extremely effective, but these products can be expensive and hard to find.
The best time to test for nematodes is in the fall. Nematodes are generally a problem only in light-textured soil.
"Nematode populations are generally greatest at the end of the growing season," Allen said. "Be sure to collect and submit the soil samples before freezing temperatures arrive, as some nematode species are fragile and can degrade in the presence of cool soil temperatures and the absence of a living host."
The MSU diagnostic lab charges $11 per sample to test for nematodes. Producers generally get results back in just a few days, although certain tests take longer to conduct. How often a nematode test should be run depends on the individual field.
"Soil sampling for nematodes is not something you have to do every year like a soil test for nutrients," Balbalian said. "We suggest doing it every year if it's an area you've had problems with, but if it's not a problem area, you can get away with skipping a few years in between tests.
"Soil type is another factor to consider. Nematodes can move more easily in sandy soils, so lighter soil types are more likely to have severe nematode problems than heavy soil types," she said. "Growers with heavy soils can get away with sampling much less frequently than growers with medium or sandy soil types."
Released:
October 30, 2014