Information Possibly Outdated
The information presented on this page was originally released on April 8, 2013. It may not be outdated, but please search our site for more current information. If you plan to quote or reference this information in a publication, please check with the Extension specialist or author before proceeding.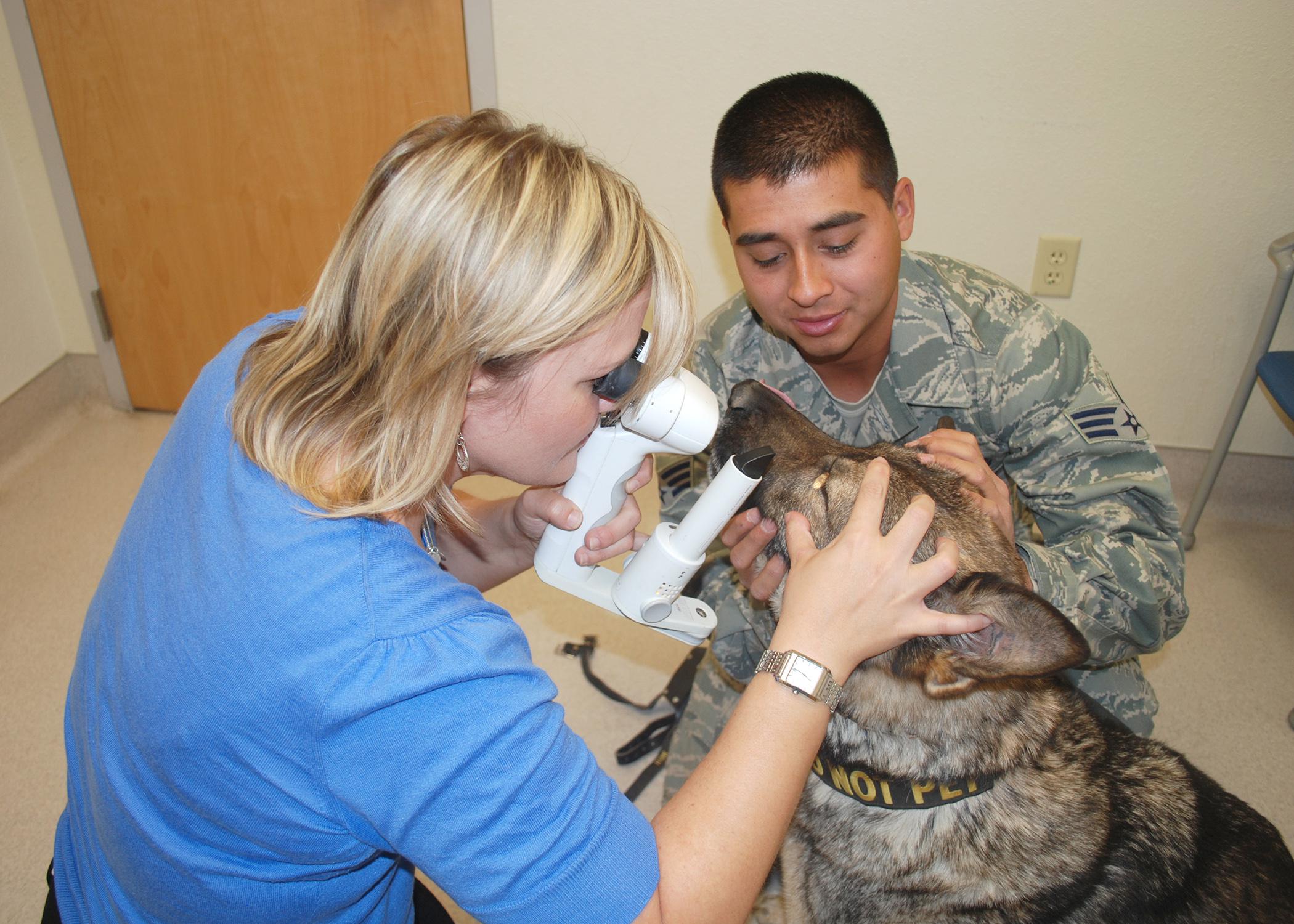 MSU-CVM to provide eye exams to service animals
MISSISSIPPI STATE – Guide dogs, handicapped assistance animals, detection dogs, therapy animals, and search and rescue dogs selflessly serve the public. To honor these animals and their work, the Mississippi State University College of Veterinary Medicine will provide eye screening services to animals that dedicate their lives to serving the public.
The American College of Veterinary Ophthalmologists and animal health company Merial host the National Service Dog Eye Exam every May. More than 250 veterinary ophthalmologists around the country offer their time and resources to provide free, sight-saving eye exams to thousands of eligible service animals.
Dr. Caroline Betbeze, a board-certified ophthalmologist, will perform exams at the MSU's College of Veterinary Medicine for eligible patients in the area.
To participate, owners of active service animals must register before April 30 at http://www.ACVOeyeexam.org. The animals must be certified through a formal training program or organization.
"Since this program launched in 2008, nearly 16,000 animals have been examined," Betbeze said. "These exams give us the opportunity to catch ocular problems early, before they move to advanced stages and cause serious problems."
Betbeze graduated from MSU's College of Veterinary Medicine 10 years ago. The Tennessee native completed an ophthalmology residency at Purdue University College of Veterinary Medicine and worked in a faculty position there before going into private practice at the Veterinary Specialty Center in Tucson, Ariz.
"To me, the eye is beautiful. They say the eye is the 'window to the soul,' but it is also a window into the overall health of the animal," Betbeze said. "For instance, with a disease like diabetes, you can look into the eye and find changes that can help you diagnose the disease."
Betbeze said the best way to keep animals healthy is to take them to a local veterinarian at least twice a year.
"Your local veterinarian can detect issues and refer your pet to a specialist as needed," Betbeze said. "I'm excited to be providing ophthalmological services at the college now. I'm really looking forward to hosting the service animal event here. We encourage people to register their service animals soon."
Contact: Karen Templeton, (662) 325-1100