Information Possibly Outdated
The information presented on this page was originally released on May 10, 2013. It may not be outdated, but please search our site for more current information. If you plan to quote or reference this information in a publication, please check with the Extension specialist or author before proceeding.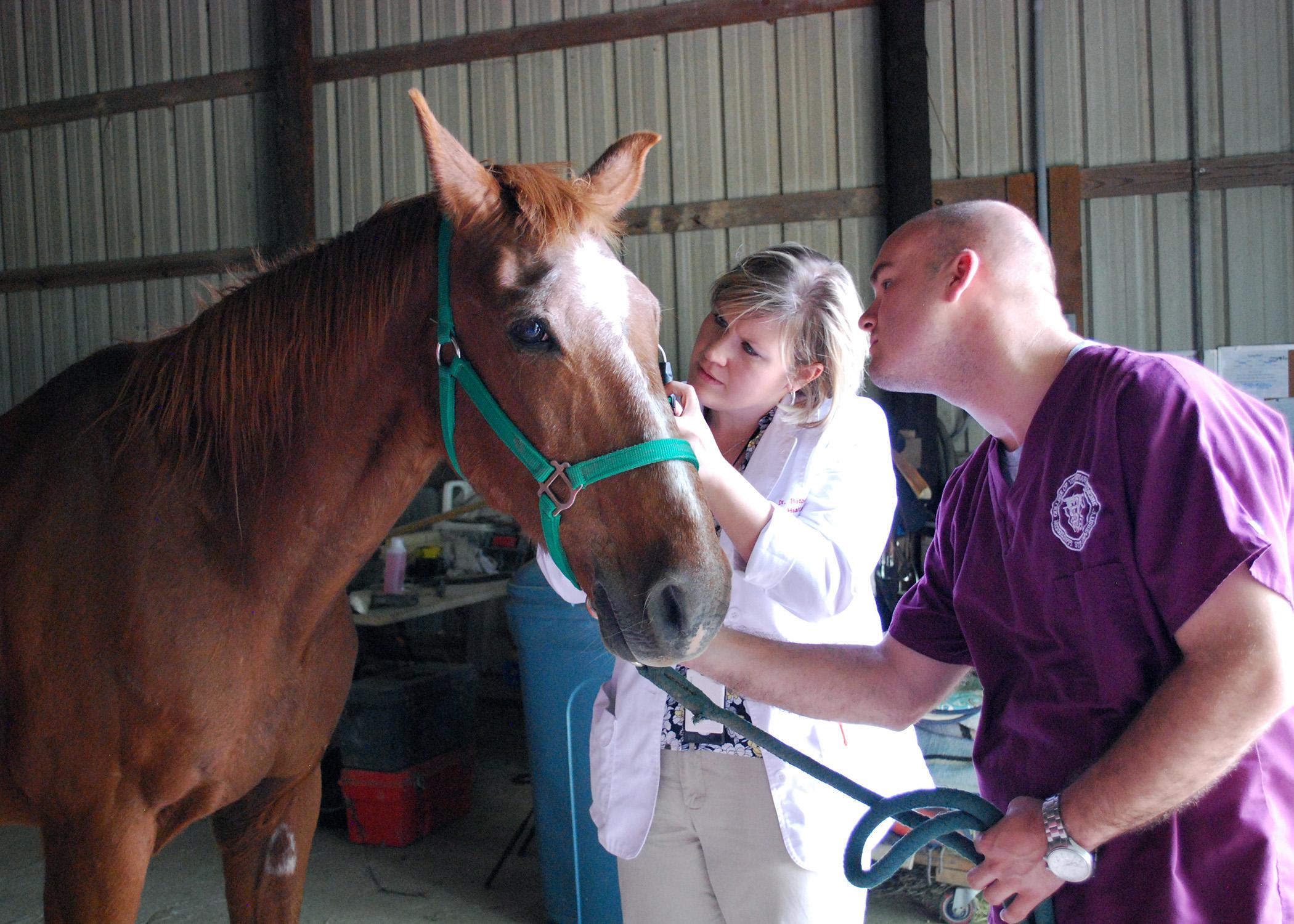 CVM and Palmer Home partner to protect horses
By Karen Templeton
MSU College of Veterinary Medicine
COLUMBUS – Regular eye exams are an integral part of animal health maintenance, so the Mississippi State University College of Veterinary Medicine is providing free eye screening to service animals throughout the month of May.
The American College of Veterinary Ophthalmologists and animal health company Merial host the National Service Dog Eye Exam every May. Veterinary ophthalmologists, including MSU's Dr. Caroline Betbeze, donate their time and resources to provide free, sight-saving eye exams to eligible service animals.
But dogs are not the only service animals that rely on healthy vision.
"Soon after we announced our participation in this event, we had nine horses signed up," Betbeze said. "I was pleased to learn that these horses are part of Palmer Home for Children's therapeutic riding program. Palmer Home is close to MSU. Examining the horses is not only good for their health, but also provides a learning opportunity for our students."
Natalie Langston, director of Palmer Home's therapeutic riding program, said she was excited about the opportunity to have the horses examined by a board-certified ophthalmologist.
"Our horses provide so much to the children here. Learning to ride helps children with cognitive and emotional issues as well as those with physical limitations," Langston said. "We do everything we can to keep our horses healthy. Eye exams are important, so we wanted to take advantage of what Dr. Betbeze was offering."
Betbeze traveled from Starkville to Palmer Home in Columbus with assistant clinical professor Dr. Alison Eddy, MSU veterinary technologist Stephanie Dray and two veterinary students. Dr. Eddy, who specializes in equine surgery, assisted with the exams, as did Dray. The students helped and also learned more about performing ophthalmic exams in the process.
"A lot of love and attention is given to the horses at Palmer Home, and that's obvious," Betbeze said. "It is great to see how healthy the horses are. We were glad we didn't find any serious eye issues, but we were able to identify a couple cases that need follow-up."
Betbeze diagnosed a small iris cyst in the eye of one horse. The cyst does not hurt the horse, but it can cause a small shadow that can make her spook a bit when turning to the side of the eye with the cyst.
Langston was relieved to know that the issue was detected early and that help is easily accessible.
"We are thrilled to know that there is an ophthalmologist available just down the road and that this particular issue can be taken care of," she said. "These initial eye exams would have been very expensive, so we are grateful that Dr. Betbeze and her team donated their time to do this for us."
Betbeze was also grateful for the opportunity.
"Our students learned not only about eye exams, but also about community service," Betbeze said. "For all the horses and staff at Palmer Home do for children, it is truly an honor to be able to give something back to them. We know our students will carry that same enthusiasm for service as they move into their careers."