Information Possibly Outdated
The information presented on this page was originally released on November 1, 2013. It may not be outdated, but please search our site for more current information. If you plan to quote or reference this information in a publication, please check with the Extension specialist or author before proceeding.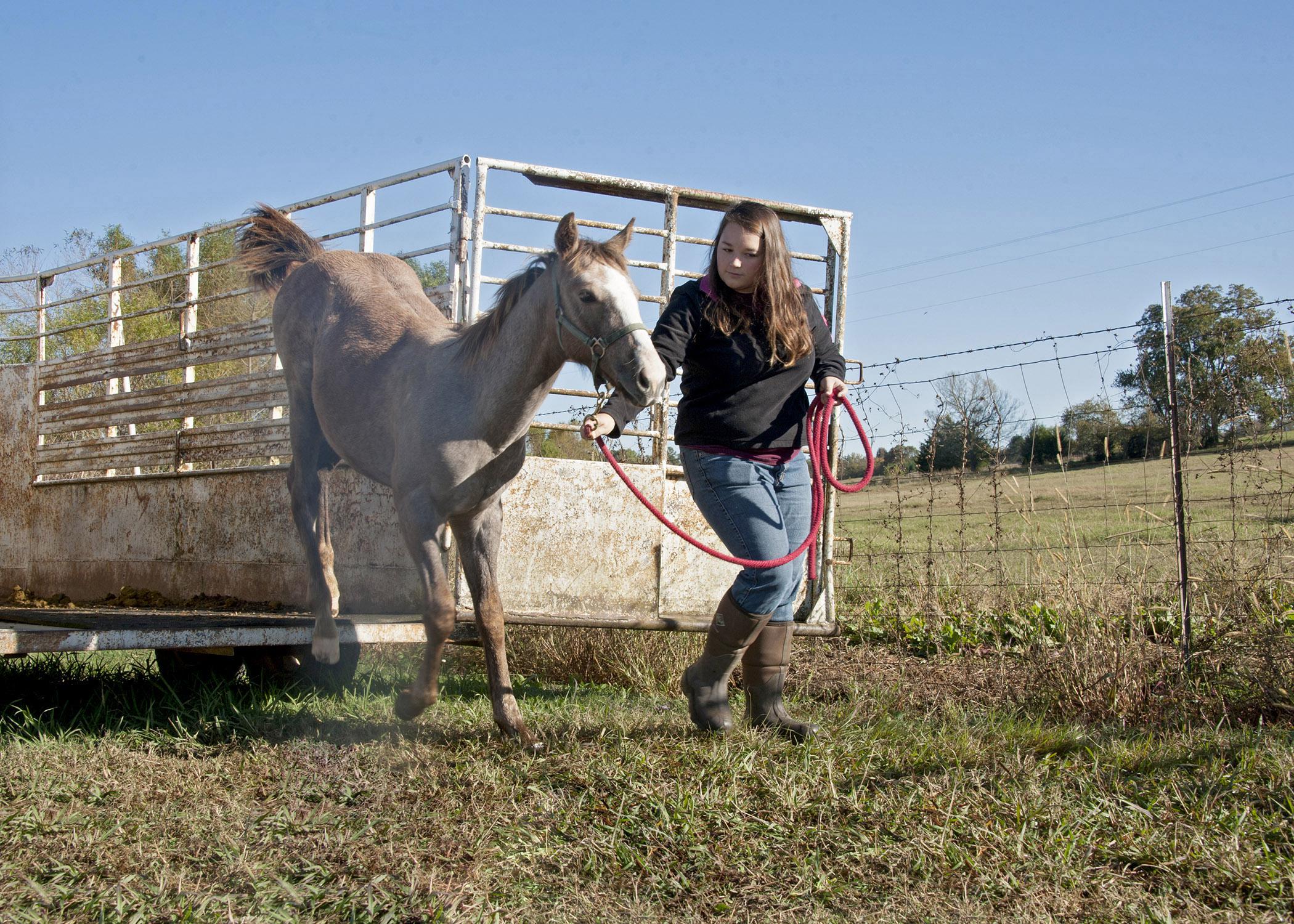 Annual MSU horse sale goes high-tech
MISSISSIPPI STATE -- Preparing for the production sale of horses from the Mississippi Agricultural and Forestry Experiment Station has required part old-fashioned hard work and part new-fangled technology.
This year, instead of broadcasting a live auction event, the Mississippi State University Extension Service's Center for Technology Outreach has created a website for an online auction that will run Nov. 1-21.
To make it work, they needed photographs, descriptions, registration papers and videos of the horses available for sale. They turned to students and professors in the Department of Animal and Dairy Sciences for help.
"We want people to research these horses and buy with confidence, so we worked to get copies of their registration papers or their parents' registration papers," said Steve Hankins, distance education coordinator in the Extension Center for Technology Outreach. "Students, faculty and staff in the Department of Animal and Dairy Sciences worked to get the horses ready, then they shot, edited and posted the videos to YouTube for us, so it's been a great collaborative effort."
Many of the horses being auctioned are very young and needed a lot of training.
"This is a production sale, and these are our highest quality horses," said Ryann Campbell, facilities supervisor for the MAFES Horse Unit. "Most of the horses are weanlings, about 6 months old. They were born into the equine reproduction research program."
With so many young horses to train and other work to do, Campbell divided up the jobs between different groups of students.
"Students in Molly Nicodemus's equine behavior and training class helped get the horses gentle and halter broke. They taught the horses how to load in a trailer," Campbell said. "Trent Smith's sales class helped clean up the horses and prepared them for photos."
Campbell said the MSU Block and Bridle Club did ground work with six of the horses for an hour every day, Monday through Thursday.
Some of the students had never touched a horse before their classes at MSU, which meant a slower pace was required for both the students and the horses, Campbell said.
"It was a steep learning curve for the students, and then they had the added role of taking videos and editing them for the Web," she said. "Not only did the students benefit from the real-world experience of training a horse for a sale, they got hands-on experience with the technology needed to do business in the online marketplace."
Campbell said buyers looking for a solid, well-bred horse with appealing color should go to http://www.auction.msucares.com and look at the horses being auctioned.
Buyers can also bid on the stud fee for one 2014 breeding to gray American quarter horse stallion, UGA King of Aces.
The auction is similar in style to eBay. Each lot has a minimum bid. A registered bidder can enter a maximum bid for the horse he or she wants to buy.
Payment is due when winning bidders arrive to transport horses and can be made by cash, check, money order or credit card. Registration papers will be held until personal checks clear the bank. An $8 per day boarding fee will be charged for all animals picked up after Nov. 25.
Prospective buyers can set an appointment to view horses in person at the MAFES Horse Unit by contacting Campbell at rs640@msstate.edu or 918-917-0735.
Released:
November 1, 2013