Information Possibly Outdated
The information presented on this page was originally released on December 1, 2011. It may not be outdated, but please search our site for more current information. If you plan to quote or reference this information in a publication, please check with the Extension specialist or author before proceeding.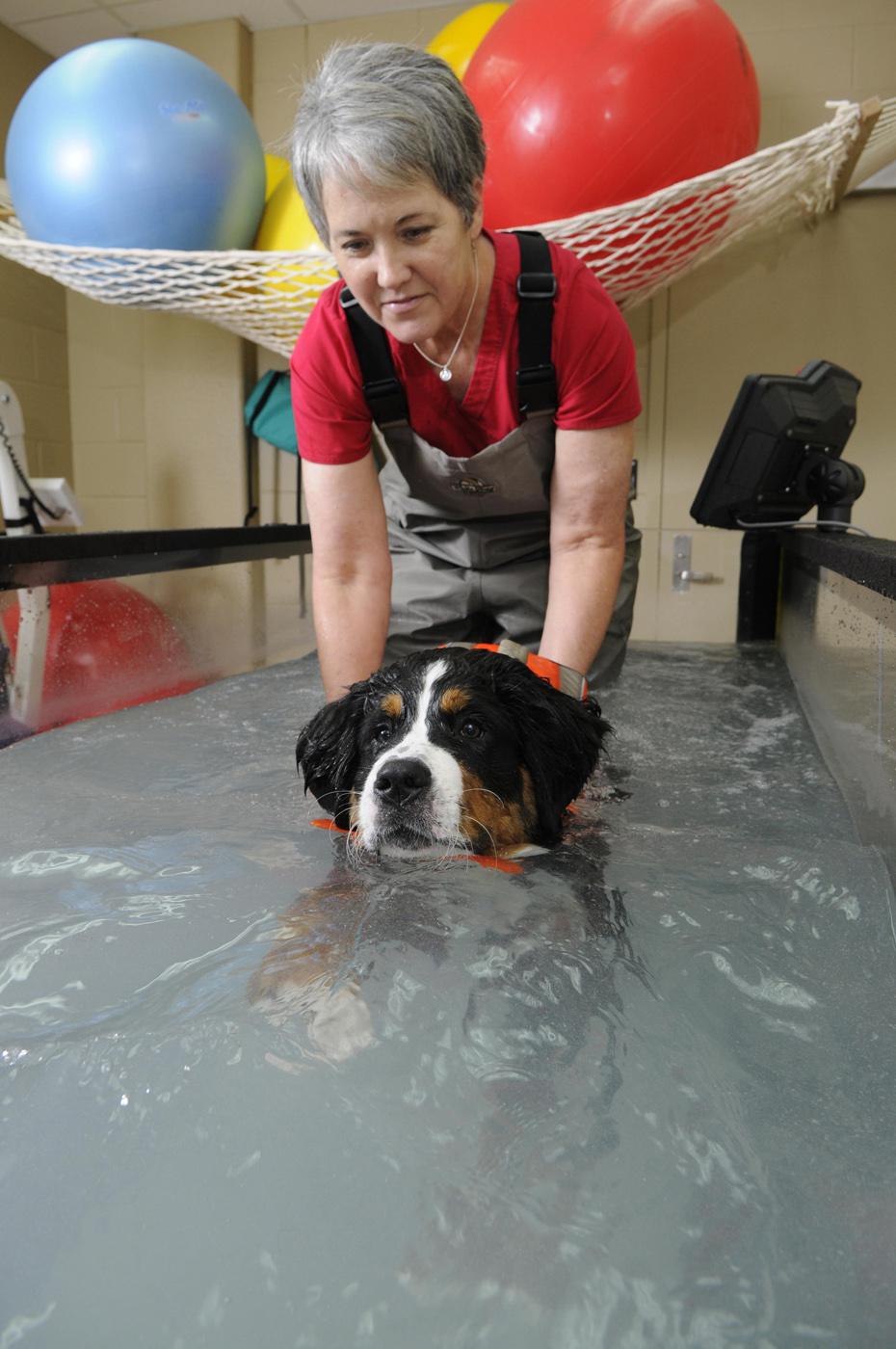 MSU offers therapy for injured animals
MISSISSIPPI STATE – A whirlpool bath, oatmeal hair rinse, blow-dry and massage may sound like a day at the spa, but it is a physical rehabilitation session for Curly, a patient at Mississippi State University's College of Veterinary Medicine.
The Animal Health Center operated by CVM is one of a handful of veterinary programs across the United States with the qualified staff and financial support to operate a rehabilitation clinic.
"We're fortunate to have a certified veterinary rehabilitationist and the help of generous clients who have a passion for these special animals," said Dr. Jennifer Wardlaw, assistant professor and small-animal surgeon. "For patients suffering from chronic conditions, such as arthritis or dysplasia, or animals with acute injuries that have left them partially immobile, physical rehabilitation can be helpful."
Curly, a labradoodle with a disc herniation that left him unable to move his hind legs, is a regular patient at the clinic. His custom-fitted, two-wheeled cart elevates his hind legs so he can pull himself with his front legs.
"His owner drives him over from Alabama on Monday, and he stays through Wednesday," said third-year veterinary student Mel Whitfield. "He spends from 17 to 34 minutes on the underwater treadmill. I take him outside with his cart, and we play Frisbee. He jumps up and down and loves to run. He has so much energy."
Whitfield said the goal of these various therapies is to keep Curly's muscles from atrophying and to maintain his cardiovascular health.
"He has five or six sessions a day and gets more interaction whenever I have free time," she said. "I like to come down here and spend time with him whenever I can."
After one such rehabilitation session with Whitfield, Curly rested on a plush dog bed and looked like any other dog. But when rehabilitationist Ruby Lynn Carter walked into the center, Curly scrambled – dragging his hind limbs – to greet her. She and Whitfield put him in his harness and cart, and in moments he was running from person to person in the clinic.
Wardlaw, whose commitment to the physical rehabilitation unit resulted in restructuring office spaces to better accommodate the necessary equipment, said the animals are very motivated to participate in the program.
"If they weren't motivated, the rehabilitation wouldn't happen," she said. "They love Ruby Lynn, they love treats, and we try to make it fun for them. Their owners see that they enjoy it, and that is why we have several clients who come to us regularly."
Framed portraits of these patients hang on the wall. They include Lucky, who is nearly 17 years old, and Jack, a black Lab who uses a wheelchair for mobility after a fibrocartilaginous embolism. Third-year CVM student Kelley Comer explained the condition as a stroke to the spine that left Jack with partial use of his legs.
"Jack's owners, Dr. Bill Moore and his wife Caren, have donated an endless pool with a hoist so our bigger dogs, like Jack, can more easily use water therapies and swim," Wardlaw said. "When we have larger dogs such as Great Danes or Rhodesian Ridgebacks that need rehabilitation, having the hoist will be better for them and for the therapists and students. The deeper pool will help immensely."
In addition to on-site therapy, the staff at the Animal Health Center's rehabilitation clinic provides cart fittings, orthotic brace fittings, nutritional counseling and customized plans for home rehabilitation.
"While many of our patients come from the MSU clinic, we take patient referrals from veterinarians across the southeast," Wardlaw said. "We can design programs for owners to manage at home in case they can't come here for rehabilitation."
For special-needs dogs like Curly, Lucky and Jack, physical rehabilitation offers an improved quality of life.
"Seven years ago, people didn't know that physical rehabilitation for animals existed. Now that we're aware of how much it can benefit humans, it's easier to see the parallels in what it offers animals," Wardlaw said.
To watch a video about the physical rehabilitation program at CVM, go to http://www.cvm.msstate.edu/.
Released:
December 1, 2011