Information Possibly Outdated
The information presented on this page was originally released on April 23, 2009. It may not be outdated, but please search our site for more current information. If you plan to quote or reference this information in a publication, please check with the Extension specialist or author before proceeding.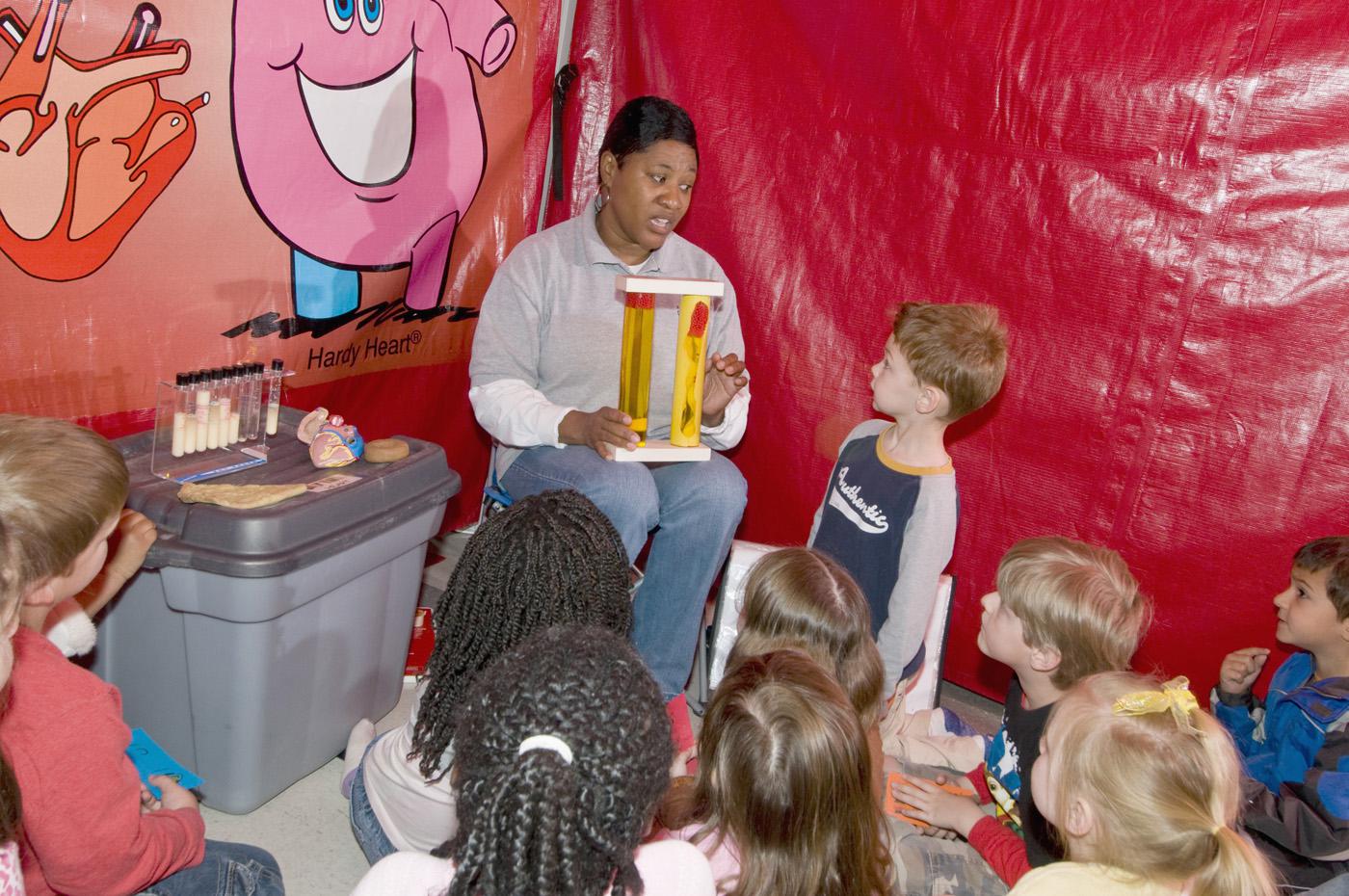 Interactive exhibit encourages health, fun
By Karen Templeton
MSU Ag Communications
MISSISSIPPI STATE – An interactive learning program administered by Mississippi State University helps children get inside the human body and understand that lifestyle choices made at early ages have a direct impact on adult health.
Sponsored by MSU's Extension Service, 4-H and Blue Cross/Blue Shield, Body Walk is a free, traveling exhibit of the human body with 10 interactive learning stations. Each station teaches children in a fun way about the human body and how to make healthy choices.
Body Walk was established in 2006 and has been popular among schools in the state, visited by about 20,000 Mississippi school children each year.
"The program is available for kindergartners through fifth-graders, from September through the last week in May, and schools certainly take advantage of it. The schedule stays full," said Vivian Cade, MSU Extension associate and Body Walk director.
Body Walk's stations focus on the stomach, small intestines, heart, lungs, brain, mouth, bones, skin and muscles. At each of the stations, a volunteer presenter engages students in a five-minute activity focused on making healthy choices. The students walk through a giant ear into the brain and before entering the stomach station, where they are designated to be a certain food, such as a hamburger, carrot or piece of cheese. They learn how those foods are broken down and absorbed as they move through the intestines and into the blood stream.
Body Walk hosts a cast of characters called The OrganWise Guys. The use of characters helps children understand the basics of human physiology and how to keep their bodies healthy and strong. They feature characters such as Hardy Heart; Windy, the lungs; and the Kidney Brothers.
"Interactive learning helps the students understand how the body works," Cade said. "If they are having fun, they tend to absorb and remember more of the lessons."
Patricia Miller, kindergarten teacher at Sudduth Elementary School in Starkville, said Body Walk helps solidify the health lessons taught in the classroom.
"We presented a health unit before going to Body Walk, and it was great to see how the program helped the students recall the lessons on the body and nutrition," Miller said. "It helps to have what we teach be reinforced in such an active and fun way."
Teachers and parents are provided Body Walk handouts before and after the students participate to help emphasize the lessons taught in the program.
"We even encourage them to bring the information home to their parents, so the whole family can maintain a healthy lifestyle," Cade said.
The schools and county Extension staff enlist volunteers to set up the exhibit and also present at each station. The volunteer presenters are given a script and props to help teach the students at their designated station.
"Volunteers do a fantastic job and get the hang of it very quickly," Cade said. "I think they really enjoy it. When the adults have fun, the kids have fun."
Volunteer and MSU Clay County Extension director Donna Cliett's interests are in nutrition, health and food safety. She said participating in Body Walk is just as enjoyable for the volunteers as it is for the students.
"The kids are so receptive to the information, and I am impressed with how much knowledge they already have," Cliett said. "Witnessing them understand important issues, such as heart disease and diabetes, is really promising."
High school students with an interest in teaching, health and nutrition also participate as Body Walk volunteers. Cade said this is beneficial not only for the high school students, but also for their teachers.
"After working with excited younger children all day, the high school volunteers gain a new appreciation for the work their teachers do," Cade said.
Cade said one of the most rewarding components of the program is that the lessons are embraced by teachers.
"It is nice to know that what we teach here follows the children back to the classroom and their homes," Cade said. "Lessons learned here and in the classroom lay the groundwork for the children growing to be healthy adults."