Information Possibly Outdated
The information presented on this page was originally released on September 3, 2009. It may not be outdated, but please search our site for more current information. If you plan to quote or reference this information in a publication, please check with the Extension specialist or author before proceeding.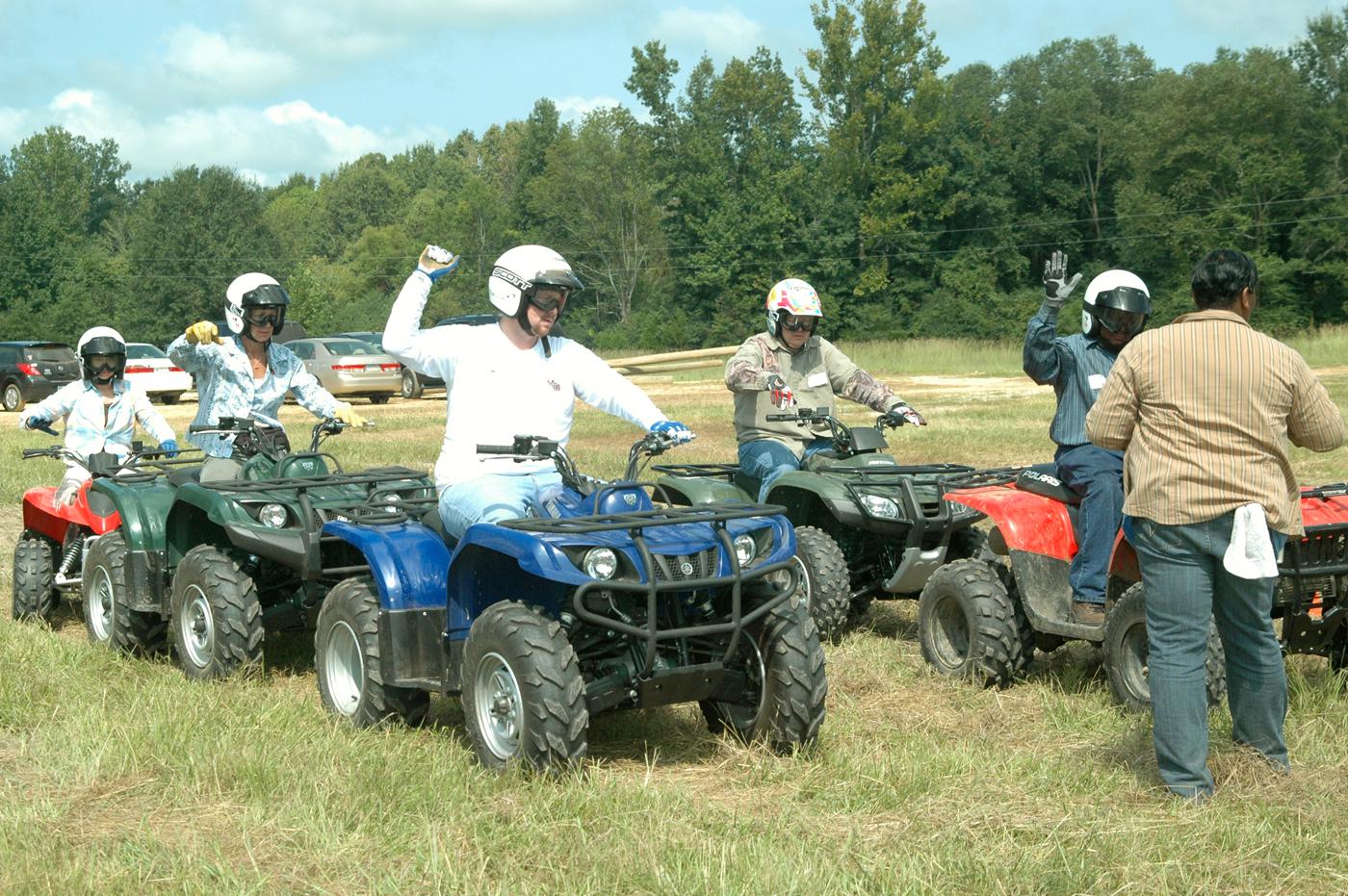 4-H hopes to affect ATV injury toll with education
By Patti Drapala
MSU Ag Communications
MISSISSIPPI STATE – Mississippi State University's 4-H program staff want to reduce the number of accidents and deaths occurring from the misuse of all-terrain vehicles by training 4-H agents as certified ATV safety and education instructors.
Mississippi currently ranks No. 12 in the number of accidents and deaths occurring from ATV misuse. There were 271 reported deaths in Mississippi caused by ATV accidents from 1982 through 2007. Of this number, 89 were children under age 16. There were also more than 150,900 reported visits to emergency rooms for treatment of injuries related to ATV operation during this same period.
From Aug. 18 through Aug. 31 of this year, there were 21 deaths from ATV use across the nation.
"Mississippi ranks quite high in serious accidents and deaths involving ATVs," said 4-H youth development specialist Larry Alexander. "The state needs more education and awareness about ATV safety, particularly for youth under 16, and we felt 4-H had the resources and the network to reach youth in the state."
Mississippi's 4-H program received a grant from the National 4-H Council to train youth and adults to become safe and responsible ATV operators. As part of the grant, eight 4-H professionals from the MSU Extension Service became All-Terrain Safety Institute instructors. To expand ATV safety efforts, Mississippi 4-H also has received funding from the Mississippi Department of Wildlife, Fisheries and Parks to build a permanent ATV safety training trail in West Point on land donated to 4-H by the Bryan family.
In addition to Alexander, youth agents who participated in the training were Randall Nevins of Monroe County, Donna Cliett and Fran Brock of Clay County, Jerry Burton of Lauderdale County, Lemon Phelps of Marshall County, Greg Biggs of Madison County and Laura Giaccaglia of Bolivar County. The 4-H professionals recently spent a week learning proper instruction techniques and performing riding demonstrations for instructor Clifford Manek of the ATV Safety Institute.
To complete the training, participants had to pass a written examination and then instruct a group of novice ATV riders. These riders were state 4-H program staff members.
The new instructors can now conduct training for youth and adults to certify safe ATV riders. They will also help other counties conduct ATV safety training.
"We were serious about obtaining certification," Alexander said. "As part of the requirement, we had to attend pre-rider safety training in Little Rock, Ark."
Many of the agents cited specific problems they have noticed with ATV operation in their counties as a primary reason for obtaining instructor certification.
"I have seen as many as two to three people riding on an ATV that was designed for one person, the driver," Giaccaglia said. "Safe operation of an ATV is all about balance, which is not possible when there are other people on board."
ATVs are powerful machines specifically designed for riders of certain ages, depending upon the motor and size. Any ATV can tip over easily, regardless of whether it is being driven, idle with the motor running or turned off. Youth and adults are often unaware of this fact.
"I've seen ATVs tip and roll on top of young people who were just leaning against them while the machine was turned off," Biggs said. "One of the main problems with ATVs in my county is with riders, regardless of age, who don't wear helmets or other proper safety gear. This is a consistent challenge we will face in dealing with riders who don't know how to be safe or don't care."
Released:
September 3, 2009