Information Possibly Outdated
The information presented on this page was originally released on February 4, 2008. It may not be outdated, but please search our site for more current information. If you plan to quote or reference this information in a publication, please check with the Extension specialist or author before proceeding.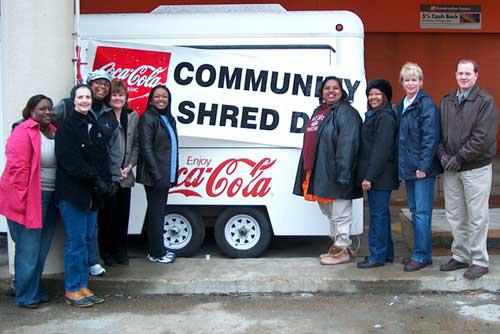 Shred personal papers to prevent identity theft
MISSISSIPPI STATE -- With identity thieves lurking for treasure among household trash, Mississippians are being urged to turn to the shredder rather than the garbage when throwing away junk mail and personal documents.
Bobbie Shaffett, family resource management specialist with the Mississippi State University Extension Service, said each person should protect all personal information to prevent identity theft.
"An identity thief needs only a Social Security number and that person's address to steal their identity. With this information, thieves can impersonate people to get credit in their name and often gain access to their finances," Shaffett said.
Thieves can get much of this information from the trash people throw away. In what has become known as dumpster diving, identity thieves rummage through garbage looking for personal information they can use to claim another person's identity as their own.
To help curb the problem, credit card companies and banks do not list the whole account number on statements mailed to houses. This information also is not printed on receipts or made readily available.
Even though most financial institutions are doing their part to protect the identity of consumers, much responsibility still rests on the individual.
"Don't just throw away documents that have your name, address and any other information on it," Shaffett said. "Shred these documents so that data does not fall into the hands of anyone who could use it to steal from you."
The MSU Extension Service has joined with other organizations to offer Community Shred It Days Feb. 8 and 9 at four locations across the state. Individuals are invited to bring up to five bags of personal documents to be shredded on site for free, making the information they contain unusable for thieves.
Trucks will be located Feb. 8 at the Wal-Mart Supercenter on North Gloster Street in Tupelo, the Home Depot on U.S. Interstate 55 North in Jackson and the Wal-Mart Supercenter on Highway 98 West in Hattiesburg.
On Feb. 9, a truck will be at the Wal-Mart Supercenter on Highway 49 in Gulfport.
Tawnya Crockett, Extension family resource management area agent working in Forrest County, is helping coordinate the Hattiesburg shredding site.
"We have so many people who are throwing documents away or not shredding those with personal information," Crockett said. "It could be a big problem if any of that pertinent information gets in the wrong person's hands."
Crockett said pre-approved credit card offers are especially dangerous to just throw away. She said if these are not shredded, a thief can tape together the pieces and get a credit card in another person's name.
"You should shred all personal documents that you no longer need, even doctor bills and utility bills," Crockett said. "You should just shred these documents because there are different scams and frauds developing every day."
This is the second year community shredding days have been held in February. While they allow people to safely dispose of a lot of sensitive material, Crockett said it is best if people buy their own shredder to destroy documents they no longer need.
Simple machines capable of shredding a few sheets at a time can be found at many discount stores and at office supply stores for as little as $25.
In addition to the MSU Extension Service, the Community Shred It Days are being sponsored by the Mississippi Attorney General's Office, the Better Business Bureau of Mississippi, the Mississippi Secretary of State's Office, The Mississippi Consumer Education Partnership, the Mississippi Department of Human Services, the Leadership Council on Aging and several corporations.
For more information on each Shred It Day, contact a Mississippi Extension office.
Released:
February 4, 2008