Information Possibly Outdated
The information presented on this page was originally released on October 16, 2008. It may not be outdated, but please search our site for more current information. If you plan to quote or reference this information in a publication, please check with the Extension specialist or author before proceeding.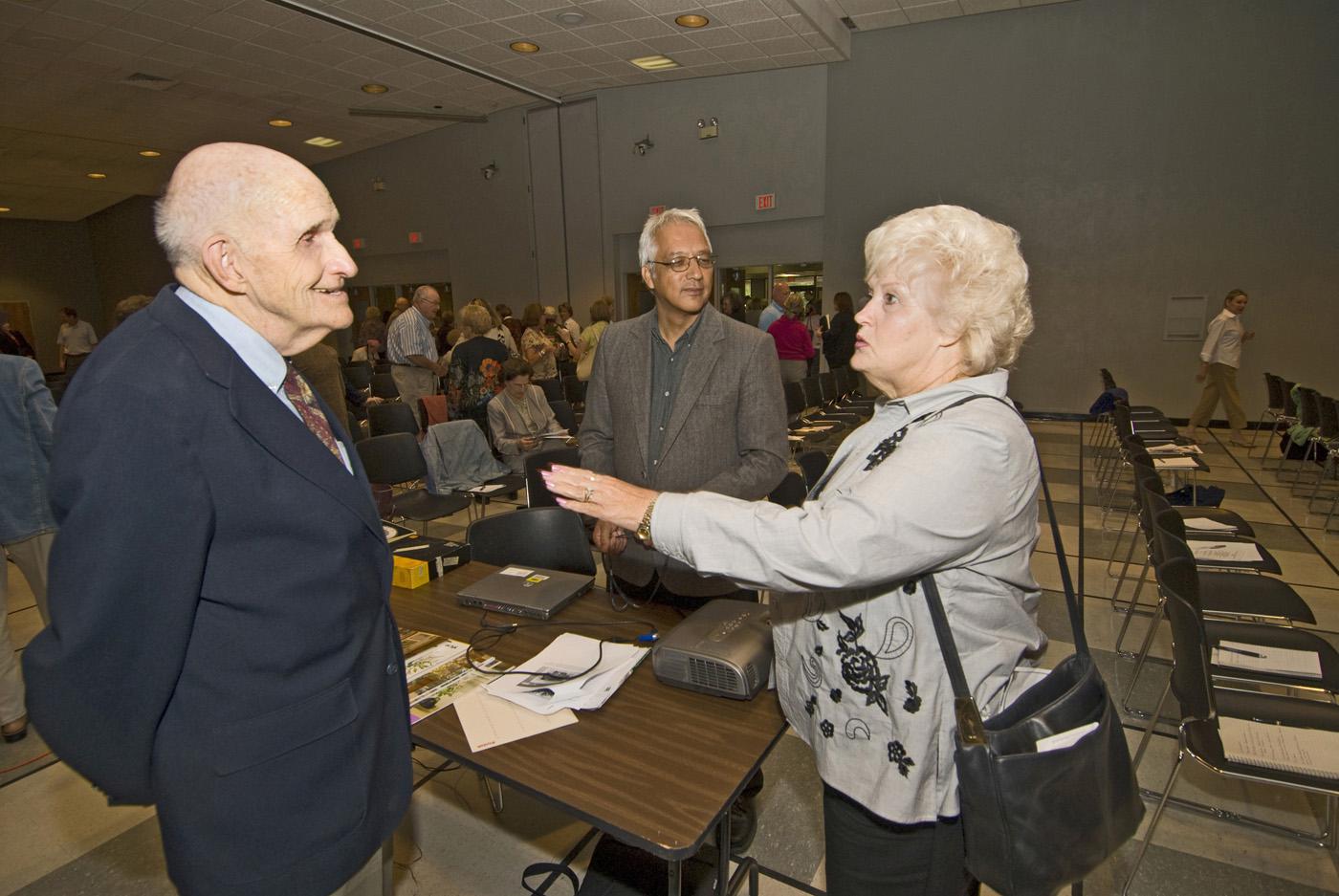 Former MSU professor delights landscape symposium crowd
By Patti Drapala
MSU Ag Communications
MISSISSIPPI STATE -- Mississippi State University professor Ed Martin spent nearly 40 years teaching landscape architecture students to use plants to create great outdoor spaces, and he felt others should understand this principle, too.
Soon after arriving at MSU in 1956, Martin began a partnership with the Garden Clubs of Mississippi to educate people about the function of the landscape. He started a design seminar open to the public.
The concept was an immediate success and evolved into an annual presentation at MSU. The university and the garden club organization honored Martin for his dedication by naming the event the Edward C. Martin Jr. Landscape Design Symposium.
"What Ed Martin has done for 50 years in leading this symposium and working to educate the public about landscape architecture is significant," said MSU landscape architecture professor Robert Brzuszek, a Martin colleague and symposium co-presenter. "He's best at translating what people need in their backyard and showing them how to design more effectively because he makes everyone feel comfortable."
Although Martin retired from the university in 1993, he returned to campus each year to conduct the event. Moving to North Carolina in 2001 with his wife, Roberta, did not end his visits.
In 2005, Martin announced he was relinquishing his responsibilities as symposium coordinator because of health concerns and other commitments. Brzuszek assumed the role and waited for an opportunity to get Martin back as a presenter.
"Martin is a person of influence in our profession," Brzuszek said. "All we need to do is listen to him."
Martin was able to return this fall for the first time in three years.
"It's good to be back in Mississippi," he said. "When I moved to Black Mountain, N.C., there were steep hills and no trees in my front yard, so I got busy planting trees and shrubs."
The former professor carried off the presentation with his usual humor and aplomb, according to participants and colleagues who attended.
"His return is rejuvenation for everyone involved," said Sadik Artunc, head of the MSU landscape architecture department. "The symposium is a way for the faculty to get together with Martin and our valuable garden club supporters to promote our cause to the public."
Martin did not need modern presentation tools to entertain the crowd of more than 250 with his slides and witty commentary that illustrated his belief that anyone can have a beautiful, unique and ecologically-friendly yard. Homeowners can achieve this goal by using observation and imagination to follow Mother Nature's lead.
Martin advocated a technique he calls "concealment/revealment" to define a landscape and create interest, intrigue and curiosity.
"You want to lead people to your focal point of interest, which is the front door of your house," he said. "You want to arrange plants and accents to make people want to see and discover more."
Plants can easily tease the interest of the viewer because they come in a variety of shapes, colors, height, width, textures and seasonal forms, Martin said. Landscape architects can employ color and height, for example, in a yard design to make certain areas prominent and others less obtrusive. They also may choose to use plants that grow vertically in areas of the landscape where space is extremely limited.
"Plant design doesn't have to be a bunch of bushes shaped like meatballs hugging the house," Martin said. "We want plants to define space and create an atmosphere at home that we enjoy."
Released:
October 16, 2008