Information Possibly Outdated
The information presented on this page was originally released on November 1, 2007. It may not be outdated, but please search our site for more current information. If you plan to quote or reference this information in a publication, please check with the Extension specialist or author before proceeding.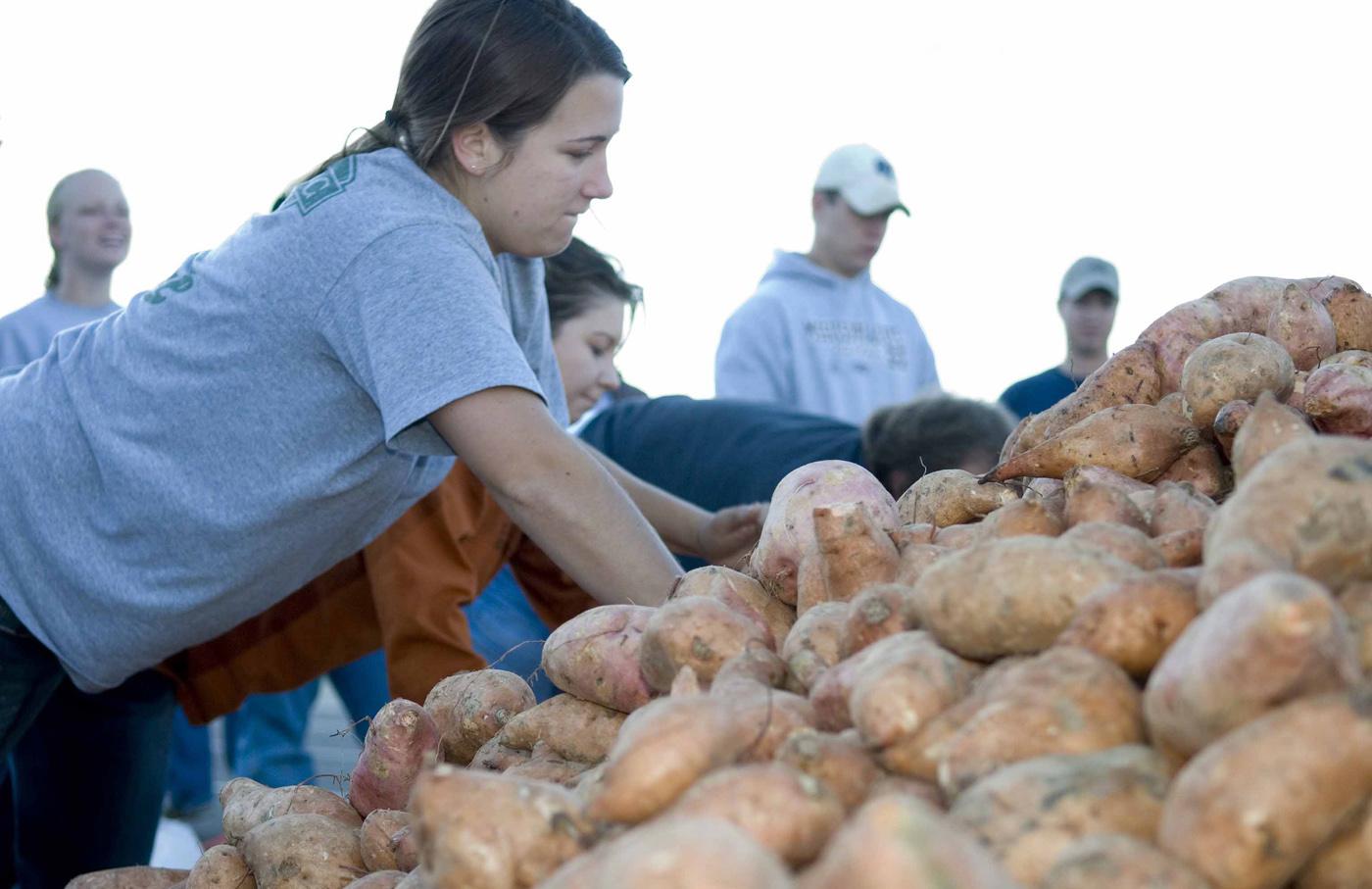 Students bag sweet potatoes for MSU hunger campaign
By Patti Drapala
MSU Ag Communications
MISSISSIPPI STATE -- Neither the chill nor the early hour dampened the enthusiasm of 100 Mississippi State University students who gave up their weekend beauty sleep to bag 20,000 pounds of sweet potatoes for the Mississippi Food Network.
The first-ever potato drop held on campus was part of the network's on-going effort to distribute donated produce to food pantries across the state. At the Palmeiro Center parking lot, students stuffed the potatoes into 10-pound bags in less than 90 minutes and loaded them onto the network's 18-wheeler headed back to Jackson.
"To give up a few hours that I would have wasted sleeping wasn't a big deal," said Jessica Ayers of Gulfport, a junior majoring in risk management, insurance and financial planning.
The truck driver was back on the road well before 9 a.m., which made the experience even more satisfying for Chiquita Briley, assistant Extension professor in the Department of Food Science, Nutrition and Health Promotion.
"Students are already asking me when the next potato drop is," said Briley, who coordinated the event to promote the involvement of the College of Agriculture and Life Sciences in "Universities Fighting World Hunger," a growing social movement. "We hope this is only the beginning of our student participation in such projects."
Briley is adviser to the "MSU Committee of 19," a student organization that plans to work with the Society of St. Andrew and other charitable groups to conduct a "War on Hunger" campaign of education, research and outreach.
"We sponsored the potato drop to raise awareness that there are children and families in this state who grapple with nutritious food not being available to sustain a healthy life," Briley said. The Society of St. Andrew is a national Christian ministry that collects produce left in fields after harvesting, according to the organization's Web site. The Mississippi office has salvaged more than 1 million pounds of potatoes and other fresh produce to provide the equivalent of 3 million servings of food to the state's hungry.
"President Foglesong should be mighty happy with the volunteerism exhibited by MSU students today," said Jessica Burks, program coordinator of the society's Mississippi office. "They pitched right in and got the job done."
Two MSU alumni, Tim Edmondson of Edmondson Farms in Vardaman and Bill Wooten of Missi-ana Produce, Inc. in Bruce, sent a dump truck with donated sweet potatoes from their operation. The networkÕs rig carried 15,000 pounds of the bagged potatoes for distribution to soup kitchens and food banks. Several student organizations personally delivered 5,000 pounds to food pantries in the Golden Triangle and Tupelo area.
"It's important to give something of yourself by helping people who need food," said Clare Bass of Biloxi, a graduate student in public administration.
Hunger statistics for Mississippi are eye opening, Briley said. These statistics are interpreted in the context of food insecurity, a condition in which people don't have nutritious food in sufficient quantities to meet dietary needs for a healthy life.
The Web site of the Food Research and Action Center documents that:
More than 180,000 households (16.5 percent of the population) in the state are classified as "food insecure."
Mississippi has the second highest rate of food insecurity among its population (2.82 million people) in the nation.
More than 226,000 children under 18 in Mississippi live in poverty and are subject to food insecurity.
When most people picture hunger in their minds, they think of an emaciated body, Briley noted. The effects of hunger in America, while not visually dramatic, are just as unsettling. Children who don't have adequate nutrition can't perform at their best, experience a reduction in growth and development, and are less resilient in fighting illnesses, she explained.
"At after-school programs, these children often ask for extra snacks or servings of food to take to their younger siblings who don't have enough to eat," Briley said. "We also see poor health outcomes in adults and elderly because of the lack of food."
Briley plans to schedule more food collection events with the "Committee of 19" to enlist more student volunteers.
"Students selected the name of the committee after understanding that it costs only 19 cents to feed a hungry child a meal in an under-developed country," she said. "We want the War on Hunger effort to be student-driven and extend out into the community."
Released:
November 1, 2007