Information Possibly Outdated
The information presented on this page was originally released on December 2, 2004. It may not be outdated, but please search our site for more current information. If you plan to quote or reference this information in a publication, please check with the Extension specialist or author before proceeding.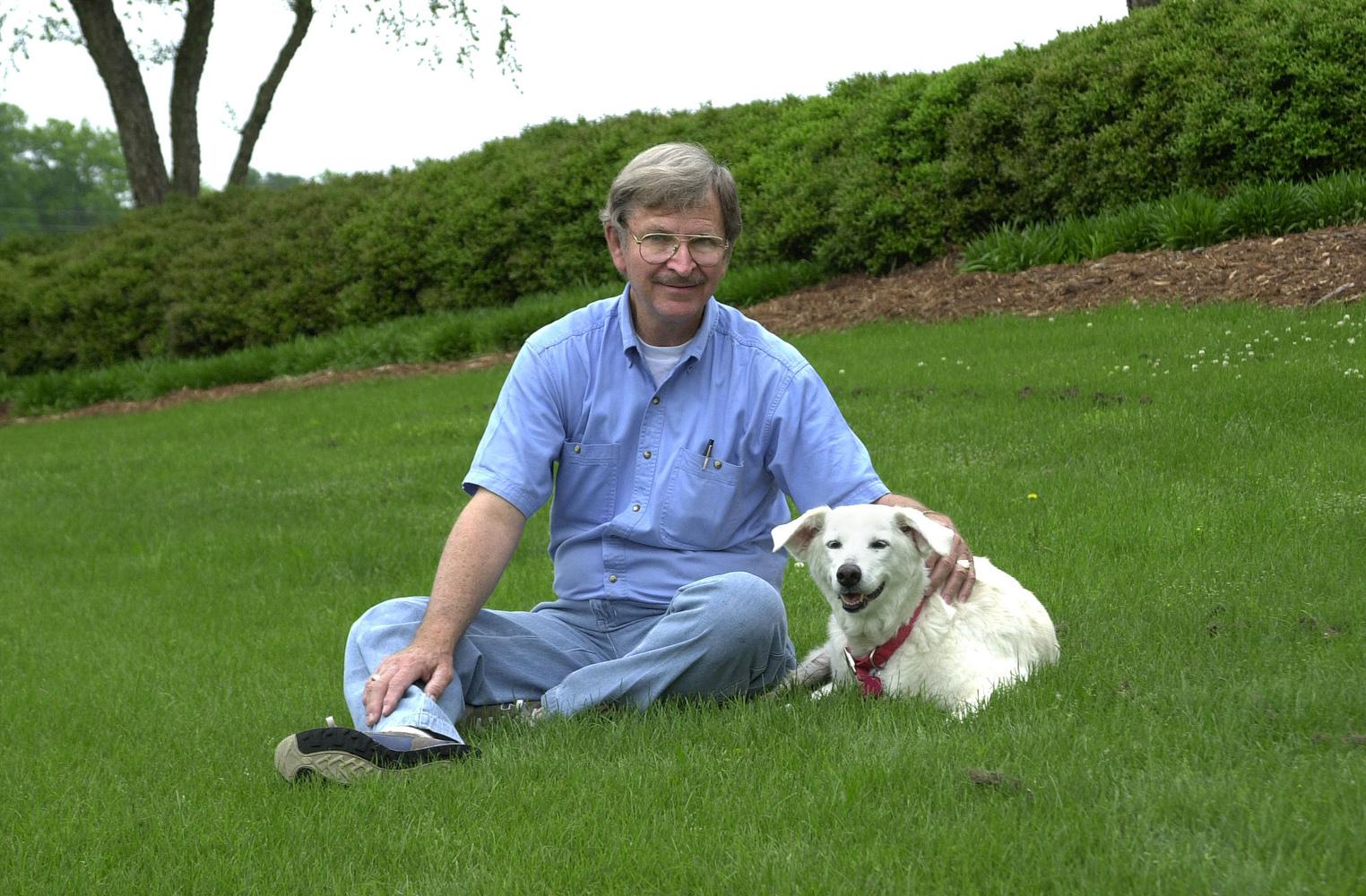 Gift will establish CVM cancer unit
MISSISSIPPI STATE -- Lulu's parentage was questionable -- part Labrador, part collie ... maybe. What was certain was the bond she shared with Delta farmer Malcolm Mabry Jr.
Fifteen years ago, Mabry and neighbor David Cook found Lulu near the edge of a wheat field on Mabry's farm near Dublin in Coahoma County. The abandoned pup was cold and frightened. Luckily for her, she was too weak to run away.
Mabry, a former state lawmaker, took the dog home, bathed her and provided a meal of warm milk and bread. That was the beginning of a 15-year relationship.
Mabry and Cook shared the responsibility of raising Lulu. During the day, she would ride in Mabry's truck back to the farm. Resting in the shade of a tree, she would watch Mabry as he worked the fields with his tractor.
Lulu's life changed in July 2002 when, at age 13, a fast-growing, cancerous tumor appeared in her right leg.
Mabry and Cook took Lulu to Mississippi State University's College of Veterinary Medicine for surgery. Although considered successful, the surgery could not remove all of the cancerous cells.
As a result, Lulu had to go to Auburn University for a month of radiation therapy -- a form of treatment unavailable at Mississippi State.
Mabry and Cook spent every weekend that month visiting their beloved pet at the Alabama school. During those visits they spent hours riding around the countryside -- Lulu's favorite pastime.
"Taking animals to Auburn for radiation treatments is a long way to travel, and people hate to leave their pets and not see them for a month," Mabry said.
Following the treatment, Lulu continued to receive follow-up chemotherapy at MSU.
The surgery, radiation treatment and chemotherapy bought Lulu time, but that time ran out in September 2004. Her experience, however, led to lasting friendships between Mabry and many of the doctors and staff at MSU's veterinary college.
"Until you actually deal with a sick pet, you don't really come to appreciate how competent and compassionate the people at the College of Veterinary Medicine are," he said.
Lulu's experience also convinced Mabry of the need for a modern veterinary radiation unit closer to home. As a result, he has made a generous donation that will provide part of the $1.5 million needed for a state-of-the-art radiation oncology unit at MSU. The gift and those of other donors will allow for research and treatment of tumors and cancerous cells that, as in Lulu's case, cannot be surgically removed completely because of their location.
"My dream is to have a radiation oncology unit here," Mabry said, "so that anyone in this area -- and that would include not just Mississippi, but parts of Arkansas, Tennessee and Alabama -- can bring their pets to fight cancer without having to travel long distances."
A similar radiation program at Auburn allows for the treatment of animals ranging in size from kittens to adult horses. Side effects of the radiation therapy have been minimal because the treatments are limited to the area immediately surrounding the tumor.
"Cancer is so widespread, it's almost a plague in the world today, and our pets have it just like humans," Mabry said. "Often chemotherapy and surgery can't complete the job, but radiation therapy is another powerful weapon in the fight against cancer in our pets."
Dr. Lee Tyner, hospital director at the College of Veterinary Medicine, agreed.
"This will really help us treat more pets more appropriately," the MSU veterinarian said. "Cancer is prevalent in dogs, especially as improved veterinary care helps them live longer. There are many cancers that don't respond to anything other than radiation."
Mabry served in the Mississippi Legislature for 24 years, first in the House of Representatives and then in the Senate. He was in office in 1984 when legislation was passed establishing the College of Veterinary Medicine at Mississippi State.
"Mr. Mabry's generosity and commitment to helping the College of Veterinary Medicine establish a top rate oncology unit is a true testament to his compassion for companion animals and their owners," said Keith Gaskin, director of development for the college. "He was a strong supporter of the college during his long tenure as a Mississippi legislator, and he continues to work hard for us today."
Mabry also has high hopes that, through research on the effects of radiation therapy, "some of what we learn through treating cancer in animals might one day be translated into human use."
That would be quite a legacy for a pup once abandoned in a Delta wheat field.
MSU's College of Veterinary Medicine is one of only 28 fully accredited veterinary schools in the nation. Since its founding, MSU veterinary researchers have saved Mississippi producers of beef, catfish, poultry and pork millions of dollars through disease prevention and improved health management.
For more information on this and other giving opportunities, contact the MSU Foundation at (662) 325-3815 or (877) 677-8283.
Contact: Keith Gaskin, (662) 325-3815
Released:
December 2, 2004

Select Your County Office
Related Publications
Publication Number:
P2597
Publication Number:
P2989
Publication Number:
IS1825