How to Use Ingredient Substitutes to Lower Sugar and Fat
Video by Jonathan Parrish
With all the get-togethers, parties, and potlucks during the holiday season, it can be hard to consistently make healthy choices. Instead of giving up some of your holiday favorites, consider reducing the sugar and unhealthy fats in these dishes by swapping some of the ingredients for healthier substitutes.
Try some of these swaps to boost flavor and nutrition without sacrificing taste:
Plain Greek yogurt is a great option to substitute for various ingredients, including sour cream and mayonnaise. I like to use Greek yogurt when I make peppermint bark and dips for fruit and vegetables. One of my favorite ways to use Greek yogurt is as a creamy topping. Remember, it doesn't have to be all or nothing. Try using half the amount of Greek yogurt combined with the ingredient you want to substitute.
Spices, like nutmeg, cinnamon, and allspice, can help you decrease sugar in baked goods. That's a win-win! Check out Extension Publication 3555, "Sodium and Spices" to learn about the flavors of different spices and what foods they complement best.
Look for ways to add vegetables to items you eat often. The recipes you have for smoothies, pasta, sauces, potatoes, and rice are a good place to start. If your family enjoys creamed spinach, reduce the cream, then load it up with additional vegetables like carrots, cabbage, or broccoli. You'll still get the creamed texture, but with a nutritional punch.
Traditional fudge can put a huge dent in your daily sugar allowance. Try incorporating 100% cacao chocolate bars, pumpkin puree, or mashed sweet potatoes. You may even feel full faster, which is a great way to prevent overindulging.
This chart of substitutes from the U.S. Department of Health and Human Services National Heart, Lung, and Blood Institute can help you reduce some of the sugar and unhealthy fats in your meals.
| Instead of: | Try/Substitute: |
| --- | --- |
| 1 cup cream | 1 cup evaporated fat-free milk |
| 1 cup butter, margarine, or oil | 1/2 cup apple butter or applesauce |
| 1 egg | 2 egg whites or 1/4 cup egg substitute |
| Pastry dough | Graham cracker crumb crust |
| Butter, margarine, or vegetable oil for sautéing | Cooking spray, chicken broth, or a small amount of olive oil |
| Bacon | Lean turkey bacon or ham |
| Ground beef | Extra-lean ground beef or ground turkey breast |
| Sour cream | Fat-free sour cream |
| 1 cup chocolate chips | 1/4 - 1/2 cup mini chocolate chips |
| 1 cup sugar | 3/4 cup sugar (this works with nearly everything except yeast breads) |
| 1 cup mayonnaise | 1 cup fat-free or reduced-fat mayonnaise |
| 1 cup whole milk | 1 cup fat-free milk |
| 1 cup cream cheese | 1/2 cup ricotta cheese pureed with 1/2 cup fat-free cream cheese |
| Oil and vinegar dressing with 3 parts oil to 1 part vinegar | 1 part olive oil + 1 part vinegar (preferably a flavored vinegar, such as balsamic) + 1 part orange juice |
| Unsweetened baking chocolate (1 ounce) | 3 tablespoons unsweetened cocoa powder + 1 tablespoon vegetable oil or margarine |
Remember, the holidays are a great time to try new foods and flavors. Although indulging at one party will not impact long-term weight gain or health, making poor food choices at a holiday season full of parties could lead to unwanted pounds and diminished health.
For more helpful tips like these, visit extension.msstate.edu and join our Nutrition and Wellness Facebook Group.
Posted on:
December 14, 2021
Subscribe to Extension for Real Life
Fill in the information below to receive a weekly update of our blog posts.

Recent Posts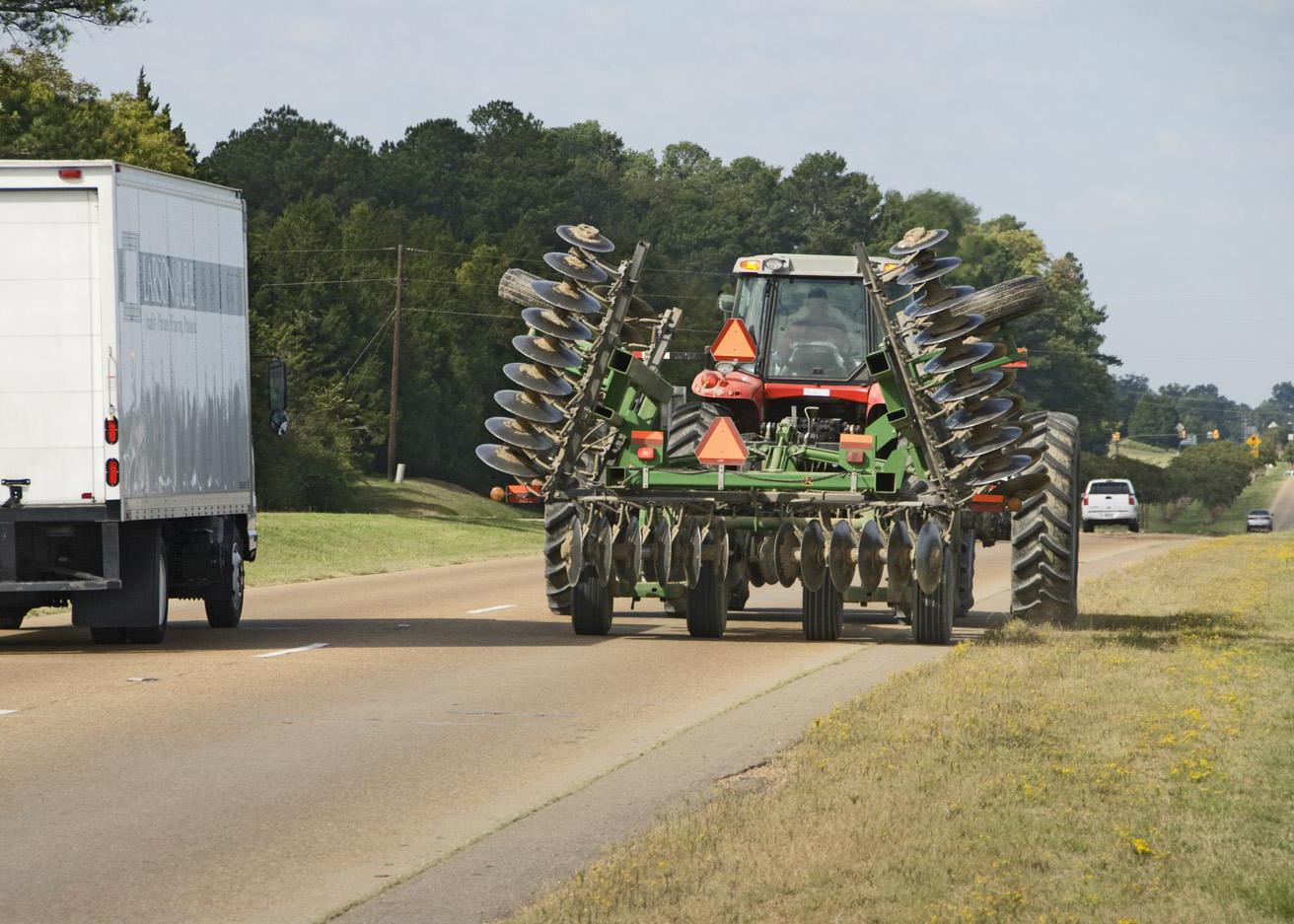 Slow down, be observant, and give farm equipment some space on the road during harvest season (Photo by MSU Extension)
A diet rich in nutrients, fiber, and healthy fats is key to keeping cholesterol in check, which helps keep your heart healthy.