Doing the "Heart" Work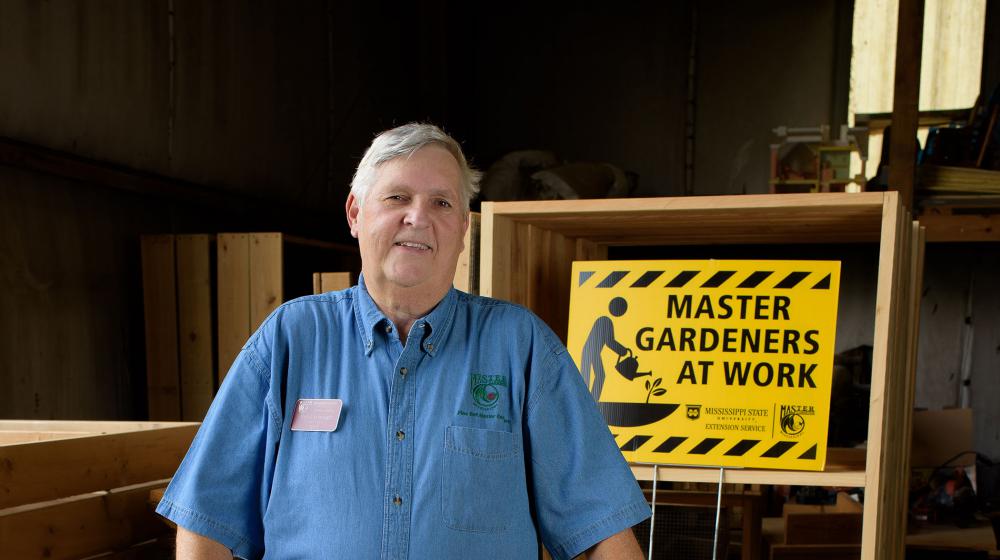 Master Gardeners succeed with salad tables
Story by Keri Collins Lewis • Photo by Kevin Hudson
Mississippi's Pine Belt Master Gardeners are extending their knowledge across state lines, with prize-winning results.
In 2016, Lonoke County Master Gardeners from Arkansas attended the Mississippi State University Fall Flower and Garden Fest, where they discovered salad tables, which are shallow, raised beds that make gardening convenient for anyone. In January 2017, they invited Paul Cavanaugh, the Pine Belt salad table project team leader, to demonstrate salad table construction and offer recommendations for running a successful salad table project. The dedicated Lonoke crew followed up with a February visit to Garon Carr's shop in Purvis, where the Pine Belt Master Gardeners construct tables.
Once the Lonoke County Master Gardeners got started, they got busy. In 2018, they assembled more than 100 salad tables. In early 2019, they received the Project of the Year award at the Arkansas Master Gardener state conference.
Jean Fortenberry, co-chair of the Lonoke County Master Gardener salad table project, was a new Master Gardener when a carload of gardeners went to the Fall Flower and Garden Fest. The salad table project brought everyone together.
"A lot of our ladies hadn't used power tools before this. They're professionals who work indoors all day," Fortenberry explains. "We covered safety first, then how to build the tables. We got to know each other quickly!"
The Lonoke team has donated salad tables to local nursing homes and libraries, where they conduct educational programs.
"We show people they can grow their own food in a small space," Fortenberry shares. "Children need to know where their food comes from."
Cavanaugh says the Pine Belt volunteers have shared expertise with a wide range of audiences, including at the Osher Lifelong Learning Institute, the University of Southern Mississippi, the Boy Scouts of America Troop 93, and the Pine Belt Master Gardeners Spring Garden Day at the Mississippi State University Extension Service office in Forrest County. The Pine Belt team has also worked with Mississippi Master Gardeners from Stone, Harrison, Adams, Lowndes, Copiah, and Rankin Counties.
"I am just one member of our salad table project, and it would not be possible without all of our Pine Belt Master Gardener volunteers and other friends," Cavanaugh says. "Going to the schools and nursing homes is what keeps us energized.
It's a pleasure seeing the expression on the children's faces when that first sprout emerges from the soil."
The Pine Belt Master Gardeners sell salad tables to raise funds for materials to create the tables they donate to deserving organizations, such as retirement homes and elementary schools.