Operation HOG
Wild hogs cause more than $66 million in property damage in Mississippi every year.
They are threatening our economy, farms, lifestyle, treasured places, and native wildlife.
Wild hogs are pests, not trophies. They carry disease, destroy farmland and trees, and eat the eggs and young of wildlife like quail, white-tailed deer, wild turkey, and even songbirds.
They don't belong here.
Wild hogs are non-native nuisance animals. In 1988, they were present in only 23 counties. Today, they are found in all 82.
If we all do our part, we can hold our ground against wild hogs. If you see wild hogs on your property, trap and kill them.
It is illegal to transport and release live wild hogs in Mississippi.
If you see anyone transporting or releasing live wild hogs, report it immediately. Call the number below.

Call 1-800-BE-SMART (1-800-237-6278)
24-hour hotline managed by Mississippi Department of Wildlife, Fisheries, & Parks.
Text Version: Wild Hogs: How to Kill Them
Identify where the hog damage is.
Put up game/trail cameras in the damaged area.
Examine the photos to see where hogs are coming from and how many there are.
Choose the right trap size and design.
Build a trap with the gate facing the hogs' trail.
Bait the trap with corn or other feed.
Let the wild hogs feed inside the trap for a few days—until they feel comfortable consistently entering the trap.
Monitor the cameras to ensure all the hogs are inside the trap, and drop the trapdoor.
Use your .22 - or larger-calliber rifle to euthanize the hogs humanely. Wear rubber or latex gloves when handling hogs.
Continue to monitor for pig activity or damage in the area.
Funding to support this campaign provided by USDA APHIS Wildlife Services. For information or assistance, contact them at 1-866-4USDAWS or 662-325-3014.

Success Stories
Nuisance Wildlife and Damage Management, Operation HOG
Trevor Garrett stays busy. He divides his days between farming soybeans with his father, Johnnie Ferrell Garrett, and working as a research associate at Mississippi State University's Pontotoc Ridge–Flatwoods Branch Experiment Station.
Watch
Thursday, August 10, 2017 - 2:30pm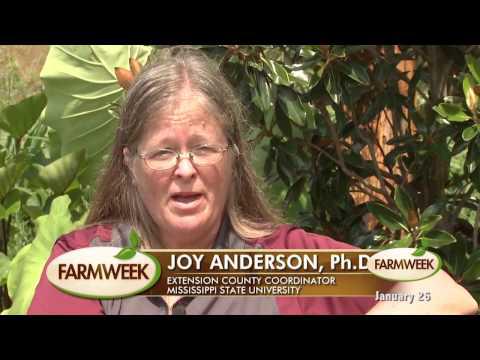 Thursday, January 26, 2017 - 10:30am
Listen
Monday, July 8, 2019 - 7:00am
Thursday, December 13, 2018 - 7:00am
Friday, November 17, 2017 - 8:15am
Select Your County Office
Related Programs
Related Links