Greens
Greens are grown on over 2,000 acres in Mississippi. The use of the term "greens" for salad ingredients has led to the more frequent and more correct term "potherb" for these crops. Turnip, mustard, and collard greens are the major crops, but small amounts of kale and Swiss chard are also produced. Greens are almost exclusively a cool season crop commercially, but warm season greens such as malabar spinach and New Zealand spinach are produced in many home gardens.
Frequently Asked Questions
What is Swiss chard?
Swiss chard is a beet developed for greens. It does not form the normal storage root we associate with beets. Swiss chard is a very attractive plant which comes is several shades of red and green and grows well in Mississippi's fall weather. It is not widely grown due to low market demand.
What's the difference between collards and kale?
Collards and kale are both derived from Brassica olearceae L. Collards have a round, smooth leaf while kale has a curly leaf. Kale's most frequent use in Mississippi is to decorate salad bars. Kale is more cold tolerant then collards and frequently can be grown through the entire winter without significant damage.
When can greens be planted?
Greens can be planted whenever the next seven to ten weeks will have temperatures between 28 and 80 degrees. For most of Mississippi this means greens can be planted from September to March. Collards can produce at temperature both above and below this range and have been successfully produce year round in North Mississippi. Greens should not be attempted in warm weather months without abundant irrigation available. Greens grown in hot weather tend to be of much lower quality than cool weather greens.
Why can't spinach be grown in Mississippi?
Spinach production has been attempted many times. Our unpredictable temperatures and high humidity often lead to crop failure due to bolting, or disease pressure.
What should the plant spacing be for greens?
Collards for sequential leaf harvest: 2,000 plants per acre (18 inches by 18 inches)
All other greens for once over harvest: With a plate seeder: one pound per acre
Broadcast seed: one to three pounds of seed per acre
Why use the term potherb for greens?
Potherb means the leafy portion of a plant that is meant to be cooked. The restaurant trade has increasingly used the term greens for the mixtures of green leaves in the salad bowl. Mustard is frequently used as both a salad green and a potherb.
What about the new greens being developed?
There have been several new types of greens developed by the Japanese and Chinese called mustard-spinach or mustard-turnip. Variety names include: Tendergreen, Alamo, Savanna, and others. These greens grow well in Mississippi, often producing more tonnage than the standard varieties. However, they do have a distinctive taste and have to be marketed carefully.
Is irrigation necessary for greens production?
Rapidly growing mustard and turnip may require up to two inches of water per week. If the soil is sandy loam and the weather is warm, irrigation may prove the difference between having a crop or not. Greens that wilt are more prone to bolt and be unmarketable.
Can greens survive a freeze?
All of the cool season greens can survive a frost. Mustard is the most cold sensitive and can be injured at 28 degrees. Turnip is the next most sensitive, then Swiss chard, then collards, and then kale. There is a green seldom grown in Mississippi called Hanover salad or Siberian kale, which can survive 15 degree temperatures.
Why is Florida Broadleaf mustard so popular?
Taste and productivity are the reasons Florida Broadleaf is the most popular green in Mississippi. The somewhat unique flavor causes most people to think other mustards are not the real thing.

Publications
News
-
Greens, Vegetable Gardens
Some of the garden vegetables I miss in the summer are leafy greens.
High temperatures cause undesirable bitterness in the greens, and I don't like high temperatures, either. But there is a way you can enjoy fresh-grown greens in the summer and not even leave the air conditioning: You can grow your own microgreens.
Growing microgreens is a fun way to add fresh flavors and a tender crunch to your dishes. I have been growing microgreens for about five years, and they are easy for the home gardener to grow.
-
Greens, Lawn and Garden
By Norman Winter
MSU Horticulturist
Central Mississippi Research & Extension Center
The shopping frenzy for winter plantings has begun, and as you shop for pansies and snapdragons, keep in mind flowering kale, cabbage and mustard.
With their foliage in brilliant shades of lavender, purple, pink, red and white, remember that kales, cabbages and mustards add pizzazz to the fall and winter garden like no other plants can do. This isn't a temporary show either. These tough plants give a "wow-effect" to gardens from October though April.
-
Greens, Peas and Beans
MISSISSIPPI STATE -- Most gardens look dead in the winter as gardeners wait for spring to put in their crops, but these plots can come alive in January with fresh vegetables for the table.
David Nagel, horticulture specialist with the Mississippi State University Extension Service, said mid- to late-January is the time to plant peas and greens.
"Mississippi gardeners don't plant peas nearly as much as they used to, but these vegetables thrive in our climate," Nagel said.
Watch
Saturday, January 17, 2015 - 6:00pm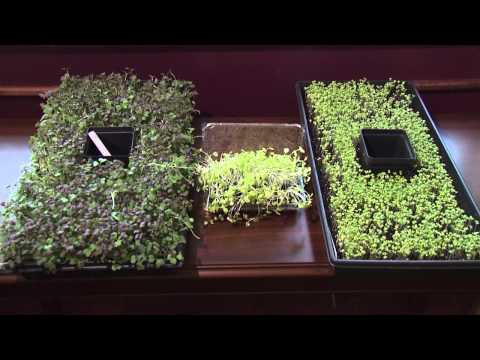 Tuesday, February 4, 2014 - 6:00pm
Select Your County Office