Working for Generations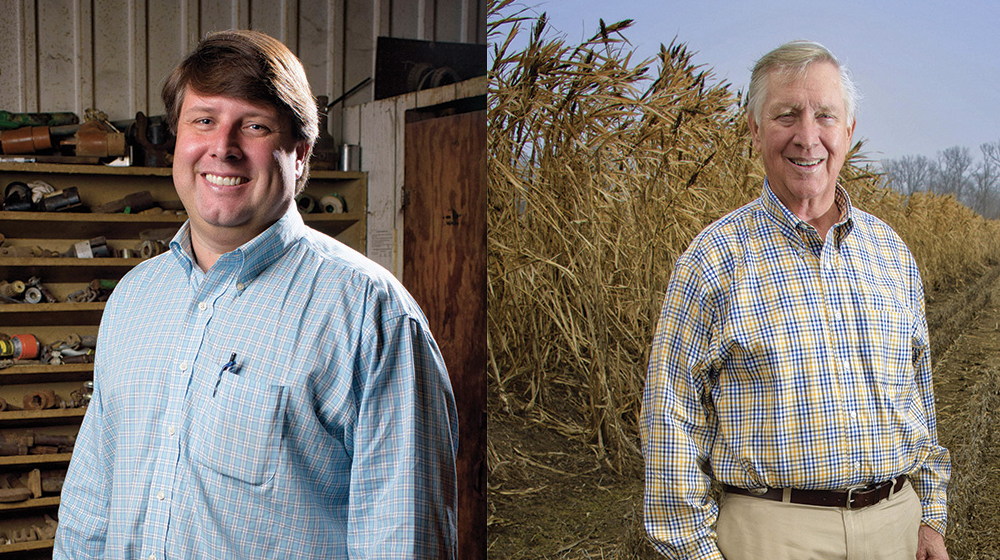 Gibson (left) and Gibb (right) Steele, rice and soybean producers
Four-generation farm family trusts MSU Extension
Four generations of Steeles have graduated from "our dear ol' State."
In 1915, Claude Gibson Steele got his degree from Mississippi Agricultural and Mechanical College. His son joined the World War II military effort after getting his degree from Mississippi State College in 1942. Delta producer Claude Gibson Steele III, called Gibb, and his son, known as Gibson, are alumni of Mississippi State University, having earned agriculture degrees in 1971 and 1999, respectively.
While the university has certainly changed over the years, for the Steele family, one thing remains constant: they trust the land-grant institution's research and outreach.
"Twenty or 30 years ago, people were beating on your door to sell you something," Gibb remembers. "I'd ask if it went through Stoneville, and they would say no. If it's not tested or recommended by MSU, I'm not interested."
From field days and publications to Extension agents and specialists who visited the farm over the years, the Steeles have relied on MSU Extension resources and engaged in the give-and-take that is the bedrock of solid business practices. The father and son take turns naming the rice specialists, soybean scientists, Extension agents, irrigation experts, and ag engineers they have worked with over time. And they are very candid about the practices that worked and the ones that didn't.
Steele Farms is located in Longwood, near Hollandale and Greenville, right on the Mississippi River. Claude Gibson Steele Jr., Gibb's father, first began farming there in 1973 when he retired as a land appraiser for Federal Land Bank.
"We are fortunate here that we have the Delta Research and Extension Center as a resource," Gibb observes. "Whenever we call, they're there for us. They answer our calls and show up if we need them."
Dr. Steve Martin, Extension associate director for agriculture and natural resources, frequently collaborated with the Steeles when he was the head of the Delta R&E Center. He says he appreciates their extensive support of MSU and Extension.
"Gibb and Gibson are some of the most progressive and concerned producers in regards to efficient productivity and environmental stewardship," Martin observes. "They have been excellent producer-cooperators for on-farm demonstrations and have always been interested in applying scientifically sound practices on their farm. They take seriously the legacy they are part of in the Mississippi Delta."
Water: Priority No. 1
Gibson began managing day-to-day operations in 2008 and now grows rice and soybeans on about 11,000 acres of heavy clay buckshot soil.
"Irrigation and drainage will make or break you," Gibson asserts. "You have to get water on or get it off with this type of soil."
Irrigation technology is evolving rapidly, and the Steeles are using it to maximize their efficiency. Extension irrigation specialist Dr. Jason Krutz has been instrumental in advancing the use of irrigation technology across the state to protect the alluvial aquifer.
"Our biggest worry is water," Gibb agrees. "Jason has done a great job of getting people's attention faster than I ever dreamed. He's been wonderful."
At Steele Farms, telemetry-style soil moisture sensors inform irrigation timing for soybeans. Gibson gets alerts on his smartphone and measures each maturity group, because they do not get water at the same time. Many Mississippi growers are using the sensors—20 percent, according to a Soybean Promotion Board survey. But Gibson is not sure everyone trusts the data yet.
"For years, producers have watered because their neighbor is watering," he explains. "I've waited to irrigate a full week past everyone else, based on the sensors."
Extension's on-farm demonstrations that compare a farmer-controlled field with one supervised by an Extension irrigation expert have helped show producers that the science behind irrigation technology is sound.
Natural Resources Advocates
The Steeles have leveraged more than 20 years of hosting MSU variety trials to benefit duck conservation.
Gibb said that, over time, advances in technology have allowed producers to get in their fields much earlier than growers in previous generations. This shift to early planting dates negatively affected the amount of food available to ducks by the time they migrated. Each year, the Steeles, in hopes of finding the best options to plant the next year, look for seed varieties that hold up to different pressures.
"If we leave an acre of rice for ducks, by December there is not a grain there. Blackbirds get it, or it rots, or it gets knocked down and sprouts," Gibb says. "So now we use soybeans, but it's a challenge to find a variety that will stay viable through January."
Natural resource conservation is important to the Steeles. They capture their own water in natural ponds and through tailwater recovery systems. In the 1990s, Gibb invested in track combines made in Germany and moved to a no-till system for several years. When research showed better yields with minimum till, he changed his practices. They use flotation tires on their equipment to avoid soil compaction and ruts.
MSU Extension Director Dr. Gary B. Jackson values the many contributions the Steel family has made.
"Gibb Steele is a trusted friend and adviser. I have relied on his wisdom numerous times over the past 6 years since I became director of Extension," Jackson says. "He has always advised me correctly, and he serves as a great ambassador for Mississippi State."