What's New in Extension
4-H Debuts New Curriculum
Written by Nathan Gregory · Photo by Kevin Hudson
Thirteen Winston County children test piloted a new 4-H program while their schools were on spring break in March.
The new program, designed for Cloverbud 4-H'ers aged 5 to 7, uses LEGO bricks as teaching tools reinforcing the robotics fundamentals in science, technology, engineering, and math—STEM. The club's curriculum prepares children for the junior and senior 4-H robotics programs. Along with emphasizing STEM concepts, the 4-H LEGO Engineering Club's literature component develops participants' reading and comprehension skills.
Agents had requested a program to introduce young children to engineering and design processes, so Dr. Mariah Morgan, an assistant Extension professor with the Mississippi State University Extension Service's Center for Technology Outreach, oversaw the LEGO Engineering Club's development. Sandra Jackson, an Extension program associate in Winston County, led the program's test run.
The curriculum was partially funded through a grant from the Center for Community-Engaged Learning at MSU.
---
STARS Focus on Sustainability
Written by Madison Tew · Photo by Kevin Hudson
The new Sustainability Training in Agricultural Systems, or STARS, program teaches producers how to incorporate sustainable land-management practices to increase their revenue.
Producers might hesitate to implement proper resource conservation because of the time commitment, cost , lack of knowledge, or even fear of change. Row-crop, cattle, horticulture, poultry, and other agricultural producers can benefit from sustainability practices, said workshop organizer Leslie Burger, assistant professor with the Mississippi State University Extension Service.
The STARS training, held in the spring at Prairie Wildlife Preserve in West Point, showed Extension agents who work directly with landowners how sustaining natural resource is beneficial to the environment and may increase revenue. More than 10 agents representing all regions of Mississippi attended.
STARS-trained agents are sharing what they learned to increase producers' profitability by maintaining natural resources.
---
Extension Develops Workforce
Compiled by Madison Tew · Photo by Kevin Hudson
A resource developed by the Mississippi State University Extension Service shows shifts in county populations using the exemptions reported on 2014-15 federal tax returns.
The map is online at https://goo.gl/LIHwuR. Developed by MSU Extension Specialist Dr. Roberto Gallardo, the Mississippi map shows counties in green and red. Green represents positive net migration, while red represents counties that had a negative net migration. Twenty-five Mississippi counties had a positive net migration through 2014-15.
To encourage economic development in a community, local and state leaders need to understand shifts in county population and the relationships among county populations.
The population map indicates where the majority of new county residents came from, as well as the new locations of those who left. Data also shows the average adjusted gross incomes of residents moving in and moving out.
---
La-Z-Boy Donates Fabric
Compiled by Madison Tew · Photo by Kevin Hudson
Mississippi Homemaker Volunteers received approximately 130 boxes of discarded upholstery fabric from La-Z-Boy Inc.
MHV clubs are supported by the Mississippi State University Extension Service, and members are community volunteer leaders who meet various needs in their counties. Members around the state have sewn thousands of garments and quilts for military veterans, families, and children's hospitals.
Sylvia Clark, an Extension family and consumer sciences associate, said a La-Z-Boy representative from the Newton County plant learned about MHV sewing projects in Holmes County and wanted to make the donation.
Clark says the donated fabric will be used to sew wheelchair totes, walker caddies, and lap blankets for assisted-living facilities and convalescent homes. Other material will be used for 4-H sewing clubs and summer camps.
---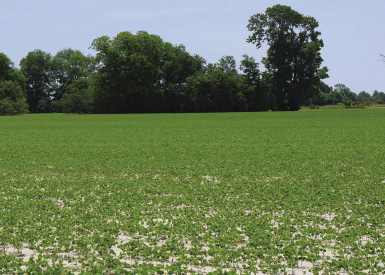 Extension Directs Herbicide Training
Compiled by Madison Tew · Photo by Kevin Hudson
Agricultural producers interested in purchasing auxin-containing herbicides intended for 2, 4-D- or dicamba-tolerant crops must first complete mandatory online educational training.
The free, online training program, offered by the Mississippi State University Extension Service and approved by the Mississippi Department of Agriculture and Commerce, became available to producers in February.
Each of the six training modules helps growers safely maximize the benefits of the auxin technologies. Topics include off-target movement, tank clean-out, herbicide volatility, and label details of name-brand technologies
The self-paced program is available at www.auxintraining.com via most devices. Producers taking the test should be prepared to provide an address and their private applicator certificate number during the registration process.
After successful completion, producers will receive an email from MDAC verifying proof of training. The email should be printed and taken to a pesticide dealer when purchasing auxin-containing herbicides.
---
Youth Discover Dairy Science
Compiled by Madison Tew · Photo by Kevin Hudson
The Mississippi State University Extension Service and the MSU Department of Animal and Dairy Sciences hosted about 200 people in March at the first Dairy Science Youth Field Day at the MSU Bearden Dairy Research Center.
Visitors learned about the dairy industry through various stations: digestive and reproductive tracts, the anatomy of the udder, and how to milk a cow, among others.
Dr. Amanda Stone, an Extension dairy specialist, says young people need to learn about where their food comes from. The field day was also an opportunity for participants to see if they might want to pursue a career in the dairy industry or in agriculture.
Organizers look forward to hosting this youth event in the future.
---
Soil Lab Welcomes New Manager
Written by Leah Barbour · Photo by Kevin Hudson
The Mississippi State University Extension Service Soil Testing Laboratory has a new manager of operation, Dr. Keri Jones. She plans to provide timely, reliable, and accurate soil analyses.
Improving efficiency in the lab and updating soil nutrient application recommendations are her top goals. As leader of the lab, Jones oversees analyses of soil and plant samples. Results help crop producers improve their yields and homeowners improve their lawns and gardens.
In Jones's prior position, she worked to address erosion in Natchez with the Adams County Soil and Water Conservation District, which gave her experience in identifying and addressing clients' concerns. Her research in plant breeding and species identification includes work with the U.S. Department of Agriculture's Agricultural Research Service. Jones completed her doctoral degree in agronomy and master's in biology at MSU.