Doing the "Heart" Work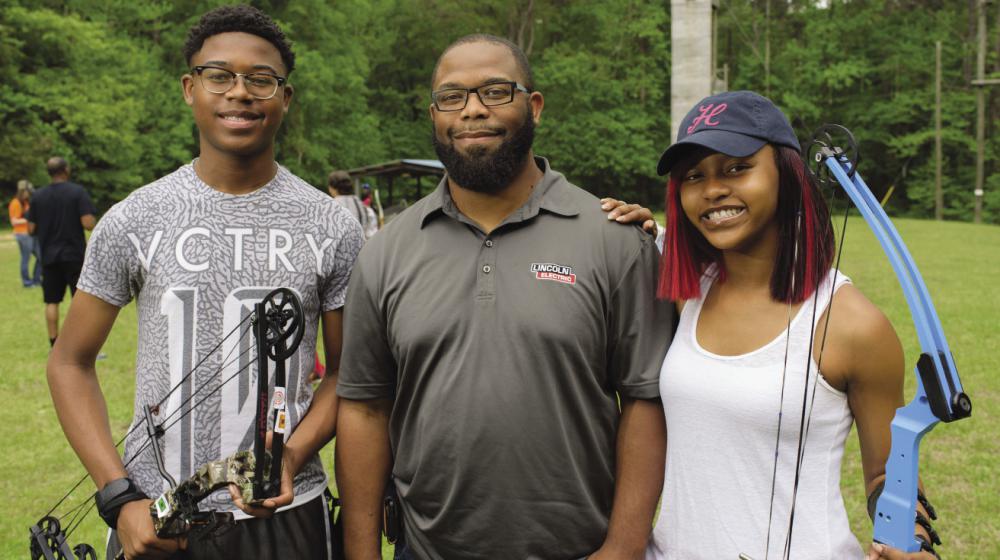 4-H Volunteer Gives Time, Raises Funds for Projects
Story by Nathan Gregory • Photos by Kevin Hudson
Until recently, the Clover Dawgs 4-H Robotics team in Oktibbeha County needed a bigger robot. Club volunteer leader Robert Rice secured the first donation toward purchasing the machine from his employer.
Rice had several reasons for approaching Syntron Material Handling leaders during his fundraising efforts. His 13-year-old son, R.J., and 14-year-old daughter, Reocca, are club members. Rice is also a former 4-H'er himself.
"I saw the benefits of it when I was a child," he explains, "and I want my children to have the same benefits."
The Mississippi State University Extension Service coordinates the state's 4-H youth development program. Rice's mother, Ann, started a 4-H club for children in Oktibbeha County's Bell Schoolhouse community when he was 9 years old.
"At the time, my mother was a single parent, and she wanted me and my sister, Lakezia, to meet people, travel, and learn different things," Robert said. "She thought starting this club would be a good way to create that avenue and keep us busy."
One of his favorite childhood memories is completing his 4-H record book, a résumé that details a 4-H member's goals and accomplishments.
He eventually had the opportunity to go to National 4-H Conference in Washington, D.C. Seeing the nation's capital firsthand was an eye-opening experience for Rice.
"I learned so much just by meeting other 4-H'ers from all over the country," he says. "I think that made me a better and more diverse person."
4-H projects and activities now are broader in scope than when Rice was a teenager completing a conservation project. As a volunteer leader, he has assisted with almost every interest area the club offers. He has taught grilling safety at the club's cookouts and judged talent shows and livestock shows. Rice also assists with archery and land-judging contests.
These services are in addition to his work with the club's STEM and robotics teams.
"I program machines on my job, so I'm glad to see my son's interest in robotics," Rice says. "I want him to be prepared when he's looking for a career, and I think this has him on a good path."
Clover Dawgs 4-H Club leader Courtney Headley said 4-H'ers look up to Rice because of his kind nature and positive attitude.
"I think he sees potential in every 4-H'er we have in our club and is there to motivate all of them," she says. "He's there, not just for his children, but for all of the children. He encourages me all the time. I don't think there are enough good things to say about him."
Rice says being a 4-H volunteer can sometimes be as simple as being a listening ear for children and encouraging them to pursue their goals and learn new skills.
"Kids are reluctant sometimes to try things they don't know much about, and I tell them not to be afraid of learning how to do something new and broadening their horizons," he says. "I had R.J. do a couple of sewing workshops. He didn't want to, but he learned from it, and his mother likes the purse he made for her."
Rice encourages parents to enroll their children in 4-H and anyone looking to serve their community to volunteer for their local 4-H clubs.
"I tell people to go to their county Extension office or call and ask what they can do to volunteer their time," he said. "If you have skills in a certain area, an agent will tell you how you can help."