Diving Deep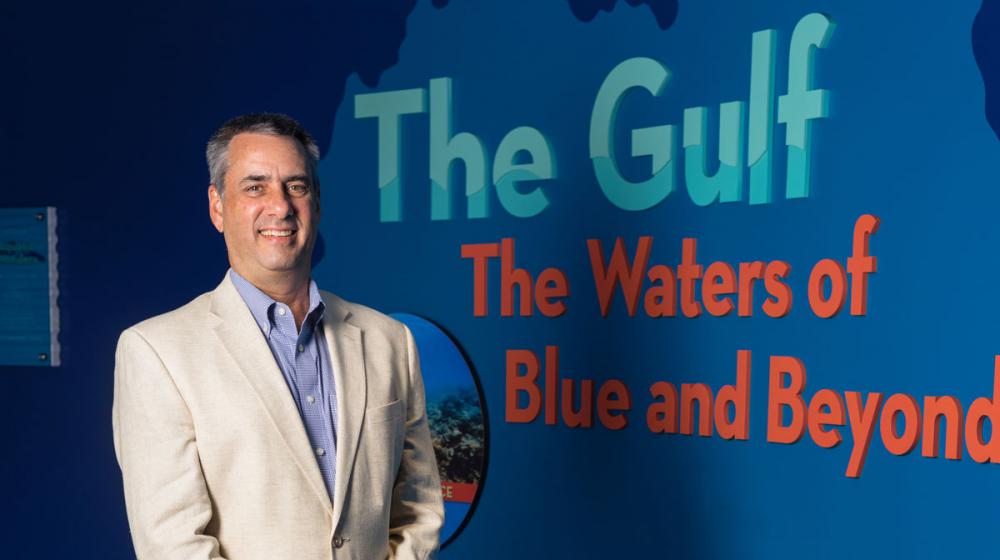 Extension Service experts work with the Mississippi Aquarium team to educate patrons and increase engagement.
Partnership enhances education, research, community engagement
Story by Susan Collins-Smith • Photos by Kevin Hudson
On the surface, the Mississippi Aquarium may seem like just a fun destination where people can learn about and get an up-close look at aquatic life and other wildlife. But the purpose of the aquarium is much more profound.
Aquarium personnel began building partnerships and investing in Mississippi's valuable ecosystems before construction on the complex started. Mississippi State University Extension Service experts are some of the partners who have been involved from the beginning, collaborating on educational material, marine research, and community engagement.
"What people see and learn about when they come to the aquarium is state-specific," explains Kurt Allen, Mississippi Aquarium President and CEO. "Most of the fish, sharks, rays, and other aquarium life you see here live in the waters right out there in the Gulf. It is important for us to work with other scientists who specialize in this geographical and scientific area."
Dr. Marcus Drymon, Extension marine fisheries specialist, and his students created an educational guide on the sharks and rays of Mississippi that the aquarium uses for internal reference when designing educational curricula and conducting staff trainings. It is also an outreach publication that staff use as a show-and-tell tool for events, such as homeschool field trip days and during special celebrations, such as Shark Week activities.
Video by Brian Utley
The guide showcases a small portion of the sharks and rays, which, along with skates, are collectively called "elasmobranchs," that live in the waters surrounding Mississippi. Included in the guide are illustrations of each species, their basic anatomies, population status, and other facts, such as size at maturity and maximum size compared to a 6-foot-tall human.
Some of those size comparisons are displayed on the walls of the Aquatic Wonders building.
"People love to see the size comparisons," Drymon says. "It makes that information much more relatable."
The partnership enhances research efforts for both aquarium scientists and Drymon.
"The opportunity we have to cooperate on research projects is amazing," Allen says. "Working with Extension biologists offers our teams access to species of sharks that we do not house at the aquarium.
"Our veterinary and research team is able to collaborate with Extension biologists on a scientific level and then use the information gained from the research to advance the field of elasmobranch medicine and educate our visitors about the health of the sharks and rays in the Mississippi Sound."
Drymon says the relationship is a natural fit.
"We can do things together that we could not do on our own," he says. "They have provided equipment or access to equipment that our program doesn't have the funding for. They bought satellite tags for us to use on sharks in the wild, and we collaborate with aquarium veterinarians who can bring portable X-ray and sonogram machines on our vessels."
Seven blacknose shark pups recently acquired by the aquarium are invaluable in Drymon's age and growth studies, which help scientists manage and conserve shark populations.
"Age and growth studies are the foundation of shark stock assessments," he emphasizes. "Our data will be more accurate with these pups because we are sure of their date of birth. This is the type of research that is nearly impossible to conduct in the wild. You can put markers in wild sharks, but being able to recapture those sharks is very rare."
Allen says the aquarium often cooperates with Extension for community engagement projects, including the Coastal Cleanup and Living Shoreline interactive experiences, as well as pollinator education.
"Collaboration on projects like these helps teach our guests about the importance of keeping the Mississippi coast clean and thriving, while supporting career-driven students, creating conservation action, and sparking behavioral change," Allen says.
---
Read Mississippi's Sharks and Rays: An Educational Guide for Mississippi Aquarium online.