Information Possibly Outdated
The information presented on this page was originally released on June 9, 2015. It may not be outdated, but please search our site for more current information. If you plan to quote or reference this information in a publication, please check with the Extension specialist or author before proceeding.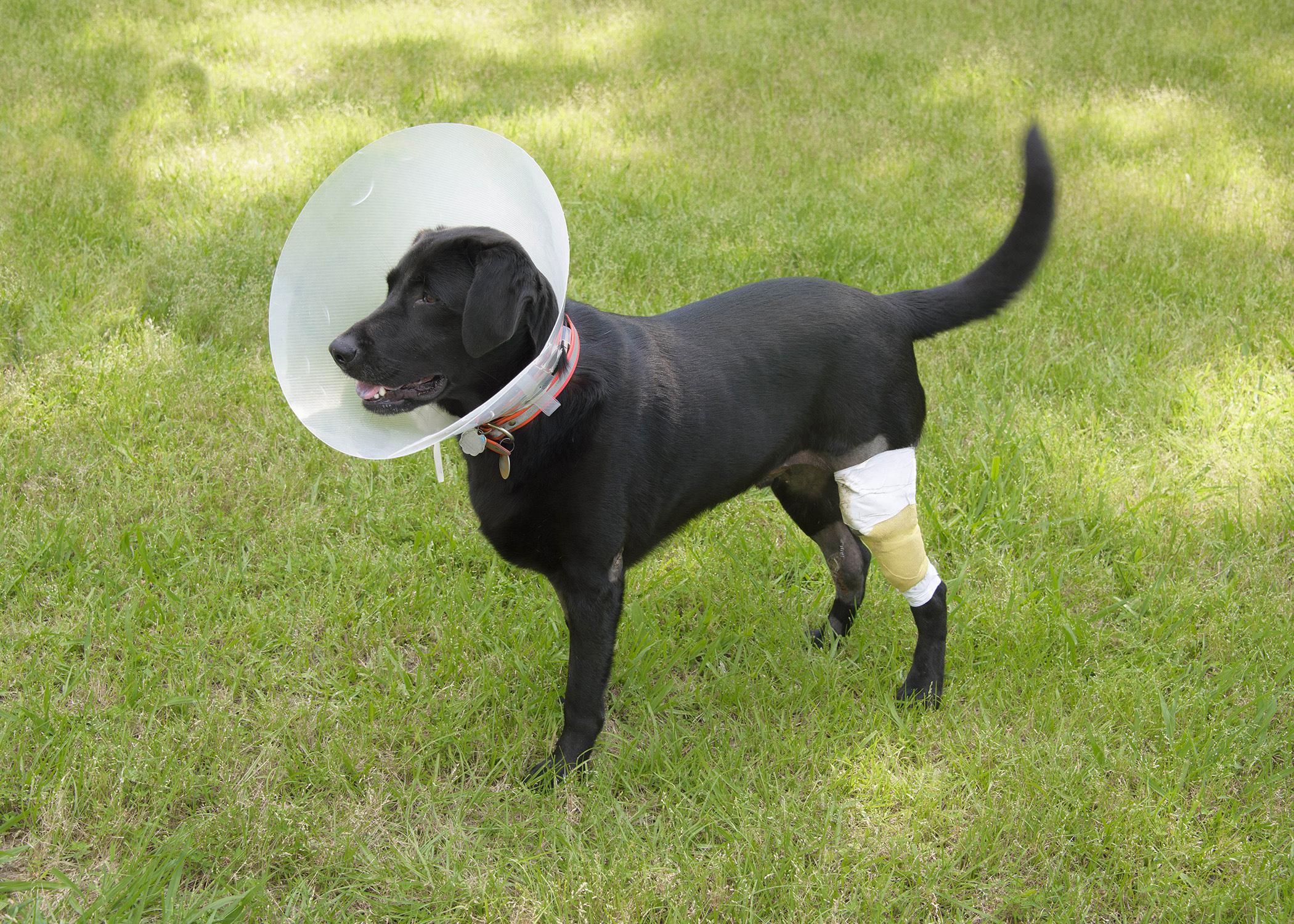 Quick action needed when cars hit dogs
STARKVILLE, Miss. -- Many drivers have experienced the flash of fur and squeal of brakes that ends with an injured dog, but for Starkville pet owner Cindy Callahan, there was just a squeak when Siba was hit in the driveway.
"It happened when we were backing out of the driveway," Callahan said. "Siba loves tennis balls, and we think he must have dropped his ball and it rolled under the car. He must have tried to get it as we were backing out."
"The front tire scraped him along the driveway. We heard him squeak and got out and checked. He wasn't run over, but he was scraped up pretty badly," she said.
Siba, a 2-year-old lab mix, ended up with abrasions on his abdomen and cuts on a front leg and a back leg in the May 2 accident.
"His injuries required staples and stitches and bandages. We had to change his bandages every day, and we had to give him three different pills three times a day," Callahan said. "He had to wear a cone around his head the whole time he had his stitches."
The accident happened on a Saturday when the Callahans' veterinary clinic was closed. Siba was fortunate enough to live in an area with an animal emergency room nearby; the Callahans took him to the College of Veterinary Medicine at Mississippi State University. Veterinarians there repaired his injuries and referred the remainder of his care to his local clinic.
For those dogs that survive a run-in with a vehicle, it seems they do not learn from the experience how to avoid future accidents.
Dr. Christine Calder, an MSU-CVM animal behavior resident, said dogs dash in the way of vehicles for a variety of reasons, including chasing a ball or vehicle, or escaping the yard.
"The best prevention that pet owners can do to reduce the likelihood that their pet will get hit by a car is to use a physical fence to contain the dog," she said. "Even with an underground fence or electric fence, some dogs will still run through it to chase after a car, person or other animal. It all depends on what motivates the dog."
Since dogs do not understand consequences, their owners have to think for them.
"It can be tough to teach a dog safety around cars," Calder said. "Not allowing them to be outside unsupervised and having a reliable recall -- come command -- would be the best way to keep dogs safe around vehicles."
But if a dog has been hit, it's time to move into action without panic, said Dr. Jeb Cade, an MSU-CVM professor of clinical science. First, minimize the motion of the head, neck and spine, and move the dog to safety where neither it nor its rescuers will be hit by another car.
Be sure to avoid bites when helping an injured dog, as even friendly dogs can bite when in pain. A muzzle can be fashioned out of a towel or ripped up shirt, but make sure the animal can breathe.
"There are three quick things to check," Cade said. "Determine if they are mentally aware of their surroundings, is their breathing pattern regular and then, if it is safe to do so, look at their gums. If gums are white, it can indicate shock or internal bleeding. If they have nice pink gums, you feel pretty good about their condition."
A dog that is not breathing may benefit from CPR. Three to four strong breaths mouth to nose or snout can help get a dog breathing again. Chest compressions are possible, but a dog that requires this level of care often does not survive the ordeal.
While blood makes everything look scary, the kind to be most concerned about is active red, pulsating bleeding. Cade said to apply compression to such an area with a towel or fingers, because this is a life-threatening condition. Do not disturb any penetrating wounds or foreign objects sticking out of wounds, and limit mobility on obvious fractures. A rolled newspaper makes a simple splint for a dog.
The next step is to get the animal to medical care.
"If you're trying to do everything you can and do those things, but there is nowhere to take it until the next day, take it home and keep it warm," Cade said. "Try to care for the animal without doing too much. If you give the dog pain medication, it can interfere with later treatments."
Few areas have nearby 24-hour animal emergency care, but most have a veterinarian who can respond in dire emergencies.
"Have an animal first-aid kit and have a plan," Cade said. "Talk over with your veterinarian what to do in case of an emergency, so if one happens, you will be prepared."
Contact: Karen Templeton, 662-325-1100