Information Possibly Outdated
The information presented on this page was originally released on August 28, 2015. It may not be outdated, but please search our site for more current information. If you plan to quote or reference this information in a publication, please check with the Extension specialist or author before proceeding.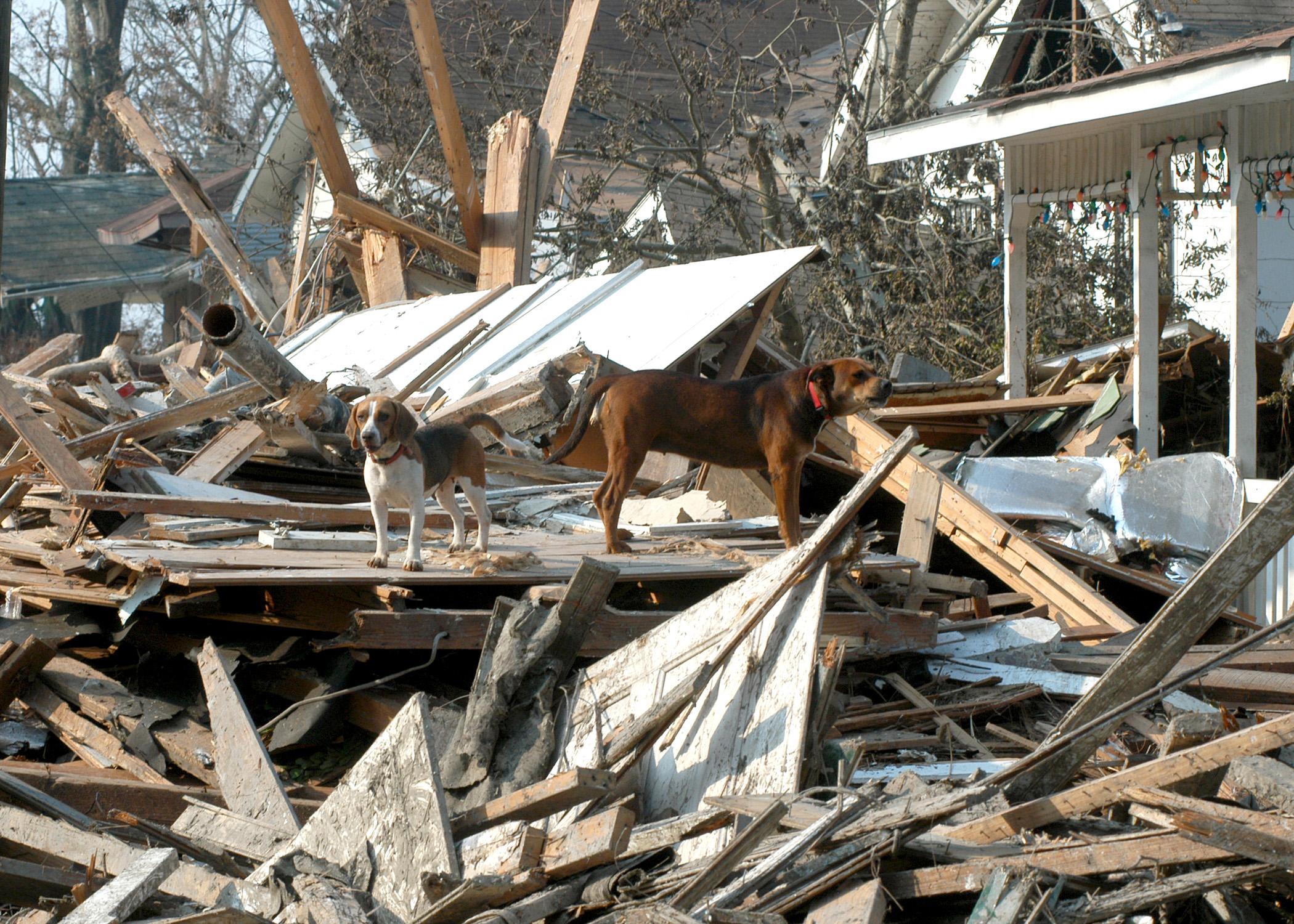 Katrina disaster fund still helps animals
STARKVILLE, Miss. -- In the hours immediately following Hurricane Katrina's landfall, a team of Mississippi State University veterinarians specially trained to work with animals in disaster situations arrived at the state's designated animal disaster relief shelter in Jackson.
While the Mississippi Animal Response Team's immediate focus was to assist the Mississippi Board of Animal Health with assessing and managing the growing number of displaced animals, they also had other duties.
"The first thing we did was set up a temporary veterinary clinic for the dogs, cats, birds, pigs, goats and other domestic animals that were arriving," said Dr. Carla Huston, an associate professor at the MSU College of Veterinary Medicine and a member of the Mississippi Animal Response Team.
"We also provided veterinary oversight at state shelters in Jackson and Hattiesburg, assisted with animal and agricultural needs assessments in areas devastated by the storm, delivered supplies and helped organize and credential volunteer veterinarians and technicians," she said. "Another part of our duties was to document monetary donations made to the state for the care of these animals."
And there were a lot -- so many that the college, the Mississippi Board of Animal Health, and the Mississippi Veterinary Medical Association established the Mississippi Animal Disaster Relief Fund.
In 2005, the fund provided money to help with boarding costs and medical care for animals injured in the storm. It also bought supplies, such as feed, temporary fencing, buckets and water troughs, for families with animals whose property was damaged.
The fund became a permanent account in 2006 and continues to meet the needs of Mississippians and their animals affected by floods, droughts, tornadoes and other natural disasters, said Huston, who serves as co-chair of the MADRF committee with Mississippi's state veterinarian Dr. Jim Watson.
"We had a lot of donations from livestock and pet groups and continued to get donations even after Katrina needs had been met," Watson said. "So we decided to make the fund permanent to help people with animals that are affected by all types of disasters in the state."
The fund committee, which consists of private and public veterinary professionals, has distributed more than $50,000 since 2006. This provided care for 618 individual animals and several livestock herds, emergency pet sheltering equipment for humane societies, and a training session for the Mississippi Animal Response Team and workers at humane societies that house animals during disasters.
While most of the funds have been used to help individuals offset the expenses of treating an injured pet impacted by a disaster or boarding a pet when they are displaced from their homes, money from the fund can go to any disaster-related need.
"The fund has been a good thing and very needed," Huston said. "Our basic goal is to help local communities protect animal health and welfare in the event of a disaster. This means funds also can be awarded to support local veterinary business continuity, prepare for animal care and sheltering, stockpile supplies, provide for emergency hay and feed needs, and train emergency responders."
Dr. Corey Jones received funds to help with expenses incurred by boarding dogs and cats at his Yazoo City veterinary clinic after floodwaters displaced the family pets in 2012. At the height of the disaster, Jones and his staff cared for an additional 90 animals, which required a separate boarding area and more supplies and labor than was needed for day-to-day clinic business.
"I had just bought this practice when the flooding occurred," Jones said. "The number of animals we boarded required me to hire extra help to feed and walk the animals and buy extra pet food and medical supplies. Many of the animals stayed for two to three months before they could return home. It was a hefty expense bill for a new clinic.
"The money I received through the Mississippi Animal Disaster Relief Fund helped me tremendously. It didn't take care of everything, but it helped. I very much appreciate it," Jones said.
The MADRF is a nonprofit entity that is funded completely by private donations. Individual Mississippi residents, animal shelters, veterinary clinics, farm entities and state agencies that support emergency functions related to animals, agriculture and natural resources are eligible to apply for funds. These funds can be used for veterinary care and boarding of animals, feed, repair of infrastructure, pet-related supplies and emergency responder training.
"We are always grateful for donations, and accept them anytime," Huston said. "Donations usually come in after a large disaster has occurred because disaster relief is not something people think about in their day-to-day lives. But funds are needed year-round. We've been fortunate enough to have groups like the Petal high school students do fundraisers for the fund. And most of that money raised went back into their own community when a tornado hit in their area in 2013."
For more information on MADRF and details about how to make donations and apply for funds, visit http://bit.ly/1Hb0mJW.

Contact: Karen Templeton, 662-325-1100
Released:
August 28, 2015

Your Extension Experts
Prof/Dir/Enh Cln Educ/Ext Vet