Information Possibly Outdated
The information presented on this page was originally released on August 11, 2014. It may not be outdated, but please search our site for more current information. If you plan to quote or reference this information in a publication, please check with the Extension specialist or author before proceeding.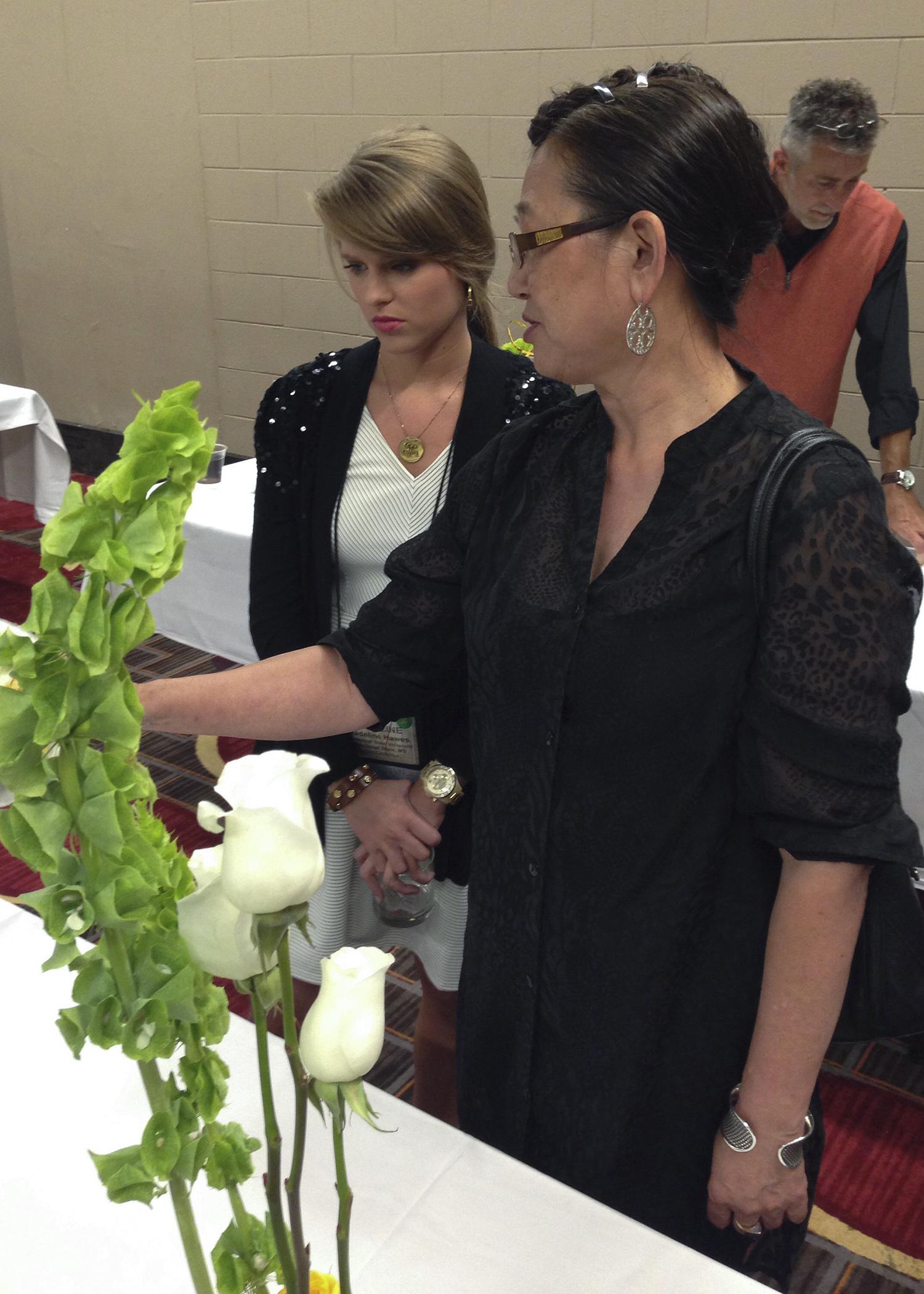 MSU students expand floral design experience
MISSISSIPPI STATE -- Some students realize there is more to a college education and preparing for future careers than just going to classes.
Five Mississippi State University students on the floral design team recently took part in a competition and symposium revealing insights into the variety of paths their careers could take.
Five horticulture majors -- Madeline Hawes, Renee Wright, Jena Koren, Kailie Dunlap and Camille Tedder -- competed in the Student Design Competition of the American Institute of Floral Designers (AIFD) in Chicago in July.
Jim DelPrince, a professor in the MSU Department of Plant and Soil Sciences, said the program gave the students valuable experience with some of the best floral designers in the industry. Students from AIFD-accredited institutions throughout North America competed in four floral design categories: weddings, sympathy, floral arrangements and flowers to wear.
"Students were able to work with some world-class designers, meet students from across the country and see other projects that would expand their minds," DelPrince said. "The symposium also revealed a variety of career paths they may not have considered. Students made an effort to spread out and meet other participants. One of our students came back with three internship offers. They all saw the importance of networking within a professional organization."
DelPrince said preparation for the competition started in the spring when Brooke Raulerson of Fernandina Beach, Florida, worked with MSU students, teaching them some different floral design styles. Every institution with an active student chapter is required to have one AIFD resident visit each year to offer fresh ideas and spark creativity among students.
"The students' experience with Brooke was intensive," DelPrince said. "She is an aggressive designer and highly sought after as a floral design speaker."
At the time, Raulerson was preparing for a special floral design contest called the America's Cup, which she went on to win.
The AIFD Foundation awarded one MSU competitor with a prestigious scholarship. Madeline Hawes, a senior in horticulture from Sikeston, Missouri, received one of the two scholarships awarded this year. MSU's student AIFD chapter is advised by DelPrince and Lynette McDougald, manager of The University Florist.
Hawes said meetings like the symposium offer students the opportunity to get involved in their major.
"Attending professional meetings like this one helps to make connections for future job opportunities," she said.
Hawes spent the summer interning with Raulerson at Amelia Island, Florida.
Contact: Dr. Jim DelPrince, 662-549-0521
Released:
August 11, 2014