Information Possibly Outdated
The information presented on this page was originally released on December 19, 2014. It may not be outdated, but please search our site for more current information. If you plan to quote or reference this information in a publication, please check with the Extension specialist or author before proceeding.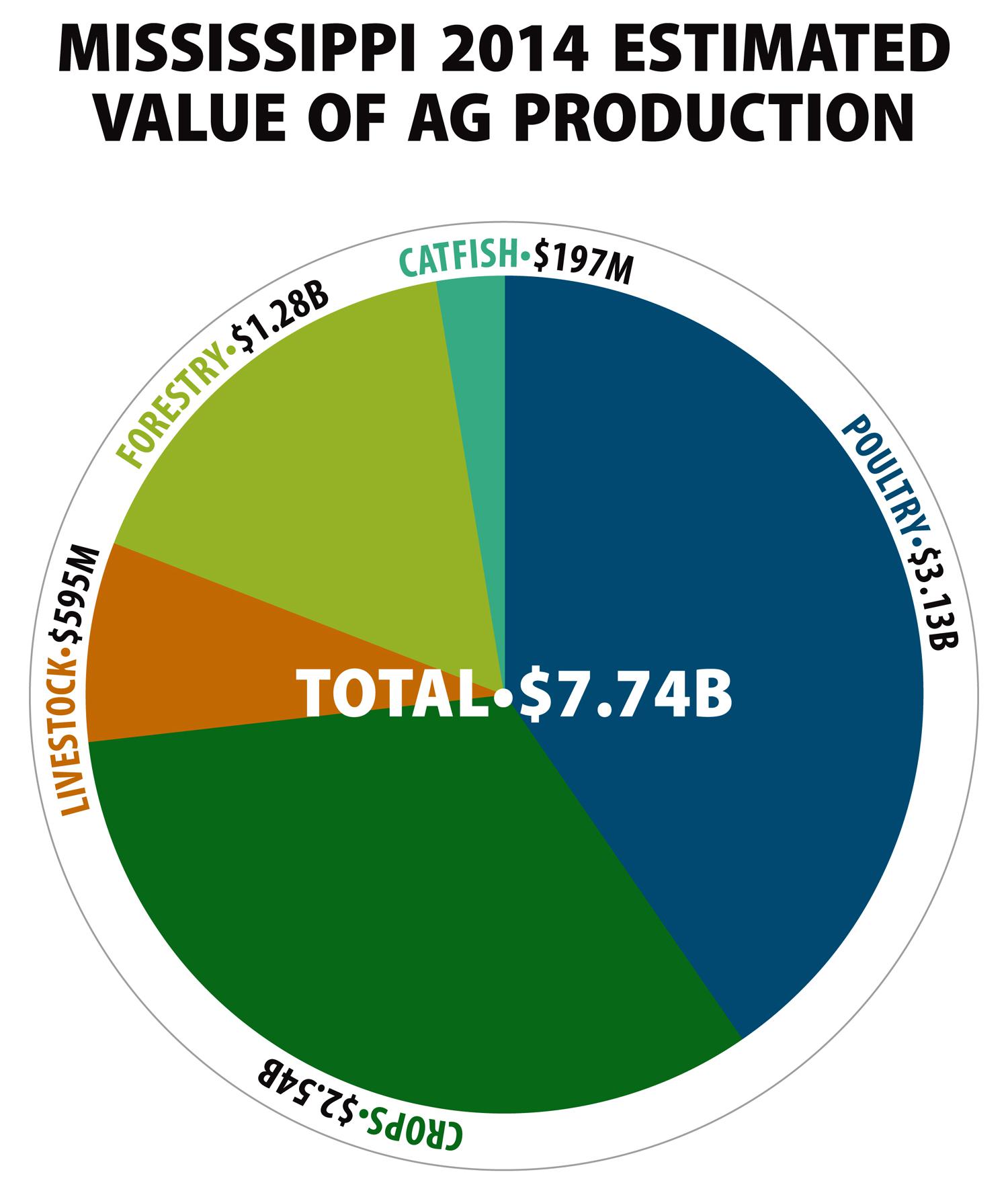 Ag values set to top $7B for third year
MISSISSIPPI STATE -- Despite low prices for many commodities, the overall projected totals for Mississippi's crop values should top $7 billion for the third straight year and essentially match the record set in 2013.
John Michael Riley, agricultural economist with the Mississippi State University Extension Service, said his preliminary estimate of 2014's agricultural production values, excluding government payments, is over $7.7 billion.
"The row crops sector of the agricultural economy took a bit of hit, but there were pockets of that sector that saw improvements, such as cotton and rice," Riley said. "On the bright side, the livestock sector is doing well with all three segments of that industry -- beef cattle, dairy cattle and hogs -- showing double-digit improvements, percentage wise, from the previous year."
Poultry …
Poultry remained solidly in first place on the list, with a $3.13 billion projected total value. At $2.88 billion, broilers showed a slight increase from 2013. Egg values were up nearly 10 percent, reflecting strong demand and price.
Forestry and soybeans …
Forestry, the state's No. 2 commodity, saw a 13.8 percent increase in value, driven by an improvement in housing starts. At $1.28 billion in 2014, the state's forest harvest value has increased 48 percent since 2009, when the effects of the recession first began to hit the industry.
James Henderson, an associate forestry professor with the MSU Extension Service, said he expects this positive trend to continue.
"Expectations are for a nearly 20 percent increase in total U.S. housing starts in 2015 as more first-time buyers enter the housing market," Henderson said.
Soybeans, Mississippi's top row crop, remained in third place with a preliminary estimated value of $1.17 billion. Producers harvested about 200,000 more acres more than the previous year, for a total of about 2.19 million harvested acres. The projected yield of 52 bushels per acre, if realized, would set a record.
"We saw a much lower price for soybeans than in 2013," Riley said. "However, the second largest crop ever produced in the state offset most of the drop in prices."
Looking to 2015, Riley said the current price points for corn, cotton and soybeans are relatively equal.
"Right now, the producers' agronomic needs, where crops fit in rotation and what works from a soil nutrient standpoint, will drive acres in 2015. There's no clear winner from a price standpoint," he said.
Cotton …
Cotton moved up a spot in the rankings to No. 4, due to a combination of high yields and increased acreage. The estimated value for this year's cotton crop is $403.6 million.
Darrin Dodds, cotton specialist with the MSU Extension Service, said producers planted 420,000 acres in cotton in 2014, up from 295,000 last year -- an increase of about 47 percent.
"Like last year, we were late planting because of cool wet weather," Dodds said. "We were worried about time on the back end to make a crop, but fortunately, we had a long fall and got some hot weather in September, which helped tremendously."
Dodds said yields were high, but not as high as the 2013 records.
"The U.S. Department of Agriculture estimates the crop at 1,143 pounds of cotton lint per acre, and last year we were at 1,203 pounds. But anytime you can average 1,143 across the state, that's a pretty good yield," he said.
Cattle and corn …
Mississippi producers cut back on corn planting significantly in 2014, which ultimately resulted in an interesting change in the typical ranking of the state's commodities: cattle overtook corn to grab the No. 5 spot.
The estimated production value for cattle is $396.7 million, up 33 percent from 2013.
Riley said cattle remain in short supply after drought-inspired sell-offs. With consumer demand remaining strong and feed costs remaining low, the outlook for 2015 looks promising.
"Mississippi producers dropped from 830,000 to 520,000 harvested acres of corn and saw about a $1.73 drop per bushel in price. With a current projected price of $3.62 per bushel, it's the lowest price we've seen since 2006."
Riley said the 55.3 percent drop in corn from 2013's values was more of an issue of lower acres than lower prices, but both combined for corn to have its lowest overall value since 2009, at $349.6 million. The projected yield of 186 bushels per acre, if realized, would be an all-time high.
Catfish and rice …
While the catfish industry has declined for several years, production has been steady since the significant decrease in water acres in 2010-2011.
"The price has come up 20 cents per pound based on the lower supply, and that has kept those who decided to stay in the industry going," Riley said. "The drop in soybean price has helped this industry as well."
Soybean meal is a key ingredient in catfish feed.
Total production of catfish is down 13.4 million pounds in 2013 to 156.9 million total pounds in 2014. The combined total value for catfish, stockers, fingerlings and fry is $197.3 million, up 11.1 percent, which puts catfish in the No. 7 spot.
Rice was a positive segment in the row crops sector in 2014. Prices and acres were up, which drove the value up significantly. Producers harvested 190,000 acres with a yield of 7,200 hundredweight and a price of $13.68 per hundredweight. Rice clinched the No. 8 spot with an estimated value of $174 million.
Hogs and specialty crops …
Hog producers saw a 21.5 percent increase this year, with an estimated production value of about $153 million. This moved hogs from No. 11 to No. 9 in 2014.
"Short supply due to the porcine epidemic diarrhea virus that was causing piglets to die was the biggest factor, so we had an overall drop in production across the U.S.," Riley said. "The smaller supply caused the price increase. Mississippi producers increased their hog inventories a few years ago, and while they've pulled back a little because of the virus, inventories are much higher than in previous years."
Rounding out the rankings at No. 10 is the specialty crops industry, which includes nursery and ornamental plants. This commodity moved up two spots this year in spite of a 2.3 percent decline, with a preliminary value of $113.6 million.
Hay and Sweet potatoes …
Hay fell three spots to No. 11, with a $105.3 million production value, down 11.4 percent.
The No. 12 crop, sweet potatoes, saw increased acres and prices, resulting in a preliminary crop value of $96.2 million. This is a 68.1 percent increase over 2013 and the highest value in five years.
"More acres were planted this year, and they had a good crop and a projected higher yield based on the national figures, which are up," Riley said. "Mississippi's price last year was $16 and is up to $21 per hundred pounds in 2014, so all things are good for sweet potatoes."
Other 2014 crop values and their percentage changes compared to 2013 are wheat at $66.9 million, down 57.2 percent; milk at $44.6 million, up 10.1 percent; grain sorghum at $39.3 million, up 37.8 percent; and peanuts at $20.8 million, down 30.7 percent.
Final figures will be available in May 2015.
Released:
December 19, 2014