Information Possibly Outdated
The information presented on this page was originally released on September 15, 2011. It may not be outdated, but please search our site for more current information. If you plan to quote or reference this information in a publication, please check with the Extension specialist or author before proceeding.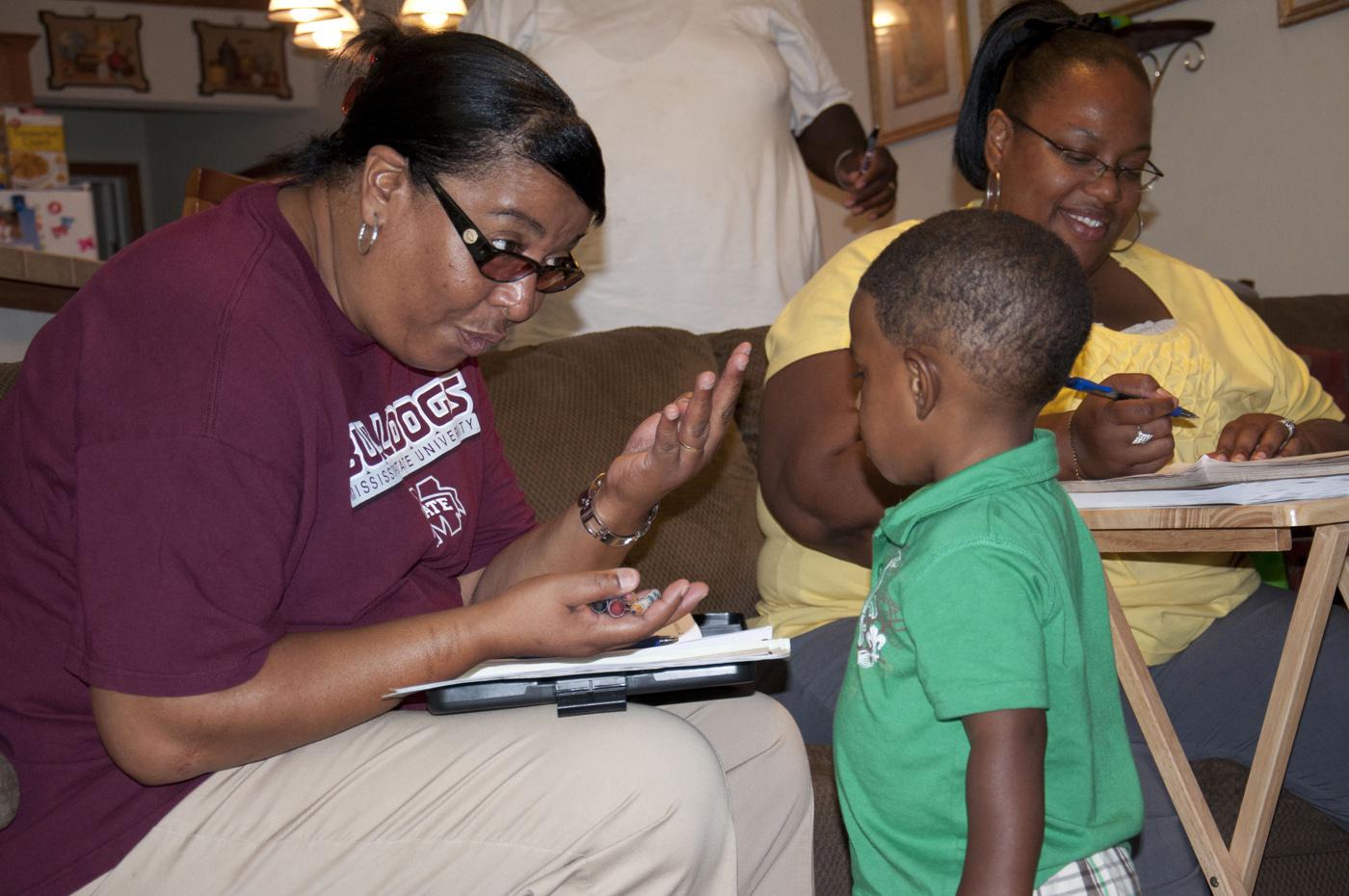 Early childhood initiative offers parents resources
By Debbie Montgomery
MSU School of Human Sciences
MISSISSIPPI STATE – A Mississippi State University program is connecting families to education and community resources that help children thrive.
Project Navigator, administered by MSU's School of Human Sciences, teaches families positive parenting skills and connects them with resources. During the first year, the program targeted families with children ages birth to five in Choctaw, Clay, Kemper, Noxubee and Winston counties.
Kemper County residents Sherris and Curtis Grace are mapping a strong educational foundation for their 20-month-old son, Christian. Sherris Grace enrolled in the program after discovering it at http://www.childcaremississippi.org.
"I want to make sure that Christian is a well-rounded child and provide him with the best opportunities," Sherris said. "The more I learned about Project Navigator, the more interested I became in participating."
The program, funded by a grant from the Appalachian Regional Commission, offers an opportunity for parents to have free one-on-one parenting training. Staff members called "navigators" provide lessons on appropriate behavior, developmental expectations, effective discipline techniques, and other topics.
MSU Extension professor Louise Davis believes that parent education and life-skills development helps prepare children for school.
"Early childhood intervention has been proven to be effective at increasing school readiness and long-term success," Davis said. "Our goals include connecting families to local resources and transitioning children to school."
Navigator Margie Moore of DeKalb is sharing her knowledge as a mother and grandmother with the Graces. She relies on her personal experience as a parent and teacher as well as hours of MSU training.
"Following an assessment, we review the potential weaknesses in parenting skills and concentrate on improving those areas," Moore, whom the Graces consider a mentor and a friend, said.
The visits provide parental training from the Nurturing Parenting curriculum. Lessons include building parent-child bonding and self-worth, teaching children to care and handle their feelings and understanding positive discipline.
In the family sessions, navigators teach parents how to establish routines. Parents also learn how to nurture each other and handle stress. They discuss problem solving, decision making, negotiation and compromise with their navigators.
Navigator Angel Long uses her experience as a mother of triplet sons to relate to first-time parents and their infants.
"I know how they feel and what they are going through once they bring a baby home from the hospital," Long said.
She has been working with families in Choctaw County. Through Project Navigator, Long was able to help provide much-needed resources to a 21-year-old mother and her three children. Tragedy struck when their home and all of its contents were destroyed by fire.
"Head Start referred the mother, and I was able to connect her to resource agencies, including Prairie Opportunity and Broken Wings, for clothing and other needs," Angel said. "My role is to help women and men become better mothers and fathers and control their stress. I share with them resources that enable their children to be better prepared and have a successful start on their education." Long said the one-on-one visits provide opportunities for parents to raise well-adjusted children who are well prepared for the academic system.
"Through Project Navigator, I spend time with a mother and help her recognize her fears and dreams for raising her children. I know we are making a difference through the program," Angel said.
For more information about Project Navigator, visit http://www.childcaremississippi.org or phone 1-(866) 706-8827.
Released:
September 15, 2011